Although we have Sprint Nextel (NYSE:S) in our portfolio and it is our most covered telecom company for our published research, we find it important to devote reports analyzing and evaluating its two top peers AT&T (NYSE:T) and Verizon Communications (NYSE:VZ). We can see why Verizon's stakeholders have much hubris with regards to Verizon Wireless's new smartphone pricing plans, as Verizon Wireless's new subscriber volumes were higher in Q3 2012 versus Q3 2011. Part of the reason why Verizon Wireless is currently the king of the US wireless market is because it has the largest 4G-LTE network. We find that Verizon Wireless dominates the New England area for wireless customer market share because it was the home of New England Telephone, which merged with Bell Atlantic in 1996, and Bell Atlantic merged with GTE to become Verizon. Verizon may be fairly valued, but it pays a fat 4.6% Dividend Yield ($2.06/Share) and generates plenty of free cash flows to pay it and boost it by 3% annually.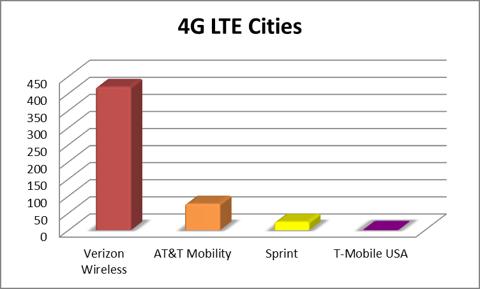 Source: Verizon Wireless
Bell Atlantic also merged Bell Atlantic Mobile with Vodafone's (NASDAQ:VOD) US wireless operations to former Verizon Wireless. Unfortunately, Verizon did not buy out Vodafone's 45% Minority Interest and it has to accrue significant Minority Interest Expense Provisions. Although Verizon grew its EPS by a healthy 14.3% for the quarter and 14.7% year-to-date, Verizon's minority interest tribute to Vodafone grew by 24.8% and 23.3% for the respective periods. While shares of Verizon Communications underperformed the S&P 500 since we published our first report featuring Verizon, we are not foolhardy to think that Verizon should be shorted or that Verizon's leadership position in the wireless industry will deteriorate like Nokia's (NYSE:NOK) leadership over the mobile phone business.
Verizon Wireless continues to be the star-performer and workhorse for Verizon shareholders. VZW is the first business unit listed by Verizon on its financial reports when it reports results by business unit due to the fact that it generates the lion's share of revenue, profits and free cash flows from this segment. 2007 was the first year Verizon reported its Wireline segment above its Wireless segment. VZW grew its Q3 2012 revenues by 7.3% versus Q3 2011 levels, but that was the third straight quarter in which its year-over-year fiscal quarter revenue growth has declined. Retail service revenues grew by 7.5%, aided by increased smartphone penetration and positive reception for its Share Everything data plan. We were surprised that VZW would increase the number of new customers in Q3 2012 versus Q3 2011 because we found that VZW's cheapest plan costs $20/month more than Sprint's Unlimited Data with 450 anytime minutes plan. VZW is leading the way in retaining customers with its enviable 0.91% contract customer churn rate and its 1.18% total retail customer churn rate. Verizon activated 3.4M new Android smartphones and 3.1M new iPhones, 21% of which were iPhone 5. New iPhone activations increased from 2M in the prior-year period and from 2.7M versus the linked quarter. 44% of all new smartphone sales were to first-time smartphone customers, up from 40% in the prior quarter.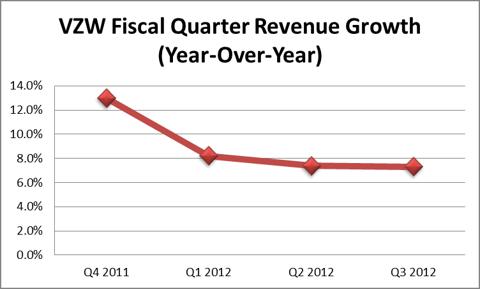 Source: Verizon's Last 4 Earnings Releases
VZW benefited from strong operational execution as its operating expenses only increased by 3.2% during the quarter, which enabled it to generate a 17.4% segment operating income growth and improvement in its operating margin from 29% to 31.8%. Verizon was able to increase its smartphone proportion sold from less than 60% in the prior-year quarter and year-to-date periods to 79% this quarter and 75% year-to-date. Verizon switched from reporting Average Revenue per User for retail postpaid customers to Average Revenue per Account, or ARPA, due to the Share Everything Data plan, and ARPA increased by nearly $9 year-over-year and reached $145.42 for the quarter. We can still calculate YTD ARPU ourselves by dividing ARPA by postpaid connections per account and we get $55.04. Surprisingly, that is actually less than Sprint's postpaid ARPU for Q2.
New net retail customers increased by 82% versus Q3 2011 levels and by 16% year-to-date. Postpaid contract customers increased by 74% versus Q3 2011 levels but declined by 4% year-to-date. VZW's new push into prepaid has resulted in a sharp increase in prepaid customers as well as new subscribers. On a year-over-year basis, retail postpaid customers have increased by 4.8% and prepaid customers have increased by 22.3%. In our July report on Verizon, we saw that this division is maturing as VZW's division level capital expenditures have declined by over 27% year-to-date as of Q2 2012 and by 20% as of Q3 2012, and Verizon's CFO Fran Shammo confirmed that at Verizon's Q3 Earnings Call. However, as VZW invested $6.1B year-to-date in CapEx, we see that it still sees solid growth going forward. In our opinion, VZW is going through its corporate change of life and it is steadily transitioning into cash-cow status, rather than its earlier phase of breakneck growth. With VZW's new data plan (and AT&T's promotion of its shared data plans) we were surprised that VZW would increase its net customer additions because we were surprised that people would be willing to pay $20/month and up for VZW's 4G-LTE network, especially when Sprint is steadily building out its network.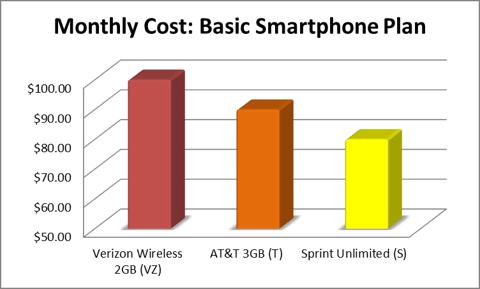 Source: Mobile Carrier Websites
Verizon Wireline is the old gray mare that isn't what it used to be twenty long years ago. However, the division is making efforts to offset the decline of its traditional wireline business with strategic communications services such as its FiOS product line (digital voice, internet and video), Terremark cloud services, security and IT solutions and strategic communications network solutions. Verizon Wireline is not alone in this as AT&T and CenturyLink (NYSE:CTL) (Sprint's former rural incumbent local exchange carrier operations) are pursuing the same strategies that Verizon Wireline is following as well. CenturyLink also resells Verizon Wireless services in its ILEC footprint. Verizon completed its acquisition of Hughes Telematics (OTC:HUTC) for $612M early in Q3 2012 and, like many startups of its size, Hughes has had rapid revenue growth since its inception but racked up over $550M in losses. The bad news is that Verizon Wireline posted a reed-thin operating margin of 0.5% and that its Verizon Wireless Reseller partner CenturyLink had stronger year-over-year results with the following metrics year-to-date:
CenturyLink's Broadband Internet Customer Growth was 4.4% vs. 2.3% for VZ Wireline
CenturyLink's Voice Access Lines declined by 6.1% vs. 6.8% for VZ Wireline
CenturyLink's Revenue declined by 1.96% vs. 2.5% for VZ Wireline
CenturyLink's Operating Income was $1.3B vs. $386M for VZ Wireline
In conclusion, we can see why Verizon is the leader in the wireless communications market. We can't argue with yield hungry investors who are interested in the company, as it sports a 4.6% dividend yield and a nearly 3-1 dividend coverage ratio based on its 2012 YTD free cash flow of $7.7B and its $2.6B in dividend payments. Dividend coverage is important because while it is not infallible, you want to be able to project that the company is generating free cash flows to cover its implicit dividend obligation to shareholders. As such, we also like Verizon Communications because its revenue and operating income growth at its Verizon Wireless unit more than offsets operating income declines at its Wireline business, as well as its record of steady dividend growth. Based on the recent wave of telecom mergers and acquisitions (T-Mobile USA-MetroPCS and Softbank-Sprint), we would not rule out Verizon Wireless considering the pursuit of buying out Vodafone's 45% Minority Interest in Verizon Wireless as it would be able to include Verizon Wireless's share of net income as part of its net income available for Verizon Communications shareholders. In our professional opinion, we expect that this would more than offset any financing costs associated with acquiring total control. Verizon should even consider selling off its Wireline operations to CenturyLink in order to potentially fund an acquisition of Vodafone's 45% Minority Interest in Verizon Wireless.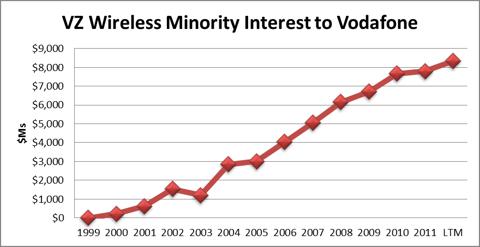 Source: Verizon's 1999-2011 Annual Reports
Disclosure: I am long S, CTL, AAPL. I wrote this article myself, and it expresses my own opinions. I am not receiving compensation for it (other than from Seeking Alpha). I have no business relationship with any company whose stock is mentioned in this article.
Additional disclosure: This article was written by an analyst at Saibus Research. Saibus Research has not received compensation directly or indirectly for expressing the recommendation in this article. We have no business relationship with any company whose stock is mentioned in this article. Under no circumstances must this report be considered an offer to buy, sell, subscribe for or trade securities or other instruments