Andrew Carnegie once suggested: "Concentrate your energies, your thoughts and your capital. The wise man puts all his eggs in one basket and watches the basket." Apparently Sabra Healthcare ((NASDAQ:SBRA)) took this advice to heart as it had 100% of its revenues coming from a single tenant, Sun Healthcare Group (NASDAQ:SUNH).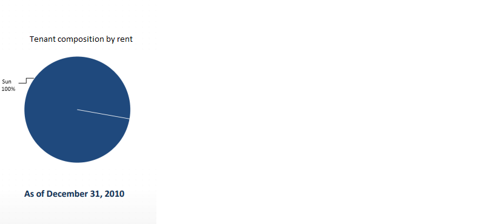 It was this extreme concentration that led to the rollercoaster ride of its market price despite fairly stable earnings throughout the time period.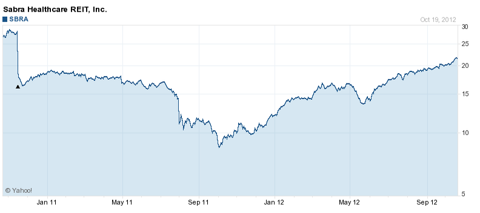 The large drop in price was partially attributable to the political climate surrounding Medicare and Medicaid. This was of particular importance to SBRA as its tenant derived most of its revenue from these programs. If funding was cut it could potentially have resulted in default and the consequent loss of Sabra's rental income. Finally, on July 29, 2011, the Center for Medicare and Medicade Services (CMS) made the final ruling in which skilled nursing facility (SNF) payment rates from Medicare Part A were to be reduced by 12.6%. (linked here, page 24 of the document)
What initially seemed like bad news, eventually proved to be a crisis averted for SBRA. While the 12.6% loss certainly hurt its primary tenant, it was not enough to force default, so Sabra's revenue stream remained intact. With the return of stability to the healthcare field came a rebound in market price. Over the past year, SBRA has delivered shareholders total returns over 143%. This was supported by Sabra's acquisitions which came at nice cap-rates and provided much needed diversification. As of June 30, 2012 its property portfolio remains concentrated, but seems much safer than before.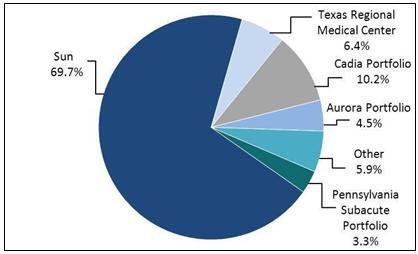 Where it stands now
| | | | |
| --- | --- | --- | --- |
| Company (ticker) | Market Capitalizaition | Price/FFO | Annual Yield % |
| Sabra | $805mm | 15.1 | 6.10% |
| Healthcare Sector Avg. | n/a | 15.8 | 5.66% |
Despite massively outperforming the market, it remains a fair value. The upside will likely come from Sabra's ability to continually make strong acquisitions in the 8% plus going-in cap-rate range. This will serve to further their efforts to diversify their tenant base while bolstering cashflows.
Its progress may be slowed by the fact that nearly half of its debt ($225mm) comes in the form of 8.125% Senior Notes due in 2018. The distant maturity date precludes taking advantage of the low interest rates, so SBRA may fall behind some of its competitors in this regard.
At this point in its hotstreak, investment with Sabra Healthcare can be considered a great company at a decent price. There is some upside potential, but don't expect to see anywhere near the returns its investors got over this past year.
Disclosure: 2nd Market Capital and its affiliated accounts are long SBRA. This article is for informational purposes only. It is not a recommendation to buy or sell any security and is strictly the opinion of the writer.
Disclosure: I am long SBRA. I wrote this article myself, and it expresses my own opinions. I am not receiving compensation for it (other than from Seeking Alpha). I have no business relationship with any company whose stock is mentioned in this article.