In a recent article, I articulated that Walgreen (WAG) and CVS (NYSE:CVS) would receive an influx of new customers due to new government imposed penalties resulting from the Affordable Care Act. These regulations that enforce harsh penalties on hospitals with high readmission rates essentially push patients into their hands. These pharmacies will develop closer relationships with an increasing number of customers due to new transitional healthcare programs that are aimed to reduce the readmission rates of hospitals.
Walgreen, according to Forbes, is "hedging" against the perceived negative consequences of "Obamacare" as well. So how can there be potentially negative consequences for drugstores if new healthcare laws push an increasing number of patients into the hands of their pharmacies and transitional healthcare programs?
Because, according to Analyst Mark Miller, "The U.S. government's becoming the larger payer of prescription drugs could be a larger long-term challenge for pharmacy reimbursement." So in order to diversify and generate revenues that are not subject to possibly problematic regulations and government controls, some believe that Walgreen is expanding overseas to hedge themselves against the new healthcare laws in America.
This could be one of many reasons that Walgreen bought such a hefty stake in the European health and drugstore Alliance Boots. Investors didn't seem to like the deal at first, and Walgreen already had short-term uncertainties because of the Express Scripts feud. Alliance Boots, as the United Kingdom's largest drugstore, has stores located in Norway, Ireland, the Netherlands, Thailand and Lithuania, and the pharmaceutical wholesale business also supplies health care providers in many other countries. Looking at the deal closer, it immediately jolts Walgreen outside of the States and opens up new possibilities that aren't existent for stateside competitors such as CVS (CVS) and Rite-Aid (NYSE:RAD). It also allows for further expansion and growth, as Walgreen plans to be not only the first, but largest drugstore chain in the global marketplace.
The Alliance Boots/Walgreen duo (which will be one company once Walgreen fully buys out their partner) also plans to capitalize from increased drug spending by emerging markets. Alliance Boots recently shelled out $90 million to buy a 12 percent stake in Nanjing Pharmaceutical Company Ltd., China's fifth largest drug wholesaler. Walgreen, according to Forbes, envisions itself potentially handling 10% of the worlds prescription volume through the global supply chain by the time they fully acquire Alliance Boots in the planned three year period.
Emerging markets are also expected to lead explosive growth for medicine in markets Walgreen is planning to expand into.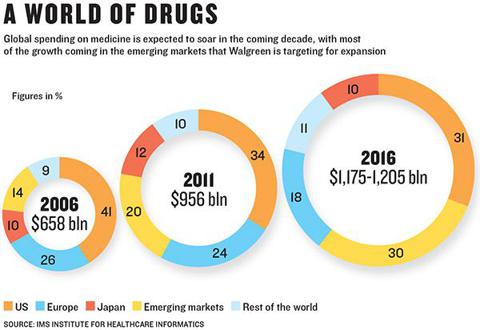 According to Katie Thomas of the New York Times, while referring to a recent report released by the IMS Institute:
"Spending is expected to double in these markets in the next five years, growing by a projected range of $150 billion to $165 billion... By 2016, 30 percent of global spending on medicines will be in the emerging markets, compared with 20 percent in 2011." The growth is largely attributed to rising incomes in these "pharmerging" markets that will allow more people to afford meds and demand better medical care.
Michael Kleinrock, director of research at the IMS institute, further explained that, "What's driving it is the really strong economic growth across these markets... When millions of people come out of extreme poverty, they start to be able to afford basic medicines and services." Walgreen will benefit from emerging markets by bringing their experience in retail distribution of drugs into these emerging markets, providing a trusted source for customers to purchase medicines without the fear of counterfeit that is a recurring concern in many of these developing nations.
Conclusion:
Walgreen has faced some temporary punishment from the market mostly because of the Express Scripts debacle and to some extent due to the uncertainty regarding the Alliance Boots deal. I believe that Walgreen is smart for expanding internationally into Europe, and especially into emerging markets. They are expanding before everyone else to create the first global pharmacy-led drug and health store chain, which will not only establish a presence, but also create a new source of growth.
They will also attempt to remain relevant and profitable in the States, with their newly launched WellTransitions program, which will increase traffic to their stores - even if reimbursement problems arise in the future. If the U.S. becomes less lucrative, Walgreen will be much better positioned than competitors, because they have international exposure which I expect them to continue to expand and focus on. They are also protected from upcoming patent cliffs, and will make higher margins on generic drugs. The company is financially sound and undervalued at present levels due to, in my opinion, short-term issues. As a long-term play, Walgreen would make an excellent addition to anyone who is attempting to add exposure to healthcare into their portfolio.
Disclosure: I am long WAG. I wrote this article myself, and it expresses my own opinions. I am not receiving compensation for it (other than from Seeking Alpha). I have no business relationship with any company whose stock is mentioned in this article.