To say BP plc (NYSE:BP) has had a very challenging few years is like saying Custer did not particularly enjoy Little Big Horn. The company has had to overcome two main challenges. The aftermath of the gulf oil spill and the asset sales needed to finance settlements to close the matter as well as a way to extricate itself from a contentious partnership in Russia with TNK. It is close to resolving both issues and the clouds over the company are starting to part. The stock is looking more and more like a good bet for long term investors.
Progress on resolving BP's two key challenges:
The company struck a deal with Rosneft to buy its partnership stake. The deal gives the company over $10B in cash and an almost 20% stake in huge Russian energy firm. 19.75% stake BP is taking in the company will allow the company to account for its share of the company's profits on an equity basis, this will help it maintain roughly the same profit and loss exposure to Russia it had prior to Monday's sale. This should also allow BP to play a key role in developing Russia's new Artic fields.
A Romney presidency (which is looking like a 50/50 proposition right now) would be positive for the energy sector. Even with an Obama re-election, the incentives to finish the gulf oil spill settlements will be greater after the election as using the company as a political piñata will lessen. It is also very close to settling its civil suits due to the spill and has completed the vast majority of asset sales needed to resolve all claims.
5 additional reasons BP looks intriguing at under $42 a share:
The company has an A rated balance sheet and pays a 4.5% dividend yield.
The stock is selling near the bottom of its five year valuation range based on P/B, P/S, P/CF and P/E.
The mean analysts' price target held by the nine analysts that cover the stock is just under $52 a share. S&P has a $56 price target on BP.
BP is cheap at under 8 times forward earnings, 7 times operating cash flow and just 17% above book value.
The technical picture for the stock has improved since the close of the second quarter. The stock has generally been making higher highs and higher lows since then and is above its 100 day moving average (See Chart)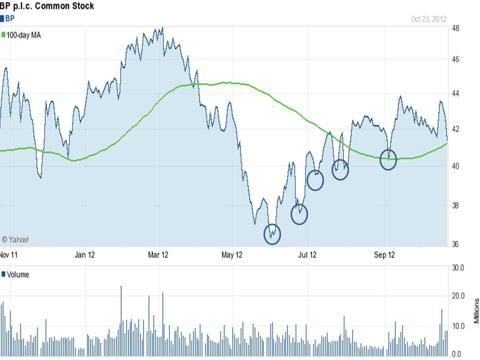 Click to enlarge
Disclosure: I have no positions in any stocks mentioned, but may initiate a long position in BP over the next 72 hours. I wrote this article myself, and it expresses my own opinions. I am not receiving compensation for it (other than from Seeking Alpha). I have no business relationship with any company whose stock is mentioned in this article.