CBL & Associates Properties (NYSE:CBL) stock trades around $21.80, up 60% in the past year. The stock trades with a hefty yield of 4% versus peers such as Macerich (NYSE:MAC), which yields 3.8%, and General Growth Properties (NYSE:GGP), which yields 2.3%.
As of June 29th, 2012, the major institutional holders of the stock are T.Rowe Price (6%), Systematic Financial Management (3.7%), Goldman Sachs (3.2%), Invesco (3%), and Shinko Asset Management (3%).
Positive fundamentals that support the dividend yield:
The company has a strong liquidity position with $72 million in cash & cash equivalents, and $1 billion plus of available borrowing capacity in its credit facilities. The company is in compliant with all its debt covenants. Also, CBL has a diverse portfolio of tenants. Among the top 25 tenants, none of the tenants contribute more than 3% of annualized revenues. Also, against popular belief, Best Buy contributes only 1% to total annualized revenues.
The low interest rate environment has also allowed potential earnings upside for REITs such as CBL, which has been issuing lower rate debt to retire more expensive debt. On October 5th, 2012, the company issued $172.5 million of 6.625% preferred stock, proceeds of which will be used to redeem 7.75% preferred stock. Management's efforts to de-lever the balance sheet gives investors further confidence in the company's earnings potential.
FFO per share increased from $1.87 in 2010 to $1.93 in 2011, and is expected to be $2.09 in 2012. This steady growth is rare in the retail REIT space.
Occupancy rate has increased from 90.6% in 2011 to 92.3%. CBL has managed to increase occupancy in a recessionary environment where average occuancy among retail REITS has dropped since 2007. We give credit to the company's good quality portfolio of retail tenants.
CBL has continued to pay a dividend through the recession, currently yielding 4%. The company has never cut its dividend since 2007.
Conclusion: CBL has continued to restructure its balance sheet, and increased earnings potential, which allows investors to add the stock to their radar screen. Risks related to investing in the company are possible bankruptcies among the retail tenants, and a continued weakness in consumer spending.
The chart below compares share performance over the past year. "D"s mark dividends paid.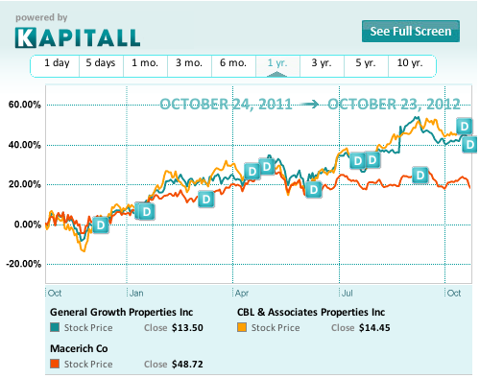 Written by Kapitall's Sabina Bhatia. Tool provided by Kapitall.
Disclosure: I have no positions in any stocks mentioned, and no plans to initiate any positions within the next 72 hours.
Business relationship disclosure: Business relationship disclosure: Kapitall is a team of analysts. This article was written by Sabina Bhatia, one of our writers. We did not receive compensation for this article (other than from Seeking Alpha), and we have no business relationship with any company whose stock is mentioned in this article.