Pier 1 Imports (NYSE:PIR) stock trades around $20.12, up 70% in the past 1 year, and close to its 52-week high of $20.85. It trades with a P/E multiple of 17 times versus its forward multiple of 15 times. The stock yields 0.8%. One of its competitors Bed Bath & Beyond (NASDAQ:BBBY) is trading with a P/E multiple of 12.5 times, and a forward P/E of 11 times. The stock is down 8% for the year, and trades around $57.72, close to its 52-week low of $56.72.
Pier 1 stock has made a significant comeback since 2009 when the stock traded as low as 31 cents. Also, operating profits bottomed in 2007. Today the company is in midst of the strongest growth in hard-line retail. Fundamentals mentioned below tell us a continued growth story with very strong earnings potential.
On October 23rd, 2012 we wrote "A Look at 10 Companies With High Debt Characteristics." Although Pier 1 is part of the list, the fundamentals show a bright future in earnings growth.
As of August 25th, 2012, the company has cash & cash equivalents of $115 million and zero public debt.
The company has continued to generate free cash flow, with $52 million in 2010 to $76 million in 2011, and $64 million in 2012.
Although year-over-year sales growth declined by -2% in 2010, it increased by 8% in 2011, and 10% in 2012.
In Q2-2012, SG&A continued to show improvement declining 68 bps year-over-year to 30.5%.
Pier 1 has continued to return cash to shareholders in the form of buybacks and a dividend payout. The company has been an aggressive buyer of its stock. In Q2-2012, Pier 1 bought back 1.9 million shares at $16.20, which added about a half penny to EPS. In April 2012, the company declared a quarterly dividend of $0.04 after 6 years. This has re-instated confidence among investors.
Lastly, CEO Alex Smith, who joined Pier 1 in 2007, has turned the company into a profitable, and competitive merchandiser with strong earnings growth potential.
In conclusion, Pier 1 is the typical retailer with a volatile stock and fundamentals during the recession. Today, the company is in a position to experience the growth of a strong hardline sector.
Click play to view the return of these companies since 2011. Kapitall's Compar-o-matic tool displays a maximum of 9 companies: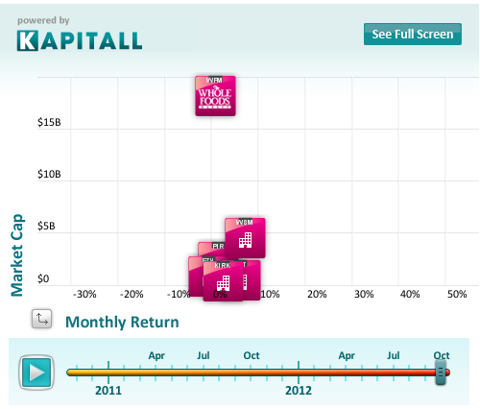 Written by Kapitall's Sabina Bhatia. Tool provided by Kapitall.
Disclosure: I have no positions in any stocks mentioned, and no plans to initiate any positions within the next 72 hours.
Business relationship disclosure: Business relationship disclosure: Kapitall is a team of analysts. This article was written by Sabina Bhatia, one of our writers. We did not receive compensation for this article (other than from Seeking Alpha), and we have no business relationship with any company whose stock is mentioned in this article.