I have been so busy, I thought yesterday was VMware's (NYSE:VMW) annual shareholder meeting. I picked up my materials and ran off to the 8AM meeting in Palo Alto, only to realize my mistake. VMware was only holding a special meeting to vote on whether to approve a one-time stock option plan. Basically, the company's stock price has gone down significantly, causing most of its employees' options to be underwater. My understanding is the meeting yesterday was held because VMware wanted to replace the existing stock options with newer ones.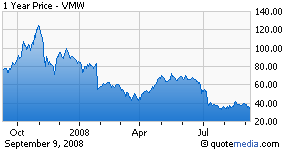 The CEO, Mark Peek, gave a short presentation, and the the stock option plan was approved after confirming a quorum. Mr. Peek seems like an honest, smart CEO. He has a British accent, and took questions from the few shareholders present (four of us), even though the format of the special meeting didn't require him to do so. The meeting lasted only 20 minutes, and only coffee was served.
I asked about the tax consequences of the stock option plan. The CFO answered that because the options had not been exercised, there was "no significant impact" tax-wise. Once the employees exercised their new stock options, the company would be able to record a tax deduction, which would actually benefit the company (but of course, dilute existing shareholders).
I asked a question about what the company does. I am not a born techie, so the concept of virtualization and virtual machines is strange to me. (Every time I hear the term, "virtual machines," I think of the Borg and T2's "Rise of the Machines.") Peter Lynch's advice, "Invest in what you know," worked well in the past, but these days, it's hard to follow that simple rule.
The CEO Peek very politely attempted to answer my question about the company's products. He said the company is a software company involved in "virtualization." VMware software "fools" other software/hardware platforms, allowing greater functionality. Previously, users had to have different machines to run different operating systems, but now they could use just one machine. For example, we can use Windows and Apple's Leopard on the same computer with VMware's software. CEO Peek went further, saying VMware is a "data management/IT company." It manages the computer environment, and the company had "700 third party customers."
Another shareholder mentioned Larry Ellison and how he had grown Oracle by not selling his software outright, but requiring users to subscribe to it. CEO Peek indicated VMware has different pricing plans, just like Oracle (NASDAQ:ORCL).
Overall, I left the meeting feeling like I was in the presence of professional, dedicated people. I still don't know what virtual machines are, or how they really work, or how a company can monetize such an asset, but perhaps I will ask more questions at the annual meeting next year.
One interesting item in the special meeting report: beneficial shareholders of VMware include Intel Corporation (NASDAQ:INTC) (18.30%); and Cisco Systems International (NASDAQ:CSCO) (6.88%). As mentioned above, due to having greater voting rights, WMware is basically owned by EMC Corporation (EMC), which holds 97.17% of the Class B shares and "98% of the voting power of outstanding common stock" (page 48, Form 10-Q).
Another interesting item: VMware gives its partners access to its source code and hypervisor for development purposes, which may create IP issues later on.
The end result of yesterday's meeting for me? I picked up more shares of EMC afterwards. I figure it's a safer bet to invest in the quasi-parent company than in the newer company (e.g., buy Cypress Semiconductor (NASDAQ:CY) rather than Sunpower (NASDAQ:SPWR)) , especially because spinoffs usually saddle the newer company with debt. I am concerned about the market's volatility, but now seems like a good time to slowly add to positions.
Disclosure: Long EMC