As we all know, Monster Beverage Corp., (NASDAQ:MNST) has been the target of allegations that its popular energy drinks caused health issues, and possibly contributed to up to five deaths in young people. The company was hit with an FDA investigation, and possibly potential lawsuits in response to these accusations. A study shows that ounce by ounce, most MNST energy drinks contain 3.5 times the caffeine compared to regular soda -- could these high levels of caffeine have caused these horrible incidents? Perhaps somewhat justifiably, investors got spooked, and shares have sold off in a feverish fashion over the last several days over the possibility MNST is at fault. In fact, shares have plummeted 30% in the past week:

(click image to enlarge)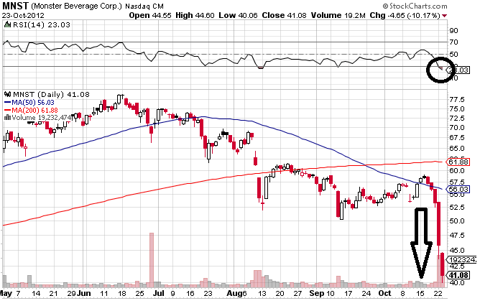 Does this plunge represent an opportunity for investors looking to play a recovery in MNST shares? Risk-averse investors may feel the threats of pending lawsuits and future FDA action are serious enough to justify putting shares in the penalty box. However, if the FDA deems the company's energy drinks as suitable for consumption, or perhaps not "dangerous" if used responsibly, then the recent sell-off could prove overdone.
How can investors play an eventual recovery in shares? I feel the best technique is to use options, since there is still some downside risk. A simple strategy will dramatically reduce capital risk while allowing for big gains -- a bull call spread:
The Option Play:
Buy to open March 2013 50 Strike Calls for 5.10 ($510)
Sell to open March 2013 55 Strike Calls for 3.10 ($310)
Current Price $47.50/share
| | |
| --- | --- |
| Cost per Bull Call Spread | $200 |
| Max Loss | $200 |
| Maximum Gain | $300 |
| Maximum Gain Price | ~55/share |
| Break Even Point | $52/Share |
| Move Needed to BE (52-47.50 current price) | 9.5% |
In my opinion, this trade presents a reasonable risk/reward, as the net risk of $200 offers a possible gain of $300, which is a 150% maximum gain on investment. A distinct advantage to this spread is that since these options expire in March, there is plenty of time for the trade to become profitable. In my view, it's rather likely that the pending FDA investigation and lawsuits will take a while to produce results, so having about five months for shares to uptrend is a benefit to investors.
I feel the knee-jerk selling that has bombarded shares of MNST provides a great entry for speculative investors who wish to play a recovery in shares once the dust settles. This bull call spread is a great way to achieve gains while risking minimal funds if, by some miracle, the FDA bans or restricts sales of the drink.
Disclosure: I have no positions in any stocks mentioned, but may initiate a long position in MNST using call options and/or short put options over the next 72 hours. I wrote this article myself, and it expresses my own opinions. I am not receiving compensation for it (other than from Seeking Alpha). I have no business relationship with any company whose stock is mentioned in this article.