Lance Sommer and Ning Yang, Ph.D.
Avanir Pharmaceuticals, Inc. (NASDAQ:AVNR) is focused on developing and commercializing therapeutic products for the treatment of central nervous system disorders.
On October 29, 2010, Avanir Pharmaceuticals won approval for its main market drug, NUEDEXTA or AVP-923, which treats the symptoms of Pseudobulbar affect (PBA). PBA is characterized by uncontrollable, inappropriate laughing and/or crying that is either unrelated or out of proportion to the emotions felt by the patient and occurs in patients with neurological disorders, such as amyotrophic lateral sclerosis (ALS), multiple sclerosis (MS) or traumatic brain injury. NUEDEXTA (dextromethorphan HBr and quinidine sulfate 20/10 mg) is the first and only approved medicine to treat patients with PBA. Avanir Pharmaceuticals and physician market research estimates there are 1.8 million people with moderate to severe PBA. Taking advantage of this market has allowed Avanir to steadily increase its sales revenue through its main drug NUEDEXTA.
| | |
| --- | --- |
| Period Ending | Quarterly Total Net Revenue (in MM) |
| Jun 29, 2011 | 2,480 |
| Sep 29, 2011 | 4,761 |
| Dec 30, 2011 | 7,165 |
| Mar 30, 2012 | 10,040 |
| Jun 29, 2012 | 10,538 |
Source: The company 10-K and 10-Q reports.
NUEDEXTA is a combination drug of dextromethorphan and quinidine that has been shown to have a positive effect on the symptoms of PBA. NUEDEXTA is a dual sigma-1 (σ-1) agonist and NMDA receptor antagonist. The active agent in NUEDEXTA, dextromethorphan, is a potent σ-1 receptor agonist, inhibiting glutamatergic signaling. σ-1 receptors are primarily expressed in the brainstem and cerebellum; thus, dextromethorphan acts in brain regions believed to be associated with emotional expression disorders, without causing unwanted systemic effects. Quinidine, the other drug in the combination, is a metabolic inhibitor enabling therapeutic dextromethorphan concentrations to be reached. Dextromethorphan/quinidine 20 mg/10 mg twice daily was associated with a significantly greater decrease in the rate of PBA episodes per day (primary endpoint) than placebo in the 12-week, randomized, double-blind, placebo-controlled, multicenter STAR trial (Safety, Tolerability, and efficacy Results trial of AVP-923 in PBA) involving patients with PBA and ALS or MS. Avanir reports that 51% of patients taking NUEDEXTA achieved PBA episode remission versus the 29% of the placebo group.
NUEDEXTA has now been on the market for approximately 18 months. In the first 10 months since launch, approximately 25,600 NUEDEXTA prescriptions were filled, and more than 2,800 healthcare professionals prescribed NUEDEXTA. According to IMS Health, NUEDEXTA reached a new record of 10,710 prescriptions in August, of which 6,328 (or 59% of total) originated from the institutional long-term care setting. According to Avanir, they observed strong quarter-over-quarter growth as prescriptions increased to 26,428. Avanir has stated that the wholesale acquisition cost is $579 per month of NUEDEXTA.
Avanir is currently undergoing an aggressive marketing campaign to bring awareness of NUEDEXTA to approximately 10,000 physicians and other healthcare providers who specialize in psychiatry, neurology or geriatric medicine and practice in outpatient or long-term care settings. The company has recently increased its long-term sales force to 55 representatives. The company is continuing to expand its core long term care facility sales force which will undoubtedly increase awareness of NUEDEXTA. Avanir market research estimates there are up to 300,000 potential patients at long term care facilities which now make up over 50% of its prescriptions.
In a recent announcement, Avanir and Concert Pharmaceuticals, a private company based in Lexington, MA, stated they had entered into an agreement that provides Avanir worldwide rights to develop and commercialize Concert's deuterium-modified dextromethorphan (d-DM or AVP-786) for the potential treatment of PBA and other neurological diseases. This may allow Avanir to stop using the metabolic inhibitor quinidine sulfate in NUEDEXTA which could lead to the elimination of some potential side effects. As a result, d-DM has the potential to be effective as a treatment for neurological and psychiatric disorders for which dextromethorphan has shown pharmacological activity. This, in the future, may allow Avanir to use d-DM outside the scope of NUEDEXTA. A Phase I human trial is due to commence by the end of this calendar year to better characterize the pharmacokinetic profile of deuterated dextromethorphan.
Since the launch of NUEDEXTA, the growth has been modest, but has been continuing on a steady pace. There may be a few reasons as to why this is. There first seems to be a lack of overall knowledge about the drug from a physician and patient standpoint. Second, there is an obvious hesitation for clinicians to prescribe newly developed drugs due to the lack of long-term studies for any first-in-class medication. Lastly, some clinicians have been tentative in the treatment of PBA and incorporating NUEDEXTA use. However, Avanir is aware of these educational issues and is combating them through new aggressive commercialization strategies.
Avanir is also looking into the use of AVP-923 for the treatment of central neuropathic pain in MS patients. Neuropathic pain is a disease of global burden. Its symptoms include spontaneous and stimulus-evoked painful sensations. Several maladaptive mechanisms underlying these symptoms have been elucidated in recent years: peripheral sensitization of nociception, abnormal excitability of afferent neurons, central sensitization comprising pronociceptive facilitation, disinhibition of nociception and central reorganization processes, and sympathetically maintained pain. Based on positive results of a double blind study, Avanir applied for Phase II testing which was accepted by the FDA and the first patient was enrolled in November 2011. Eligible patients will be randomized to receive one of the three dose levels of AVP-923 containing either 45mg DM/10mg Q, 30mg DM/10mg Q, 20mg DM/10mg Q or placebo, daily for 12 weeks. The primary efficacy endpoint is the Pain Rating Scale obtained from daily patient diaries. Secondary endpoints include measure of fatigue, impact of MS on daily life, sleep quality, cognition and depression. Safety will be assessed by monitoring adverse events, clinical laboratory tests, electrocardiograms, physical examinations, and vital signs. Approximately 400 patients both in the U.S. and internationally are expected to be enrolled. According to NIH data (clinicaltrials.gov) this study is still actively recruiting and has an estimated primary completion date of March 2013. No study data has been posted as of yet.
Avanir has successfully completed a Phase III clinical trial for AVP-923 in the treatment of patients with Diabetic Peripheral Neuropathic (DPN) pain. In a 13-week trial, 379 adults with diabetic peripheral neuropathy (DPN) leg pain for >3 months received double-blind placebo, DMQ 45/30 mg, or DMQ 30/30 mg, administered once daily for 7 days and twice daily thereafter. DPN pain, which arises from microvascular nerve injury, can result in a chronic and debilitating form of pain that has historically been poorly diagnosed and treated. It is often described as burning, tingling, stabbing, or pins and needles in the feet, legs, hands or arms. In April 2007, Avanir announced positive Phase III clinical trial of AVP-923 for the treatment of patients with DPN pain which was directed under Dr. Aziz Shabaini, Medical Director of the Nerve and Muscle Center, Texas. "Throughout a 13-week trial, AVP-923 was effective, with an acceptable safety profile, for treatment of diabetic peripheral neuropathic pain. The findings indicate that other fixed-dose combinations of AVP-923 should be studied to improve overall tolerability while maintaining significant efficacy," Dr. Shabaini said. The most commonly reported adverse events from this Phase III study were dizziness, nausea, diarrhea, fatigue and somnolence, which were mild to moderate in nature. Avanir reports additional study timing and design are still to be determined.
Recently, Avanir announced the enrollment of the first patient in study AVR-131. This study is a Phase II clinical trial investigating the use of AVP-923 for the treatment of agitation in patients with Alzheimer's disease. The trial is expected to enroll up to 200 Alzheimer's patients in the United States. Eligible patients will be randomized to receive either AVP-923 or placebo for 10 weeks. An estimated 5 million people in the US have Alzheimer's and a trial successful in alleviating some of the conditions of Alzheimer's would have a large effect on the patients dealing with this disease.
Drug Name Indication Status Launch
AVP-923

PBA - US

On Market

2011

AVP-923

PBA - EU

Phase III

Late 2013

AVP-923

Agitation in AD

Phase II

TBD, Data to be released early in 2014

AVP-923

Central Neuropathic Pain in MS

Phase II

TBD, Data to be released in second half of 2013

AVP-923

DNP

Phase III

TBD

Deuterated Dextromethorphan

PBA

Research/Preclinical

Phase I est. late 2012

TBD
Source: LifeSci Advisors
Total net revenues were $10.5 million for the fiscal year ended September 30, 2011, compared to $2.9 million for the fiscal year ended September 30, 2010. The increase in net revenues of approximately $7.6 million was primarily attributed to NUEDEXTA product sales of $6.1 million, which began commercial promotion in February 2011. Total net revenue for the three months ending June 30, 2012 was $10.5 million as compared to $2.5 million for the comparable period in fiscal 2011. For the third quarter of 2012, Avanir product sales of NUEDEXTA were up to $12.2 million and net sales of NUEDEXTA were $10.1 million. Gross NEUDEXTA sales also grew by 33% over the previous quarter. In addition, annual royalty revenue from the license agreement with GSK increased approximately $599,000 and in fiscal 2010, and they recorded a non-recurring non-cash adjustment that reduced GSK royalty revenue by $797,000. R&D expenses were $6.8 million for the quarter ended June 30, 2012, compared with $3.3 million for the same period in the prior year.
NET U.S NUEDEXTA REVENUE
| | | | |
| --- | --- | --- | --- |
| Sep 29, 2011 | Dec 30, 2011 | Mar 30, 2012 | Jun 29, 2012 |
| $3.7 million | $5.48 million | $9.14 million | $10.1 million |
Source: The company's 10-K and 10-Q reports.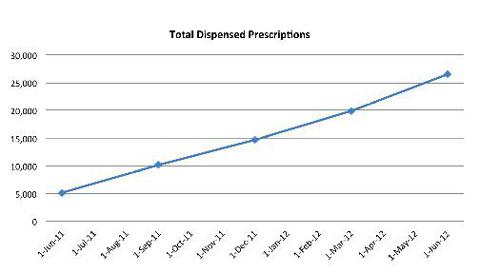 Source: LifeSci Advisors
For the remainder of the year, Avanir revised its operating expense guidance and is now anticipating operating expenses in the range of $94-$96 million. R&D expenses are approximated at $22-$23 million which includes medical affairs and development programs. SG&A expenses will be approximately $72-$73 million. The increase in operating expenses for fiscal 2012 is due to additional cost incurred as part of the in licensing and acceleration of the d-DM program, expansion of institutional sales force. In the most recent quarter, Avanir reported cash and cash equivalents/investments of $84.1 million with $28.72M of convertible loan. There is a risk that the company needs to raise more cash in 2013 to fund its ongoing clinical trials. Avanir does have an approximate deficit of $400 million and has been financing most of its research by dilutive share offerings. Since 2007, Avanir has seen its outstanding shares jump from 43 million to 136 million.
| | | | | | |
| --- | --- | --- | --- | --- | --- |
| | 2012 Q3 - 6/30/12 | 2012 Q2 - 3/31/12 | 2012 Q1 - 12/31/11 | 2011 Q4 - 9/30/11 | 2011 Q3 - 6/30/11 |
| Net cash used in operating activities | (45,559) | (30,612) | (17,627) | (56,521) | (42,473) |
| Net cash flow - Financing | 48,601 | 18,614 | 11,305 | 100,767 | 97,499 |
Source: The company's 10-K and 10-Q reports.
At the time of this article (October 19, 2012), AVNR's stock is trading at $3.18. With 136.18M of shares outstanding, the company currently has a market cap of $433.06M and an enterprise value (EV) of $380.05M. With a Beta coefficient of 1.47, the stock still continues to be volatile. The net sales of NUEDEXTA in 2012 are on a pace to exceed roughly $34 million. At the present time, Avanir Pharmaceuticals is not able to cover operating costs with the income it receives. However, based on the current growth of NUEDEXTA sales, Avanir looks to become profitable by the end of 2014. (Avanir fiscal year is from October 1 to September 30). Obviously, as sales increase and the company turns to profitability, we think that the company will have strategic appeal like Valeant (NYSE:VRX), Biogen (NASDAQ:BIIB), or Forest (NYSE:FRX).
As stated before, Avanir is working hard to open up within the established marketplace an opportunity to meet the high unmet medical need in central neuropathic pain conditions. There is a significant rationale for moving into agitation in patients with Alzheimer's disease, because as observed in previous studies, fewer PBA patients in treatment groups had moderate to severe agitation by the end of the study. If future tests continue to be positive for Avanir and their DPN pain medication, it would be a very large step in controlling pain in patients with this disease. This chronic disease is very difficult to treat and there is no approved treatment to prevent or halt diabetic neuropathy, and only symptomatic pain therapies, with variable efficacy, are available. Therapies aimed at blocking the symptoms of painful neuropathy are available, but few options target the root causes of the disease.
We ran our stock valuation using a discounted cash flow (DCF) model. Assuming that the company will become profitable by the end of 2014, and its sales will reach approximately $350M by the end of 2016, we calculated the EV value of $435M using a trailing P/E ratio of 10 based upon the 2016 sales number, which is 15% higher than its current value. Given that NUEDEXTA's market exclusivity will be protected until 2026 based upon the 7,959,282 patent, if we use a P/E ratio of 15, the calculated EV value will be 67% higher than its current value. Note that we only took the U.S. sales into consideration in our valuation model. There is a possibility that the company may need to raise more cash in 2013, which could dilute share values, if sales disappoint. The company's management, however, doesn't anticipate any significant dilutive financing as the cash balance was $84.1M at the end of June 2012 and they have an increasing revenue ramp.
Looking at 2013 and beyond, Avanir has positioned itself as the first and only FDA approved treatment indicated for PBA. With the launch of NUEDEXTA well underway, new clinical opportunities are arising for NUEDEXTA and AVP-923. There has been strong interest in the AVP-923 phase II clinical study of agitation in Alzheimer's disease. This represents the first important step in attempting to maximize the therapeutic potential of NUEDEXTA and AVP-923. As research and awareness of AVP-923 continues, Avanir is poised to fill an unmet niche within the neurodegenerative disorder drug sector. AVP-923 can be looked at to treat similar indications across many neurodegenerative disorders that the drug has not yet been approved for. Parkinson's and Huntington's Disease are just two of the many neurological diseases that can be looked at by Avanir in which patients may benefit from treatment of AVP-923. NUEDEXTA also continues to generate interest from the medical community about off-label use. Community and academic physicians are starting to explore other potential users of AVP-923 and have started to report on potential new uses in the literature.
Disclosure: I have no positions in any stocks mentioned, and no plans to initiate any positions within the next 72 hours. I wrote this article myself, and it expresses my own opinions. I am not receiving compensation for it (other than from Seeking Alpha). I have no business relationship with any company whose stock is mentioned in this article.