Shares of Walgreen Co. (WAG) have returned only 3.32% over the past 12 months, primarily owing to a price plunge in May and June. At $35.45 per share, the stock has recovered by 24% from its 52-week low of $28.53 touched in June. I believe the stock represents a quality dividend investment opportunity, given its attractive valuations and solid dividend yield at 3.11%. In this article, I will walk you through the analysis that supports my opinion.
WAG is currently priced at a discount relative to the company's solid financial performance (see table below). Analysts on average predict WAG's revenue, EBITDA, and EPS to rise by 2-year CAGRs of 3.9%, 12.5%, and 19.3% over the current and next fiscal years. The estimates are generally better than the averages of 3.6%, 12.7%, and 10.6% for a peer group consisting of WAG's competitors such as CVS Caremark (NYSE:CVS) and Express Scripts (NASDAQ:ESRX).
In addition, WAG's EBITDA margin is forecasted to expand by 1.1% over the same horizon, compared to an average expansion of just 0.5% for the peer companies. On the profit side, WAG has a dominant performance in the group. All of WAG's profitability margins are significantly above the par, and both the ROE and ROIC ratios are in the top end of the group ranges.
In terms of leverage and liquidity, WAG assumes a below-average level of debt as reflected by the company's lower debt to capitalization and debt to EBITDA ratios. The firm's trailing free cash flow margin of 3.5% is largely higher than the peer average of just 2.1%. Due to WAG's high profitability and low leverage, the company was able to maintain a higher interest coverage ratio. Both WAG's current and quick ratios are fairly in line with the peer averages, reflecting a healthy corporate balance sheet.
Click to enlarge

To summarize the financial comparisons, WAG's superior financial performance relative to the peer average should warrant a premium valuation for the company's stock. Nevertheless, the current stock valuations at 8.0x trailing EV/EBITDA, 14.6x trailing P/E, and 1.8x P/BV represent an average valuation discount of 10.4% to the peer-average trading multiples (see table above), suggesting a likely undervaluation.
Comparing WAG's current growth forecasts with the historical figures in exactly a year ago, all of the company's revenue, EBITDA, and EPS estimates in FY2013 and FY2014 have been significantly revised upward (see tables below).



Such large upward revisions are primarily attributable to WAG's strategic partnership with Alliance Boots and the company's recent entrance to the preferred pharmacy network of the Medicare Part D sponsors. Many sell-side analysts are bullish on WAG's recent initiatives. BB&T Capital Markets' Andrew P. Wolf wrote in his recent research note:
"Walgreen announced it will be a part of the preferred pharmacy networks of three of the top four national Medicare Part D plan sponsors that combined account for 41% of Part D prescriptions. We believe it is the only major drugstore chain in these preferred plans, and thus should profitably gain retail prescription market share. We estimate that WAG's script comp could benefit by 1% or more in calendar 2013. We believe that there were no significant price concessions by WAG in entering these networks."
Despite the recent positive developments, the stock's forward PEG ratio has declined by 20% from 1.07x one year ago to 0.86x at present (see comparable analysis table above), indicating that the market may have not given enough credits to WAG and thus the stock price appears to be cheap.
Moreover, the trend of WAG's forward P/E multiple have underperformed the valuation trend of the S&P 500 index since July 2011 (see chart below). I believe the underperformance should suggest an undervaluation of the stock given the fact that WAG's long-term earnings growth estimate of 12.97% is substantially higher than the average estimate of 7.93% for S&P 500 companies.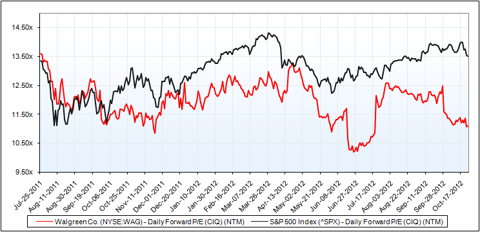 On top of the cheap valuations, WAG also offers investors an attractive dividend yield, which is currently at 3.11%. WAG's dividend yield has historically been safely backed by the company's strong commitment to growth the dividend and its robust free cash flow. Since FY2007, the dividend per share had been raised by a 5-year CAGR of 23.7% from $0.33 in FY2007 to $0.95 in FY2012 (see chart below).
The annual dividend growth rate had remained strong over the period as it increased from 21.4% in FY2008 to 26.7% in FY2012. Additionally, WAG's annual dividend paid historically only represented a very small portion of the company's annual free cash flow (see chart below), implying that the current pace of the dividend growth can be easily sustained at least in the near term.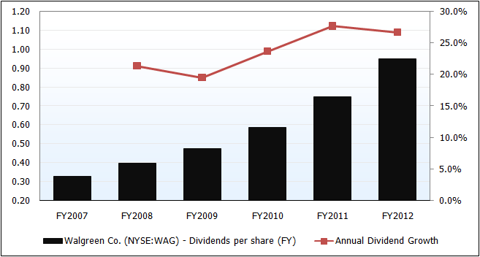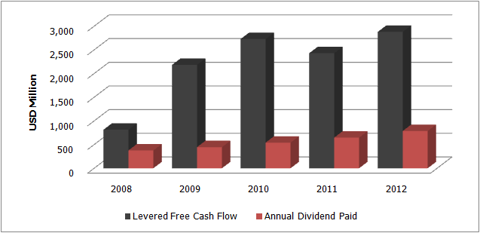 According to a 5-year dividend yield chart shown below, there appears to be a pattern that when the dividend was raised in July every year, the yield dropped subsequently as the stock price appreciated. This pattern may be owing to a strong demand from income investors, and I believe the pattern would persist as the current dividend yield has grown much higher than it was in the past and thus it has become more attractive to investors in the current low-interest environment.
Assuming the stock would offer a dividend yield at 3.50% in roughly a year (mostly likely the yield would be lower due to the high demand from the yield-hungry investors), and supposing that the current annualized dividend per share of $1.10 would be raised by 15% (a very conservative estimate given the most recent dividend growth rate at 26.7% and the ample free cash flow) to $1.27 in the August 2013 payment period, the conservative scenario suggests a stock value of $36.14, implying that the stock's downside can be largely protected by the tempting dividend growth.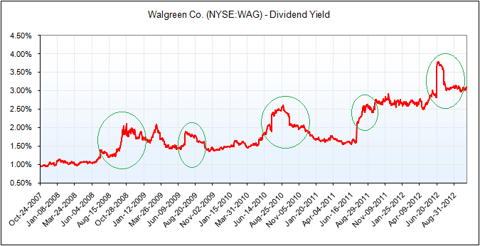 Bottom line, WAG's cheap valuations and strong dividend growth prospects provide a large margin of safety on the investment. Assuming that the EPS would grow to analysts' FY2013 estimates at $3.19 and trailing P/E multiple would expand to 15.6x, which is consistent with the current peer-average P/E multiple as well as WAG's 5-year historical average, the 1-year target price is calculated to be $49.80, representing a 40% upside from the current market price. As such, I recommend acquiring the shares now.
Comparable analysis table is created by author, all other charts are sourced from Capital IQ, and all financial data is sourced from Morningstar, Thomson One, and Capital IQ.
Disclosure: I am long WAG. I wrote this article myself, and it expresses my own opinions. I am not receiving compensation for it (other than from Seeking Alpha). I have no business relationship with any company whose stock is mentioned in this article.