First J-REIT ETF
On Monday, September 8, Northern Trust Global Investments, the asset management arm of Northern Trust Corp. (NASDAQ:NTRS), launched the NETS Tokyo Stock Exchange REIT Index Fund (JRE). The fund is "the first dedicated ETF to be based on the Tokyo Stock Exchange REIT Index" (press release). JRE trades on the NYSE Arca Exchange.
JRE marks a bit of a departure for Northern Trust's line of NETS funds. All 15 of its previously launched ETFs cover single country equity indexes. JRE is the first NETS fund to veer beyond strict equities exposure, though it sticks to the same single country format as the other NETS funds.
Overlap with IFAS
Japanese REITs account for roughly 10% of the global REIT market. JRE has an expense ratio of 0.47%, 1 basis point lower than its only real rival, iShares FTSE EPRA/NAREIT Asia Index Fund (NASDAQ:IFAS). Whereas JRE is comprised entirely of Japanese REITs, IFAS is split between the Asian REIT market, with Japanese holdings making up roughly 32% of the portfolio, ahead of Australia (27%) and Hong Kong (25%).
IFAS began trading in January 2008 and is down 29.54% since launching. JRE's underlying index is down a nearly identical 29.71% YTD (see image below) meaning with such a close expense ratio, it has yet to distinguish itself from iShares' fund. IFAS offers a current yield of 5.07%, which may give investors an indication of the sort of dividend JRE will eventually pay out (Northern Trust hasn't yet specified a yield target for JRE).
image courtesy of Northern Trust
Expected performance
With just $15.54 million in assets and an average daily volume of under 10,000 shares a day, IFAS hasn't exactly been hugely popular with investors since launching more than nine months ago. Will JRE, with its even narrower focus, fare any better?
According to a recent article by Eric Rosenbaum on Index Universe,
The Japanese real estate market has been hard hit, but many in the market feel it may have hit rock bottom and now is the time for savvy investors to buy. To that point, many private equity players based in the U.S. have recently been targeting the Japanese real estate market.
But with liquidity still tight on a global scale and commercial real estate not hit nearly as hard as the residential market, REIT investments still include a high level of risk. Possibly exacerbating the risk for holders of JRE is the fact that it has only 41 holdings, with 65% of the fund concentrated in the top 10 holdings (36% is in the top 3 holdings alone). This means a relatively high level of volatility in all likelihood, with single holdings able to exert a strong effect on JRE's overall performance.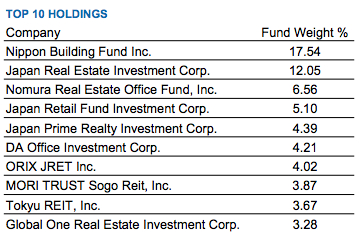 image courtesy of Northern Trust
Related documents [PDF format]