LinnCo LLC (LNCO) is a blue chip dividend stock for dividend investors. LinnCo is a recent initial public offering (NYSEARCA:IPO) as of October 12th, 2012. LinnCo owns Linn Energy, LLC (LINE) units. There are a few variances between the two equities. I will highlight the benefits of purchasing LinnCo shares as a dividend growth investor. LinnCo currently offers a compelling 7.3% dividend yield.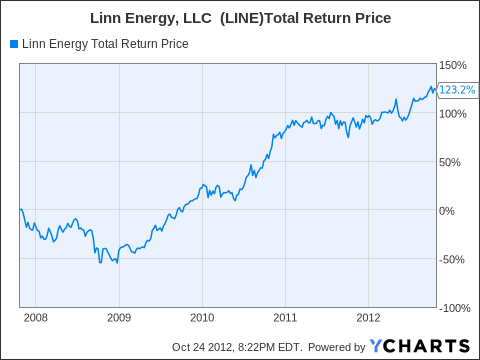 LINE Total Return Price data by YCharts
LinnCo LLC IPO
LinnCo LLC was formed in April 2012 as a limited liability company and a subsidiary of Linn Energy Limited Liability Corporation (LLC) for the sole purpose of purchasing Linn Energy units.
To raise capital to buy Linn Energy units, LinnCo's IPO provide the capital markets 30.25 million shares priced at $36.50. The company raised $1.1 billion. LinnCo used the IPO proceeds to acquire 14.8% of Linn Energy units:

This is an innovative way for Linn Energy to raise capital while simultaneously giving investors an alternate path to investing in Linn Energy. Linn Energy is structured as a limited liability corporation (LLC). For tax purposes, Linn Energy is treated similar to a master limited partnership (NYSE:MLP). This is due to the lack of a General Partner.
LinnCo's First Dividend
LinnCo, on October 23rd, announced their first dividend. The dividend is 71 cents per share. This equates to an annual dividend of $2.84. Based upon an October 24th LinnCo closing price of $38.58, the annual dividend yield is 7.36%.
Linn Energy has provided unit holders with a 19.27% annualized total return since January 17, 2006. This assumes distributions were reinvested in additional Linn Energy units.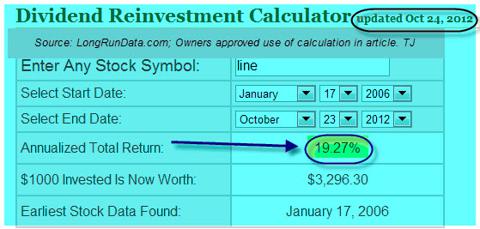 Share Price Parity with Linn Energy
LinnCo priced its shares to bear a 1 to 1 correlation with Linn Energy shares. Accordingly, LinnCo's only assets are shares of Linn Energy and some cash for future tax obligations. Therefore, LinnCo's share price performance will depend completely on the performance of Linn Energy units.
On their first day of trading, October 12th, LinnCo shares rose almost 5% and closed at $38.06 while Linn Energy units closed at $40.55, 6.5% above LinnCo shares.
Use of IPO Proceeds
Through this IPO, LinnCo essentially delivered $1.1 billion to Linn Energy in exchange for a 14.8% equity stake. Linn Energy plans to use these proceeds to pay down debt, and for working capital and acquisitions.
LinnCo Advantages
Every share in LinnCo is equivalent to one unit in Linn Energy. Materially, shareholders are exposed to the same upsides and downsides on both securities.
While Linn Energy is a compelling investment, its master limited partnership tax structure involves the issuance of IRS K-1 partnership forms. This requires that slightly more complex additional tax forms be filled out by investors. Moreover, many pension and mutual funds are precluded from owning MLP units.
In contrast, LinnCo only has to issue standard 1099 forms showing dividends paid, which require no additional IRS forms for shareholders.
Moreover, LinnCo shares are suitable for pension and mutual funds that are barred from buying MLP units, which increases the institutional investor base, access to capital, and share volume and liquidity. In addition, LinnCo shares make more sense for qualified retirement plans such as IRAs. This tax conclusion should concur with your personal financial advisor.
Linn Energy
As background, Linn Energy is an upstream oil and natural gas exploration and production company that is structured as a master limited partnership . Linn Energy purchases existing oil and gas production fields and optimizes them for greater productivity and yields. The company also actively hedges its production to guard against energy price volatility.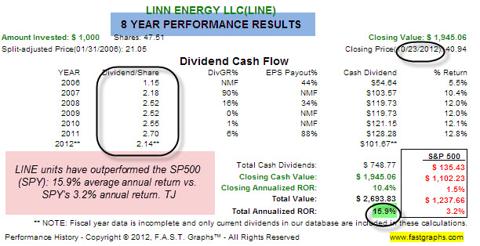 Linn Energy is North America's largest oil and natural gas MLP, well ahead of its peers in terms of assets held and market capitalization. It has production fields in California, the Mid Continent and the Permian Basin. As of October 24th, Linn Energy had a market capitalization of $9.42 billion (2.1x Book Value) and a price to earnings ratio of 8.7x, not unreasonable given its size and high value production base.
Given its business model of increasing production from existing fields, Linn Energy is continuously looking for suitable acquisitions. Over the past three years, Linn Energy has acquired new properties worth $5.7 billion, of which $2.8 billion was spent on new acquisitions in 2012 alone.
Investors in Linn Energy have seen regular and increasing distribution payouts that attest to the success of its strategy and execution. Notably, when natural gas prices dipped sharply in 2008, Linn Energy continued to maintain its distribution levels through the crisis and then raised distributions in Q3 2010 and thereafter.
Linn Energy was able to maintain its distribution levels because of hedges placed to protect its production against energy price volatility. For example, in early 2012, Linn Energy received almost twice the market rate for its natural gas because of hedges in place. MLP unit holders value constant distributions. The success of past hedging activities inspired Linn Energy to extend its hedging which now runs through 2017 for natural gas and through 2015 for crude oil.
A direct practical advantage of its successful hedging strategies was that while other natural gas producers saw profits plummet, Linn Energy held up reasonably well and had the financial strength to buy out high quality natural gas properties at discount prices, such as fromBP plc (NYSE:BP), Southwestern Energy Co. (NYSE:SWN) and Plains Exploration & Production Company (NYSE:PXP). These bargain purchases should deliver solid returns on invested capital going forward and benefit shareholders in both Linn Energy and LinnCo.
Distributions and Dividends
Linn Energy has a solid track record of paying and increasing distributions. In fact, when natural gas prices dropped sharply over the past few years, Linn Energy was one of the few upstream oil and natural gas companies to continue holding its distribution levels.
Linn Energy currently distributes $0.725 per unit, quarterly, for an annualized distribution of $2.90 and a yield of 7.1% with shares trading at $41 as of October 24, 2012.
However, while Linn Energy distributes $2.90 per unit annualized, LinnCo plans to only pay $2.80 or $0.71 every quarter. This 2.1% lower dividend for LinnCo investors is why its shares trade at a slight discount to Linn Energy units.
Matching Increments: Going forward, every increase in distributions by Linn Energy will be matched cent-for-cent by LinnCo on its dividend payouts.
Tax Treatment
As an MLP, Linn Energy passes most of its cash flow to unit holders and avoids paying federal income taxes.
LinnCo will be taxed as a separate corporate entity but is expected to pay only 2% to 5% tax on distributions it receives from its parent company.
Linn Energy Financials - June 30th, 2012
For its second quarter ended June 30, 2012, Linn Energy reported a 15% year over year gain on product sales and a 114% increase on derivative profits. For the quarter, revenues totaled $800.6 million, up 57% on higher production from existing and new wells.
Expenses rose significantly due to 81% higher depreciation and amortization costs and due to a one time asset impairment charge of $146.5 million. As a result, overall operating expenses were up 134% to $460.7 million from $196.6 million. Consequently, net income stayed flat at $237.1 million but was down 10.5% on a diluted per unit basis to $1.19.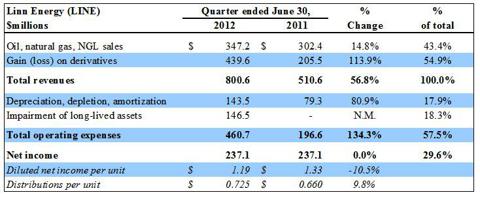 Linn Energy maintains minimal cash. As of June 30, 2012, its oil and gas properties had a net book value of $8.6 billion, up 26% over December 2011. The company also took on significantly higher debt in the quarter to fund two acquisitions totaling $1.4 billion. Unit holders capital was $4.1 billion, up 20.5%.

Summary
LinnCo shares are directly related to Linn Energy's financial performance. As the largest upstream MLP and with discounted acquisitions made recently, Linn Energy is well positioned to supply North America's increasing energy needs. That said, units are currently near all time highs, making the LinnCo IPO good for the company but not necessarily for investors in the new entity.
Amidst global uncertainty, energy prices could go anyway - up or down, depending on supply disruptions. But shares could correct if demand weakens in an otherwise stable supply scenario.
From an investment perspective, units/shares of Linn Energy and LinnCo offer identical future appreciation and distribution/dividend prospects so investors should evaluate the tax implications of each before picking one or the other.
Disclosure: I am long LINE. I wrote this article myself, and it expresses my own opinions. I am not receiving compensation for it (other than from Seeking Alpha). I have no business relationship with any company whose stock is mentioned in this article.
Additional disclosure: I am long Linn Co, LLC (LNCO) shares. LNCO owns only Linn Energy (LINE) units. TJ