Global stocks have sold off, as a result of disappointing earnings reports from large U.S. corporations. Investors looking to take advantage of recent weakness to search for value opportunities in the biotechnology industry have quite a few options. One of them is Dynavax Technologies (NASDAQ:DVAX), a clinical-stage biopharmaceutical company that discovers and develops novel products to prevent and treat infectious and inflammatory diseases.
In order to reveal the opportunity and the potential behind Dynavax, I held an exclusive interview this week with Dr. Philip Nadeau, a Managing Director and Senior Research Analyst on the biotechnology team at Cowen and Company. Dr. Nadeau has been at Cowen for twelve years and has been recognized in the Wall Street Journal's "Best on the Street" rankings. He has a Ph.D. in neurobiology from Harvard University and an S.B./M.Eng in electrical engineering and computer science from MIT. We have focused mostly on the company's lead product candidate, Heplisav, a Phase 3 investigational adult hepatitis B vaccine designed to provide higher and earlier protection with fewer doses than currently licensed vaccines. Heplisav combines hepatitis B surface antigen with a proprietary Toll-like Receptor 9 agonist to enhance the immune response.
The U.S. Food and Drug Administration (FDA) has set November 14-15, 2012, to discuss Heplisav's approvability at the Vaccines and Related Biological Products Advisory Committee panel. The FDA has also established February 24, 2013, as the PDUFA date for Heplisav. If approved, Heplisav would be the standard-of-care hepatitis B vaccine.
Ben Yoffe: Dr. Nadeau, what are your expectations regarding the upcoming meeting of the Vaccines and Related Biological Products Advisory Committee, which will decide by November 14-15th whether or not to recommend approval of Heplisav? Do you see any issues that should prevent a positive panel vote?
Nadeau: We expect VRBPAC to recommend Heplisav for approval for the vaccination of adults between the ages of 18 and 70 against all hepatitis B subtypes. We expect the discussion to focus on Heplisav's risks and benefits in adults ages 18-70. We think the vaccine's benefits are clear, as Heplisav's seroprotection was statistically superior to that of Engerix in its Phase III trials. The FDA and VRBPAC will analyze Heplisav's safety data base for any sign of increased safety risks. We can find none that should prevent approval in the publicly available data. Despite the fact that Heplisav was put on clinical hold following one case of Wegener's Granulomatosis in 2008, the accumulated data suggest that the case was spurious and that Heplisav does not increased the risk of autoimmune reactions. In fact, Dynavax has exhaustively analyzed the Phase III data, in order to find any signs of an "unanticipated risk". Dynavax has found no imbalance in any adverse event, in any patient subgroup. Therefore there is nothing that we can find that should prevent a recommendation for approval.
Yoffe: Can you assign the probability of eventual approval of Heplisav?
Nadeau: We estimate 85% to eventual approval.
Yoffe: What are the differences between Heplisav to the current primary hepatitis B prophylactic vaccines as GlaxoSmithKline's (NYSE:GSK) Engerix-B and Merck's (NYSE:MRK) Recombivax-HB?
Nadeau: Heplisav's seroprotection was statistically superior to that of Engerix in its Phase III trials. Moreover, Heplisav's regimen requires fewer doses (2 injections over 1 month, compared to 3 injections over 6 months in healthy adults for Engerix and Recombivax), and Heplisav also induces seroprotection more quickly. Heplisav achieves more rapid and better seroprotection because it contains a novel adjuvant called "1018 ISS" which targets TLR9.
Yoffe: In 2009, the FDA approved GlaxoSmithKline's Cervarix, a vaccine that contained a novel adjuvant (a TLR4 agonist) other than alum. How Dynavax could benefit from this approval?
Nadeau: Cervarix's approval demonstrates the willingness of the FDA to approval novel adjuvants, and in particular adjuvants aimed at Toll-like receptors. That being said, Dynavax will still need to sufficiently demonstrate the safety and efficacy of Heplisav.
Yoffe: It seems that diabetes market becomes a new opportunity for Heplisav. What can you tell us about it?
Nadeau: The CDC recently expanded its HBV vaccine recommendations to include adults under the age of 60. The CDC concluded that in adults under the age of 60, diabetes confers a two-fold increase in the risk of contracting HBV. The ACIP estimates that 10% uptake of HBV vaccines among diabetics age 20 - 59 is a reasonable projection for the next few years based on the uptake of other vaccines post recommendation changes. Assuming an average price per HBV vaccine course of $250, 10% uptake would therefore translate into approximately $300MM in incremental vaccine sales over the next few years.
Yoffe: How large is the potential market for Heplisav in the U.S.?
Nadeau: We believe current U.S. sales are about $270MM, which would suggest a $360MM market at Heplisav's expected premium price. Assuming the CDC's recommendation increased the vaccinations of diabetics, the U.S. market could be expected to grow to $500MM+.
Yoffe: Is there any other significant products in Dynavax's clinical-stage pipeline?
Nadeau: Most of Dynavax's value is supported by Heplisav. However, the company does have other clinical programs including a universal flu vaccine, an asthma program partnered with AstraZeneca, and a Lupus program partnered with GlaxoSmithKline.
Yoffe: Last week, the director Mark Kessel sold 6 million shares of Dynavax, which were sold indirectly by Symphony Capital Partners. Should investors need to see it as a bearish sign?
Nadeau: No. We do not think the sale was a reflection of DVAX's fundamentals or prospects.
Yoffe: Merger and acquisitions are happening regularly in the biotech world. Do you think Dynavax could be a target for an acquisition post approval?
Nadeau: Yes. There are a number of large pharmaceutical companies in the vaccine market. In fact, most vaccine-focused biotechs have been acquired over the years. Chiron was acquired by Novartis (NVS), MedImmune was acquired by AstraZeneca (NYSE:AZN).
Yoffe: What is the financial picture for Dynavax? Does the company have sufficient liquidity to get through the PDUFA date in February?
Nadeau: Dynavax raised money during Q2:12, and as of the end of that quarter had $160MM in cash and equivalents. According to our projections, this should be sufficient to carry the company not just through the PDUFA date in February, but to profitability in late 2014.
Yoffe: For closing, do you see the current price as a good opportunity to buy Dynavax shares?
Nadeau: Yes, we do. We think at the current price the market is heavily discounting Heplisav's potential for FDA approval, and commercial prospects. While there is always risk and unpredictability when dealing with the FDA, we think it is very likely that Heplisav will make it to the U.S. market. Given that Heplisav is more effective and more convenient than the marketed HBV vaccines, we think it will take significant share in the market for adult HBV vaccines once sold. This suggests to us that Heplisav is likely to produce $500MM+ in annual revenue for a long time. Today Dynavax is trading with an enterprise value of only about $535MM. We think it is very attractively valued, particularly for an asset that is likely to have a long commercial tail.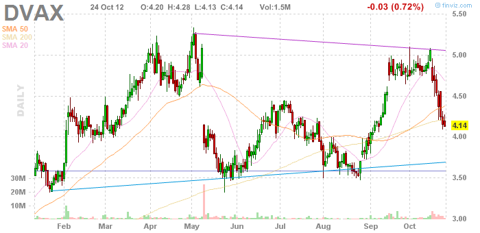 Click to enlarge
Disclosure: I am long DVAX. I wrote this article myself, and it expresses my own opinions. I am not receiving compensation for it (other than from Seeking Alpha). I have no business relationship with any company whose stock is mentioned in this article.