No Attention Span Summary: A Downstream and Marketing Master Limited Partnership (MLP) with high initial leverage that would be a more interesting higher risk MLP investment at prices below the mid-point price of $20 per unit.
Lehigh Gas Partners LP (LGP)
LGP is currently on the road looking to price its IPO on the evening of October 25, 2012. The company is looking to sell 6 million common units at a mid-point price of $20 per unit, raising approximately $120 million of gross proceeds. I am going to assume readers are familiar with Master Limited Partnerships (MLPs); energy related concepts, general investment and valuation concepts and focus more on key pros and cons for LGP and how it compares to its MLP peer group. Additionally, this article uses some unique terms and ratios that are explained in an earlier article, A Ranking Protocol for the MLP Space.
LGP's Business
We are a limited partnership formed to engage in the wholesale distribution of motor fuels, consisting of gasoline and diesel fuel, and to own and lease real estate used in the retail distribution of motor fuels. We generate cash flows from the wholesale distribution of motor fuels primarily by charging a per gallon margin that is either a fixed mark-up per gallon or a variable rate mark-up per gallon. By delivering motor fuels through independent carriers on the same day we purchase the motor fuels from suppliers, we seek to minimize the commodity risks typically associated with the purchase and sale of motor fuels.

For the six months ended June 30, 2012, we distributed an aggregate of approximately 282 million gallons of motor fuels to 728 sites, including 120 sites to which we did not distribute motor fuels until we leased them from an affiliate of Getty in May 2012. Over half of the sites to which we distribute motor fuels are owned or leased by us. In addition, we have agreements requiring the operators of these sites to purchase motor fuels from us. For 2011, we were one of the ten largest independent distributors by volume in the United States for ExxonMobil, BP, Shell and Valero. We also distribute Sunoco and Gulf-branded motor fuels. Approximately 95% of the motor fuels we distributed in 2011 were branded.
Asset Map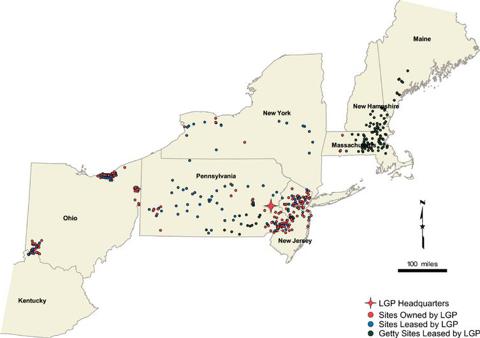 Source: S-1 filing.
Organization / Pro Forma Ownership Structure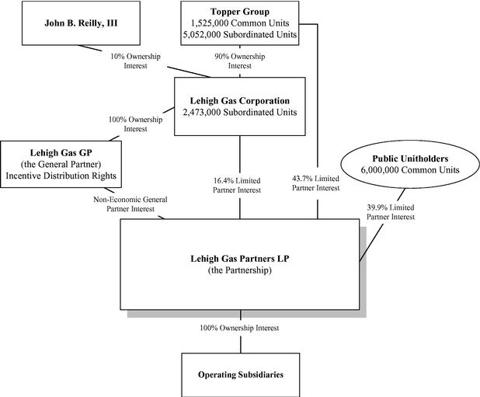 Source: S-1 filing, does not include the over allotment.
Downstream and Marketing (D&M) Peer Group
The Downstream and Marketing MLP segment includes the following partnerships: Calumet Specialty Products Partners, L.P. (NASDAQ:CLMT); Global Partners, L.P. (NYSE:GLP); Susser Petroleum Partners, L.P. (SUSP); and Northern Tier Energy, L.P. (NYSE:NTI).

The closest peer to LGP in the Downstream and Marketing segment is Susser Petroleum Partners, L.P. . They both have very similar business models and estimated EBITDA in the $45 to $50 million range. LGP's footprint is in the Northeast, while SUSP's foot print is in Texas. Susser Petroleum Partners is an excellent recent data point since its IPO was just completed on September 19th.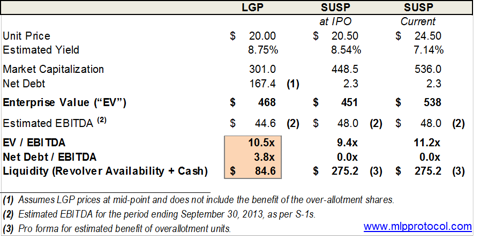 At the mid-point IPO price of $20 per unit, LGP generally compares unfavorably to SUSP. LGP's Enterprise Value to EBITDA multiple will be 10.5x, which is only slightly lower/better than SUSP's current multiple of 11.2x, but higher than SUSP's multiple of 9.4x at its IPO price. For LGP's Enterprise Value multiple to come in close to that 9.4x, LGP's IPO unit price would have to be lowered to around $17. LGP will also have a much weaker balance sheet post-IPO with Net Debt to EBITDA of 3.8x and liquidity of approximately $85 million, which is substantially higher leverage than SUSP's effectively unlevered balance sheet along with much lower liquidity compared to SUSP's estimated $275 million. Lehigh Gas Partners' initial yield is 161 basis points higher than Susser Petroleum Partners' current yield, but the key question is whether or not that incremental yield is compensation enough for the higher comparative overall risk.
Sensitivity Tables
Yield and Valuation vs. Peer Group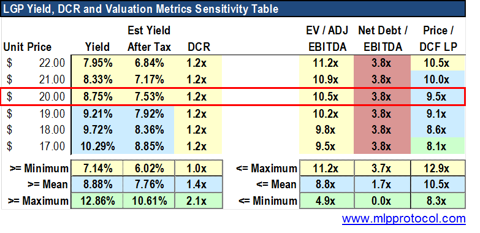 3-Year Forward Yield After Tax

3-Year Forward Yield After Tax / Valuation Coverage Ratio

Pros
Stable Cash Flows from Rental Income and Wholesale Fuel Distribution: LGP generates revenue from rent on its sites and earns a per gallon margin on the wholesale distribution of motor fuels. The average remaining lease term for lessee dealer sites was 2.4 years as of June 30, 2012. The lease term for the Lehigh Gas-Ohio, LLC ("LGO") sites will be 15 years and supply agreements with independent dealers generally have 10 year terms. LGP sells motor fuel on a wholesale basis to lessee dealers, independent dealers, LGO and sub-wholesalers under contracts that prohibit customers from purchasing motor fuels from other distributors. The contractual nature of rental income and the consistent demand for motor fuel in the areas where LGP operates should provide a stable source of cash flow.
Prime Real Estate Locations in the Northeast: LGP's rental income comes from sites it owns or leases that provide convenient fueling locations in areas that are densely populated. Four of the states within its footprint are among the top ten consumers of gasoline in the United States and three are among the top ten consumers of on-highway diesel fuel in the United States. Limited availability of undeveloped real estate in these areas presents a high barrier to entry for the development of competing sites.
Experienced Management Team with Long-Term Relationships with the Major Integrated Oil Companies: LGP's executive management team has an average of 30 years of energy experience and a proven track record of growth. Since 2004, they have grown the business from 11 owned sites to 182 as of June 30, 2012 via the successful completion of 10 acquisitions, with the majority of those coming from major integrated oil companies.
Good Projected Distribution Coverage Ratio: LGP projects a Distribution Coverage Ratio ("DCR") of 1.20x over the next twelve months. The Common Unit owners will also benefit from the Subordinated Units in the structure, which effectively double the Distribution Coverage Ratio for the Common Units to 2.40x since the Subordinated Units' distributions would be cut to zero before any reduction in Common Unit distributions.
Cons
High Initial Leverage Reduces Ability to Grow Making Acquisitions: LGP will have relatively high net leverage of 3.8x EBITDA post-IPO. Its leverage will be the highest within its peer group and substantially higher than Susser Petroleum Partners.
Privately Held General Partner/Sponsor: LGP's General Partner is essentially owned privately by members of LGP's management team. The assets being conveyed into LGP appear to contain substantially all of the MLP qualifying assets controlled by the sponsor entities, meaning that there are little to no additional assets to "drop down" to grow the MLP. Additionally, since they are private, those entities have less access to various sources of capital (for comparison, SUSP has a publicly traded GP/Sponsor).
Non-Traditional MLP Assets / Business: While LGP is similar to Susser Petroleum Partners, both of them are not typical midstream/pipeline related businesses. The larger more traditional MLPs will tend to perform better during a market downturn. This phenomenon won't be evident near-term, but will be something to keep in mind when MLP market conditions falter. The business model being slightly outside the traditional MLP comfort zone will tend to mean that LGP will always trade at a higher required yield.
Non-economic GP Interest and IDR Structure: Similar to SUSP and a small number of other MLPs, LGP also has a slight twist in the Incentive Distribution Right ("IDR") structure, the GP has a "non-economic interest" in LGP and just holds the IDRs structured as follows:

Since its GP interest is "non-economic," the company won't be required to invest the typical 2% whenever LGP does future equity offerings, which seem likely given the company's leverage and plan to grow through acquisitions. Generally speaking, the typical full IDR structure (full IDR meaning that the top tier is the 50%/50% split) includes the GP owning a 2% economic interest in the MLP at inception, which the GP then maintains by contributing additional equity dollars to the MLP whenever the MLP sells additional LP units/equity. The trade-off for LGP is that the GP does not receive any distributions until such time that the LP distribution has been increased by more than 15% above the Minimum Quarterly Distribution (as shown in the table above). Since the GP doesn't receive any distributions until after achieving the First Target Distribution (up 15% for the LP Unitholders), I view this structural tweak as a slight negative but not a huge concern; it's just something to keep in mind. Based on SUSP's performance since its IPO, the market is fine with the "non-economic GP interest" concept.
Low Estimated Tax Deferral on Distributions: LGP estimates that approximately 60% or more of the estimated distributions through December 31, 2015 will be tax deferred with respect to federal income taxes. The tax deferral benefits make the extra effort involved with dealing with K-1 filings worthwhile. MLPs' units still compete for the same MLP investor dollars, so investors targeting a certain effective after tax yield will want to pay less for LGP. Again though, SUSP had a slightly lower tax deferral estimate of 55%, but that has not seemed to impact its market reception over its first month of being publicly traded.
MLP Tax Considerations and IRA Disclaimer: Additionally, LGP is an MLP that sends a K-1 tax form instead of a 1099-DIV, so additional tax considerations and effort at tax time are required for investors. Please consult with your tax advisor before making any investments into any asset class that you do not currently own. If you are your own tax advisor, nothing prevents you from investing in MLPs using IRA money. However, I recommend that you do not due to future UBTI issues. Any investment that I own that generates a K-1 is held in a taxable account. Please do not let me stop you though, it is after all, your money and your choice and nobody is more concerned about your money than you.
Some background on MLP tax considerations can be found here:
Basic Tax Principles for MLP Investors
MLPs and Taxes: What Investors Should Know
MLP Tax Issues Every Investor Must Know
Conclusion
Lehigh Gas Partners LP is another entrant into the MLP marketplace that has "non-traditional" downstream and marketing assets and is very similar to Susser Petroleum Partners. Susser Petroleum Partners' IPO priced September 19, 2012 at $20.50 (2.5% above the mid-point price), opened at $23.40 (17% above the mid-point price) and closed on October 24, 2012 at $24.50 (up 19.5% from the IPO price). Let me be the first to admit that I was overly pessimistic and completely wrong on SUSP a month ago, so keep that in mind. However, once again I am not enthusiastic about LGP since it has much higher leverage and less liquidity than SUSP.
The underwriters are probably emphasizing how LGP is similar to SUSP and pointing out SUSP's very strong unit price performance. They are also probably countering the leverage concern by pointing out that the 8.75% mid-point yield for LGP is higher than SUSP's 7.14% yield so "hey you are getting the extra yield to pay you for the risk, how many units can I put you down for?" While lower prices for LGP would make me more interested in risking some capital, the market is in charge, so I will wait patiently to see LGP's reception. As always, I may (or may not) have varying open limit orders when LGP begins trading and may change my possible limit orders at any time.
Sources
LGP Roadshow: The LGP roadshow presentation will be removed on the night of pricing, but the website is great to bookmark for future IPOs.
Disclosure: I am long CLMT, NTI. I wrote this article myself, and it expresses my own opinions. I am not receiving compensation for it (other than from Seeking Alpha). I have no business relationship with any company whose stock is mentioned in this article.