While expectations generally remain extremely bullish for Apple (NASDAQ:AAPL) - for example, see "Why I Bought Apple Ahead Of This Week's Earnings Announcement" and/or "Apple $1000: Why It's Time To Buy" - the short-term price action going into earnings does not reflect that bullishness.
Since last printing all-time closing highs just above $700 on September 19th, AAPL has generated several bearish moves starting with a subtle head and shoulders pattern around that high. Supports at $660, the 50-day moving average (DMA), and the former all-time high from April have fallen ever since, thus confirming a breakdown from the head and shoulders pattern. The chart below summarizes this action.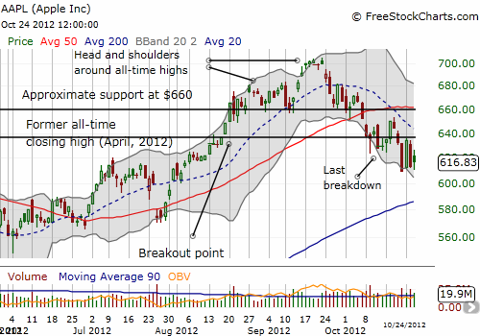 Apple has sold-off from all-time highs going into October earnings
Source: FreeStockCharts.com
Over three of the last four trading days, Apple has swung wildly with rare +/-3% one-day moves. Since 2010, Apple has experienced such large movement 46 out of 709 (6.5%) total trading days. The last time such large swings happened in such close proximity was the three of four days from April 16th to April 19th where AAPL traded -4.1%, +5.1%, and -3.4% (on the big swing days) a week ahead of the earnings that launched this earnings trade template. While these moves were likely motivated by Apple's recent product news regarding the iPad mini and other Mac products, general weakness in the stock market has also helped to amplify the alternating angst and exhilaration in AAPL's trading. These swings are likely a dress rehearsal for the reaction to earnings the evening of October 24th.
When I first started tracking Apple earnings reactions in April, I looked ahead six months to the October earnings as the next opportunity offering as clear a trading signal as April's. Boy, how time flies. The keys from that analysis for AAPL are the average price changes over the 7 and 14 days prior to earnings. At the time of writing, those averages are -0.4% and -0.5%, respectively. Since 2007, October earnings deliver an inversely correlated relationship between those price changes and the post-earnings price change. July earnings did not provide a clear signal. I did not trade it after my rule for price action on the last day before earnings just barely missed triggering.
The charts below summarize the key earnings trade relationships. All charts use data since 2007 from Yahoo! Finance. Earnings dates are from briefing.com. Note well that the relationships become clearer when segmented by quarter.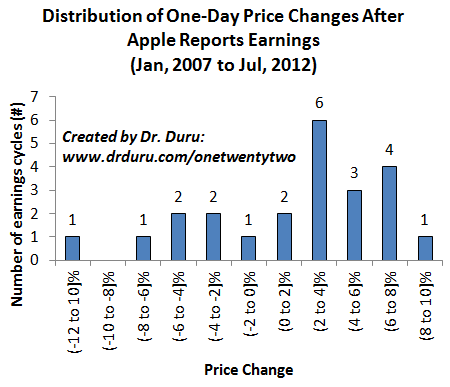 Distribution of One-Day Price Changes After Apple Reports Earnings (Jan, 2007 to Jul, 2012)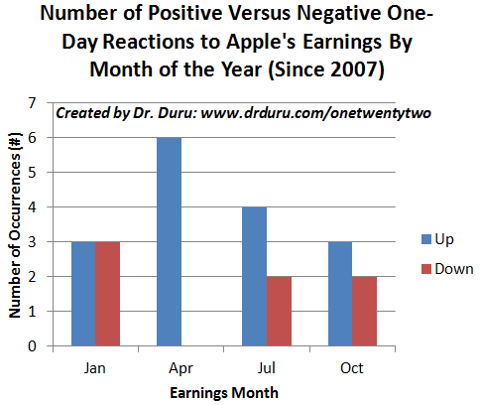 Number of Positive Versus Negative One-Day Reactions to Apple's Earnings By Month of the Year (Since 2007)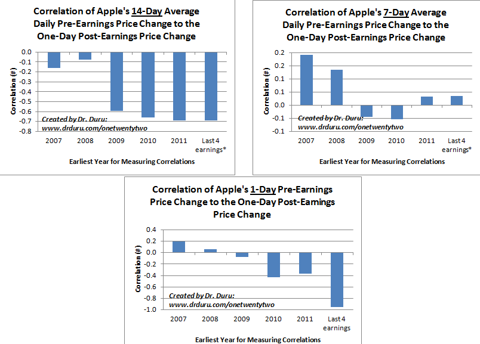 Correlation of Apple's Average Daily Pre-Earnings Price Changes to the One-Day Post-Earnings Price Change

Correlation of Apple's Average Daily Pre-Earnings Price Changes to the One-Day Post-Earnings Price Change Sorted By the Month of Earnings
While October earnings deliver clarity similar to April earnings, a key difference is that AAPL has responded favorably to April earnings 100% of the time since 2007. October has delivered a split with 3 positive versus two negative changes. A key difference this year is that the sell-off into April earnings was much steeper than the current sell-off: AAPL sold off into April earnings with 7 and 14-day average daily price changes of -1.7% and -1.1%, respectively.
So, these data suggest that AAPL will have another favorable response albeit moderate. However, there are some extremes that make me think that the response to this October earnings cycle will deliver a large move, up OR down. The data below come from Schaeffer's Investment Research:
Put/call open interest at its lowest point since around February, 2012.
Extreme bullishness amongst analysts with 34 Strong buy ratings, 4 buy ratings, and 1 hold, no sell ratings.
AAPL volatility index has steadily risen since at least August, doubling over that time.
Short interest back to two year highs (similar levels in mid-June, 2012 and last August, 2011).
To me, these data suggest that a disappointment will plunge the stock to a steep loss even as they confirm the upside potential if AAPL delivers. The rush to load up on calls and extreme analyst bullishness sets up the potential for deep disappointment. The increasing volatility confirms the growing tensions between bears and bulls seen in the wild swings in the stock as it has fallen from all-time highs. The high short interest is only 1.6% of the float, but in this case it is the relative amount of shares short that matter. It is very possible that these shorts are contributing to the rush for calls as they hedge their bets.
Looking at AAPL's chart above, it seems natural to expect the stock to get bracketed by important resistance at the 50DMA around $660 and support at the 200DMA around $586. I have targeted my positions with this bracket in mind. I have added put spreads (strikes $600/$580) to the calls (strike $650) I have purchased as a part of the earnings trade strategy this round. (For other examples of earnings trade strategies at work, see previous posts on Google (NASDAQ:GOOG), Chipotle Mexican Grill (NYSE:CMG), Priceline.com (NASDAQ:PCLN), Best Buy (NYSE:BBY), Amazon.com (NASDAQ:AMZN), and F5 Networks (NASDAQ:FFIV)).
Be careful out there!
Disclosure: I am long AAPL. I wrote this article myself, and it expresses my own opinions. I am not receiving compensation for it (other than from Seeking Alpha). I have no business relationship with any company whose stock is mentioned in this article.
Additional disclosure: I am net long with AAPL calls and put spreads