I think our opportunity on mobile is the most misunderstood aspect of Facebook today. Most people underestimate how fundamentally good the trend toward mobile can be for Facebook.
~ Facebook CEO Mark Zuckerberg, Earnings Call, October 23, 2012.
Study these figures closely. As reported in Facebook's (NASDAQ:FB) investor relations pages, mobile "monthly active users" (MAUs) were 604 million as of September 30, 2012, an increase of 61% year-over-year. This is an immense figure that early investors did not factor in during its IPO debacle. Given that mobile ads were only started this year, it should be of the greatest interest to investors that Facebook generated 14% of advertising revenue during the third quarter from mobile ads. FB made $1.2 billion in total revenue this quarter, while it made $954 million last year, same quarter. What is more interesting is that, last quarter, FB had 240 million mobile users approximately, but made absolutely nothing from advertising in this segment. That is to say, it was not able to monetize its mobile user segment at all. This year, however, it has 604 million mobile users active on the site. From out of that number, it was able to make around $150 million in mobile ads segment, or $3 million per day just on its mobile ads. That is a huge amount of monetization of the mobile segment, from 0 dollars per day to $3 million per day.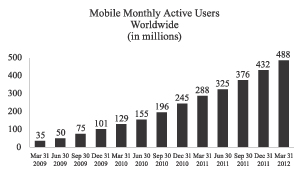 So here's my thesis: Facebook is again a buy, and it is a buy because of how it has been able to monetize the mobile user segment, and because it is probably undervalued at this moment compared to its potential earnings from the mobile segment. However, investors should wait until the next lock-in period expires in a few weeks and billions of shares held by insiders flood the market and crumple the price like it did in early August. I would wait until then to start a Long position on this stock. The lowest price we have seen it go was $17.7 on September 4; right now, it is trading at $23.53 in after hours trading, after seeing a rally of 23% after the earnings report the day before. I believe the insider sale will lower the price to as low as $18, which will be a good time to buy the stock considering how its next earnings report will develop on this quarter's report.
So what did Facebook do right in its mobile segment? Two things:
It added almost 400 million new mobile active users
It enabled mobile ads in such a way as to generate $150 million in revenue from the segment
If you look at its annual report, and the comments from CEO Mark Zuckerberg, here's what you see. First, here's what Mark says:
As proud as I am that a billion people use Facebook each month, I'm also really happy that over 600 million people now share and connect on Facebook every month using mobile devices
Notice that he is completely, almost exclusively focused on mobile. He is using the PC segment just to compare how well he has done in mobile. Just like many tech-savvy investors globally, Facebook's planners must have noticed the new trend towards mobile devices that is completely changing the computing scenario. As we have discussed before, PC sales is about to crumple and the computing space is going to be dominated by the mobile smartphone industry. So a company that can quickly switch to the mobile platform will stick around, the rest will be gone.
Let's take a look at what exactly FB has done to perform this small miracle. Let's again take a look at their report to see what they have been doing lately:
Product
Completely rebuilt Facebook for iOS for faster and more reliable performance
Updated Messenger for Android and iOS and made Facebook Camera available in 18 languages
Continued to make it easy for mobile developers to build with Facebook
New Software Development Kits (SDKs) for iOS and Android
Deep integration into iOS 6.0
Launched Facebook Gifts, a way to send gifts to celebrate the special moments millions of people share on Facebook each day
Advertising
Launched several new advertising products, such as Custom Audiences, Facebook Exchange, Offers, and mobile app install ads
Generated 14% of advertising revenue during the third quarter from mobile
Ignore the italicized sentence, and everything else is mostly all about mobile. They have achieved deep integration with both the Android and the iOS, they have developed new SDKs for both platforms so outside developers can build great mobile apps, and something else they haven't mentioned here, but they have also rolled out a new product called "sponsored posts," which insert paid marketer messages into the home screen of its mobile apps, according to this WSJ article. See the table below for new initiatives at FB, sourced from Valuewalk:
Mar-12 Sponsored Stories via mobile news feed
May-12 Promoted Posts for business accounts
Jun-12 Simplified mobile payments for social games
Jun-12 Facebook emails
Jul-12 FB to track App usage to target mobile ads
Jul-12 FB to launch Job Board (press reports)
Sep-12 Sponsored Results
Sep-12 Promoted Posts available on mobile
Sep-12 FB Ad Exchange launched
Sep-12 Mobile Ad Network (testing)
Sep-12 Facebook Offers
Sep-12 FB to integrate with DropBox
Sep-12 Facebook Gifts
Oct-12 Promoted Posts for personal accounts
Oct-12 FB Collection (Pinterest like site and Want button)
Oct-12 Mobile app install ads
Here's a comparison of how these mobile ads are performing against the broad marketplace ads (note that since late April, sponsored stories/posts have gone mobile, and produced that large spike in the graph).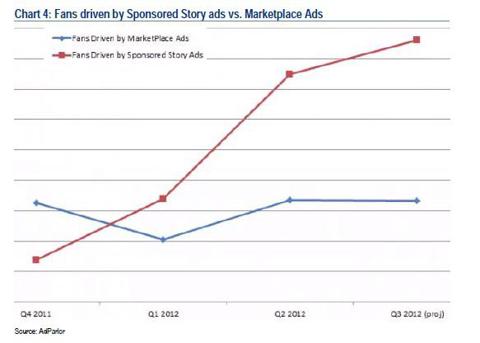 Source: Valuewalk
This is advertising on the go; you are on the move, at the airport, on a train, and you check out your FB page, and out pops an ad for some local restaurant that is half a click away from you, and its lunchtime already. Imagine how much advertisers are willing to pay for this sort of advertising - dynamic, mobile, geospatially and temporally relevant ads - and you can figure out where Facebook can go.
Actually, some analysts have already figured that out: according to reports on Seeking Alpha, 'Stifel, upgrading shares to Buy, believes Facebook's mobile revenue will go from $153M in Q3 to $247M in Q4, and total $1.6B in 2013." So, what we are seeing here is, within a span of an year, its mobile revenue will beat its total revenue for the previous year.
Growth Markets, Problems and Solutions Thereof
Here's a table that tells you how Facebook users are spread around the world, and gives you an idea of the growth potential in emerging markets:
| | | | | |
| --- | --- | --- | --- | --- |
| Region | MAUs (millions) | Revenue 2011 | Revenue 2012 | ARPU |
| U.S. and Canada | 189 | $482 million | $637 million | $3.40 |
| Europe | 253 | $283 million | $341 million | $1.37 |
| Asia | 277 | $80 million | $154 | $0.58 |
| Others | 288 | $43 million | $130 million | $0.47 |
Source: Facebook Q3 Earnings Report. Note: ARPU - average revenue per user.
As you can see, growth potential in the developed markets of US/Canada/Europe are near saturation. The most important measure for saturation is ARPU, which has actually decreased in Europe by about 25%. Although it has peaked in the US/Canada region at $3.40, I am highly concerned it will not go much further, especially compared to the Asian/Other countries potential.
So Facebook needs to put a lot of focus in these emerging markets. However, one interesting point crops up here - there are more mobile users in these regions than elsewhere. According to a report,
Many of the 103M Facebook monthly users who only used mobile devices in Q2 appear to be in emerging markets: the company has mentioned 90% of African users rely on phones, and 30% of new Indian users register via phones.
So, the fact that Facebook is putting a lot of emphasis on its mobile platform(s) is actually going to help it gain more revenue from these mobile-friendly emerging markets.
However, there are some problems, as mentioned in the above cited report. There is hardly much requirement for American or European marketers to market their products in these regions as of now. That is one half of the first problem. The other half is that, in these regions, local advertisers still rely more on old-world media like the TV and newspapers for advertising, and there is hardly any penetration of mobile advertising as compared to in the emerging markets.
The second problem is that although much of these regions is mobile-exclusive, many of the phones they use run on OS that do not support much of FB's mobile ads.
The solution to these two problems is simple to state:
Use regular media to advertise the benefits of mobile advertising and create an awareness of the potential for marketing/advertising using Facebook
Create and develop mobile apps and ads that can work on common OS used in these regions, notably the Symbian
I am certain Facebook is already aware of these solutions and is actively taking steps to solve them. Once it does, revenue from the emerging markets will replicate those for other industries that were once huge in developed regions but now garner a major part of their revenue from emerging markets. That will bring Facebook stock price back to a comfortable level.
Disclosure: I have no positions in any stocks mentioned, and no plans to initiate any positions within the next 72 hours. I wrote this article myself, and it expresses my own opinions. I am not receiving compensation for it (other than from Seeking Alpha). I have no business relationship with any company whose stock is mentioned in this article.