Cellzome is a privately-owned drug discovery company identifying a new generation of kinase-targeted drugs to treat inflammatory diseases. Its pipeline of small-molecule therapeutics is driven by Kinobeads[TM], a proprietary technology for screening and profiling kinases in relevant cells and tissues.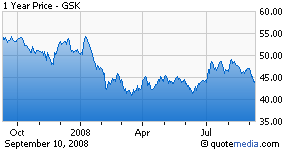 Under the agreement GlaxoSmithKline (NYSE:GSK) has exclusive options to license drug candidates from Cellzome's kinase programs directed against four identified targets, and three additional targets to be jointly identified by both parties. Cellzome will develop the most promising product candidates through to completion of a clinical proof of concept trial, unless GSK elects to exercise its option earlier. Upon Cellzome's achievement of clinical proof of concept for a product candidate for a particular kinase target, GSK would have an exclusive option to license all product candidates from that program. GSK would then assume full responsibility for further clinical development and commercialization on a worldwide basis. Cellzome retains the right to continue the development and commercialization of drug candidates if GSK chooses not to exercise its option to that program.
Under the terms of the agreement, Cellzome will receive upfront payments of $25.2M upfront comprised of both cash and equity. Cellzome is eligible for up to $207M million per program in potential development, regulatory and commercial milestones and up to double digit royalties on net sales of products resulting from the alliance.