Stocks have experienced a rapid increase in volatility over the last few days as the Chicago Board Options Exchanges Market Volatility Index (VIX) settled higher as indicated in the graph below. The elevated state of what has become nicknamed as the "fear index" is often highly correlated with the increased swing momentum of market prices as investors become more uncertain over valuation. As a result, the following companies who recently experienced strong price movements as of Wednesday, October 24, may be in store for particularly strong movements in their stock prices over the coming days.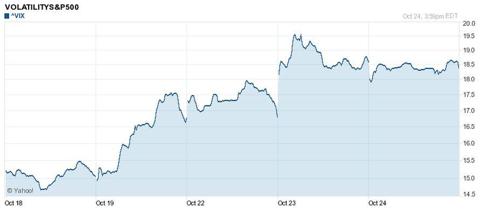 Facebook
Social networking giant Facebook (NASDAQ:FB) experienced a surprisingly strong pop on Wednesday as the company rose 19.13% during the day's trading session. The company received a warm welcome from positive comments made by CEO Mark Zuckerberg in regard to Facebook's mobile opportunities. These words were backed by a strong trend in mobile monthly active users leading many to believe that the company's prospects in the mobile space has been largely underestimated. The strong double digit pop led to an increase of about $8 billion to the company's current market capitalization of $49.77 billion.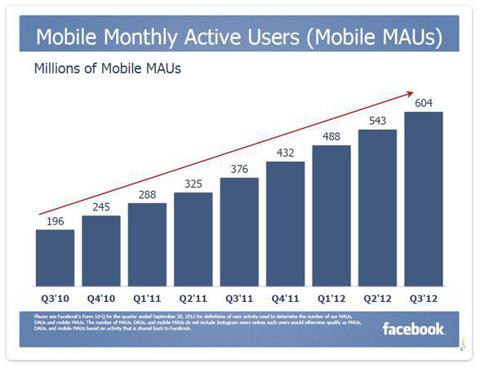 Zynga
Currently priced for a broken business model, online social gaming service Zynga (NASDAQ:ZNGA) posted strong momentum as the company's stock jumped 13.67% to $2.42 in the after hours session. The company posted a loss for the third quarter but announced a surprising $200 million share buyback and news of a real-money gaming deal in the United Kingdom. At the market's close, Zynga carried a meager market capitalization of $1.62 billion. A little over a year prior, the company had entered the public space with a $1 billion IPO in which it had priced its shares at $10 a piece.
Corning
Specialized glass and ceramic manufacturer Corning (NYSE:GLW) suffered a strong decline of 9.4% during the day's trading session as the company posted poor revenue and earnings. The company stated that it expected to cut costs which was likely a subtle reference to upcoming job cuts. The manufacturer was largely impaired by slowing global growth to its telecommunications and environmental technologies divisions, two areas of expected growth for the company's future. The decline leaves the company with a market capitalization of $18.09 billion as the company now trades below its book value of $14.33 per share.
Netflix
TV show and movie subscription service Netflix (NASDAQ:NFLX) dropped a double digit decline of 11.88% on Wednesday as analysts cut their price targets for the company while warning of increased competition over the horizon. The company's subscriber gains failed to impress investors as it became clear that Netflix would be unlikely to meet its prior forecast of 7 million subscribers. Netflix now sees full-year U.S. streaming subscriber gains of a mere 4.7 million to 5.4 million in a clear indication of faltering growth performance. The company now trades with a market capitalization of $3.34 billion and yet still operates under a lucrative trailing price-to-earnings ratio of 34.24. Since February 2012, the company has fallen from a high of $133.43 to the current price of $60.12.
Conclusion
As the market enters into a possible correction phase and volatility increases, investors can expect these companies to trades with increased momentum. The strong price movements of the day signal overarching investor surprise allowing for increased activity in the coming days as investors attempt to gain a strong grasp of the situation. For those averse to risk, it may be wise to exit positions as is individually appropriate in order to bypass ongoing activity until prices settle down appropriately.
Disclosure: I am long GLW. I wrote this article myself, and it expresses my own opinions. I am not receiving compensation for it (other than from Seeking Alpha). I have no business relationship with any company whose stock is mentioned in this article.