After Facebook's (NASDAQ:FB) price retreat following its error-ridden and mega-hyped IPO many investors unfriended the social network. Facebook's recent quarterly earnings were a good reminder of the big picture that had led to the initial investor enthusiasm. Facebook has 1 billion monthly active users. It is worth repeating this. 1 billion active users. The entire population of the world is about 7 billion. This includes people living in parts of the world that don't even have electricity, let alone the internet. But Facebook users are 14% of the entire world population. If you take out children under 14 and those over 60 from the total world population, that leaves about 4.3 billion. Over one-fifth of humanity in this age group is a Facebook user and this number is increasing with the increase of internet and mobile presentation increase and greater Facebook penetration.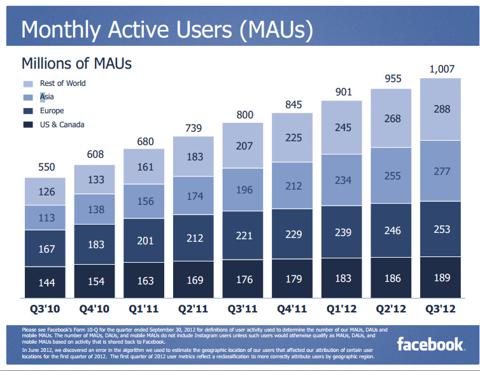 Source: Facebook Q3 2012 Earnings Slides.
In contrast Google's (NASDAQ:GOOG) Gmail service, which recently overtook Microsoft (NASDAQ:MSFT) Hotmail as the email service with the most users worldwide has only about 450 million active users.
Mobile
One dampener for investor enthusiasm has been Facebook on mobile. $150 million in mobile revenues for the quarter, starting from a base of zero earlier in the year, show these fears were unfounded. As Zuckerberg pointed out in the earnings conference:
Most people underestimate how fundamentally good the trend towards mobile can be for Facebook. This is because there are three trends that are kind of compounded together. First, mobile would give us the opportunity to reach way more people than desktop. Second, people on mobile use Facebook more often. And third, long-term I think we're going to monetize better per amount of time spent on mobile than desktop.
Zuckerberg makes these points as clearly as anyone:
In the coming years there could be billions more smart phones than desktop computers. We already reach more than 1 billion people worldwide, including 600 million on mobile, growing quickly and up from 376 million last year.
Also, mobile users use Facebook more frequently.
Our desktop platform has only a 40% likelihood of using Facebook on a given day. But someone who uses mobile has a 70% likelihood of using Facebook on a given day.
Monetizing the users
Finally, let us answer the multi-billion dollar question, monetization.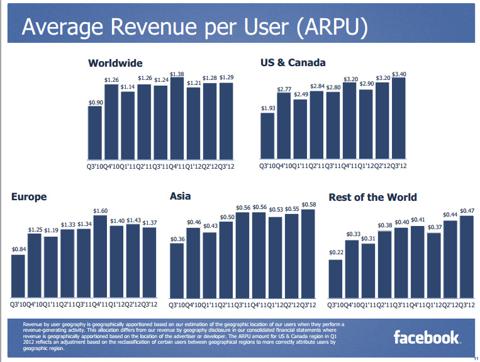 The first graph to look at is US & Canada. Here the average revenue has been steadily rising and now stands at $3.40 on a quarterly basis. While Asia and the rest of the world are far behind in the 50c range, this revenue per user has also been increasing.
Do it stupid or do it smart.
To Zuckerberg's credit, it would have been very easy to try and increase Facebook revenue the stupid way. Given how much criticism the company faced post-IPO on the issue of monetization he could have been forgiven for turning Facebook into an ad ridden site. After all, by some estimates it gets almost one fifth of the entire page views on the internet. With an estimated onlline ad market of $80-$100 billion annually, a one-fifth share would mean about $16-$20 billion of revenue for Facebook.
How hard would it have been to throw in a bunch of ads, banner ads, moving ads, full-page ads before you view your page, to drive up short-term revenue? It could also charge companies simply for the privilege of having a presence on Facebook. It is after all a private website and a company is hardly entitled to have a page there for free.
Rather, Zuckerberg has opted for finesse rather than intrusiveness with the long-term view of keeping users happy while gradually increasing monetization. You hardly notice Facebook ads yet Facebook advertising clocked in with over a billion dollars in this last quarter.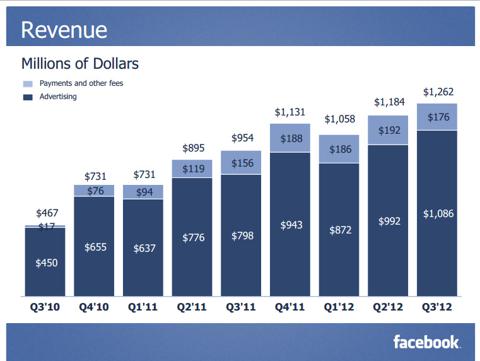 The potential remains for it to grab one-fifth of the global online ad revenue, in line with its traffic. However, the company is taking its time to get the ad experience right for Facebook and creating ad vehicles like sponsored stories that only exist in this medium. Facebook is creating an entirely new advertising medium. Over time it would not be surprising to see Facebook rival the ARPU of Google of $29.32. Even Yahoo (NASDAQ:YHOO) is doing $8. Facebook with $1.29 globally for the last quarter is at about $5 annually. But its potential to accelerate this number, as the new advertising paradigm it is creating sinks in, is even higher. With high gross margins exceeding even Google more of that revenue will find its way to the bottom line.
It is not difficult for Facebook to make money. It is simply doing it very deliberately, with great care to not degrade the user experience. In doing so the company is showing remarkable maturity for having a young founder, the same kind of maturity that got it an "A" in financial reporting from Grumpy Old Accountants, who have taken on Groupon (NASDAQ:GRPN) for its feeble accounting practices.
The problem with Facebook is that the story is almost too big and unbelievable to be true. A billion users? Who has a billion users? It is inevitable that investors felt it got over-hyped in the IPO and were feeling let down with the crash. In my opinion Facebook remains a buy at its sub-$25 price if you have a time horizon that is looking at the multi-year story. There will be lot of near term noise with the earnings and lockout expirations and such, but I will be listening carefully to the sound of a billion users logging in to pick up more shares on any weakness.
Disclosure: I am long FB, GOOG, MSFT, GRPN. I wrote this article myself, and it expresses my own opinions. I am not receiving compensation for it (other than from Seeking Alpha). I have no business relationship with any company whose stock is mentioned in this article.