Lockheed Martin Corporation (NYSE:LMT) continues to report earnings that prove revenue growth can be over rated. The defense contractor reported Q3 2012 revenue that slightly dropped from the $12.1B in 2011, yet the company managed to beat earnings estimate and hike the dividend yield by 15%.
The amazing story about this stock is that even with the stock hitting multi-year highs, the stock will now yield 5% after this hike to a $1.15 dividend per quarter.
Q312 Earnings Highlights
Below are the highlights for the Q3 2012 earnings report:
Net sales of $11.9 billion compared to $12.1 billion in 2011.
Net earnings from continuing operations of $727 million or $2.21 per diluted share.
Cash from operations of $1.6 billion.
Increases quarterly dividend rate 15 percent to $1.15 per share.
Increases 2012 outlook to earnings of $8.20 to $8.40
Cash Deployment
The stock continues to benefit from share buybacks at much lower levels over the last few years. The company has deployed cash in the following ways during Q3:
Paying cash dividends of $326 million in the third quarter and $979 million during the year-to-date period;
Repurchasing 3.3 million shares at a cost of $294 million in the third quarter and 8.2 million shares at a cost of $722 million during the year-to-date period;
Making contributions of $1.1 billion to its pension trust during the year-to-date period; and
Making capital expenditures of $208 million in the third quarter and $514 million during the year-to-date period.
Increased its quarterly dividend rate 15 percent, or $0.15 per share, to $1.15 per share beginning with the payment on Dec. 28, 2012, to the stockholders of record as of the close of business on Dec. 3, 2012.
Net Payout Yields
While most investors shied away from Lockheed Martin over the last couple of years, the net payout yields (NYSE:NPY) highlighted a stock worth buying. The NPY is the combination of the forward dividend yield and net buyback over the last 12 months.
The below chart highlights the buyback and dividend yields over the last 5 quarters: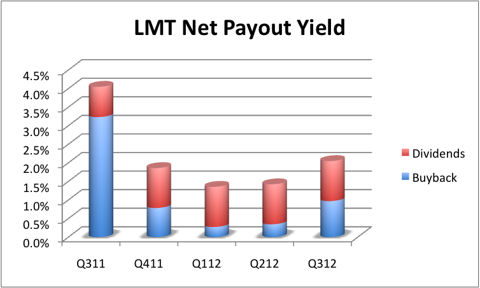 As noted, the company has a significant NPY. While the stock buyback has slowed, the NPY going forward remains attractive with the 5% dividend yield and roughly 2.5% buyback yield.
Northrop Grumman
Competitor Northrop Grumman Corporation (NYSE:NOC) reported similarly strong results. Though the company only offers a 3.1% dividend yield, it now offers a substantially higher NPY with much higher stock buybacks.
The company has reduced the shares outstanding from 279M in Q3 2011 to 252M this year. The more than 10% decline in shares provides for a substantial NPY.
Conclusion
Even with the huge increases, Lockheed Martin remains attractive with a 5% dividend yield and continued ability to fund stock buybacks. Investors not as interested in dividends should find Northrop Grumman more appealing with the higher buyback. Either way investors can't lose with these two stocks even after huge gains.
Disclosure: I am long LMT. I wrote this article myself, and it expresses my own opinions. I am not receiving compensation for it (other than from Seeking Alpha). I have no business relationship with any company whose stock is mentioned in this article.
Disclaimer: Please consult your financial advisor before making any investment decisions.