Back in 2002, the FDA approved Novartis' (NYSE:NVS) drug tegaserod (brand name Zelnorm); a compound designed to treat Irritable Bowel Syndrome with Constipation (IBS-C). Before being pulled off the market in 2006 for possible adverse cardio-cerebrovascular effects, annual sales projections surpassed $600 million and were expected to meet $1 billion in just a few years. During this period, Novartis' market cap grew from $95 billion to $140 billion, illustrating investors' belief in the profitability of the unmet IBS-C market.
Irritable Bowel Syndrome with constipation, along with chronic idiopathic constipation (CIC), are both common gastrointestinal disorders from which respectively 10-15.5 million and 63 million Americans suffer, according to the National Health Institutes of Health. Although not life threatening, IBS-C results in severe discomfort, consequently diminishing quality of life by adversely affecting patients' ability to work. As of yet, there are no compounds that can be prescribed to treat the 40 million Americans afflicted with IBS-C or CIC.
There are currently two players vying for the IBS-C market: Ironwood Pharmaceuticals (NASDAQ:IRWD) and Synergy Pharmaceuticals (NASDAQ:SGYP). The FDA recently approved Ironwood's compound, linaclotide (brand name Linzess), for the treatment of IBS-C and CIC following successful data reported for two phase III studies for both IBS-C and CIC. Synergy's compound, plecanatide, is currently in an ongoing phase II/III clinical trial and consequently two to three years behind Ironwood in the drug development cycle. This delay carries a series of implications.
Linzess is a superior analog to heat-stable toxin peptide secreted by E. Coli that cause traveler's diarrhea by binding to guanylate cyclase C receptors (GC-C) in the intestinal tract. Similarly, plecanatide was designed to bind to GC-C as a synthetic analog superior to the human hormone uroguanylin. The delay, contrary to intuition, will create an opportunity for price appreciation for SGYP. Preliminary data disclosed that plecanatide has thus far resulted in a meaningfully lower rate of diarrhea than its competitor's compound Linzess. This is significant because during Ironwood's phase III trials, 16% reported adverse effects of diarrhea, of which 37.5% had cases so severe that the company had to drop out of the trial altogether. As Linzess hits the market, Ironwood will require active marketing in order to create awareness about a novel and effective treatment for previously untreatable gastrointestinal disorders. As a result, by the time plecanatide reaches the market, the market should be significantly expanded and headed towards the $1 billion previously forecasted for Novartis' Zelnorm.
This delay and the preliminary data hinting at plecanatide's potential side effect profile recall the events of Dendreon (NASDAQ:DNDN) and its prostate cancer drug Provenge in relation to Johnson & Johnson's (NYSE:JNJ) Zytiga and Medivation's (NASDAQ:MDVN) Xtandi. Although Dendreon was the first to market a beneficial prostate cancer drug, modest survival data in conjunction with high production costs and sales tag resulted in an expansion of the prostate cancer drug market and a nose dive from its $50 highs to below $10 as JNJ's Zytiga and MDVN's Xtandi hit the newly expanded market with compounds showing a higher survival benefit.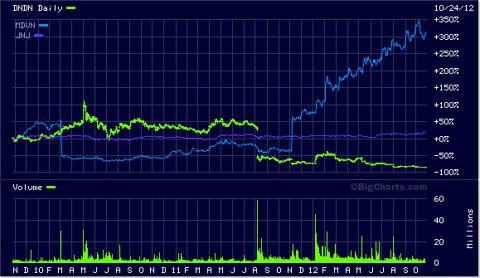 Click to enlarge
There is a good possibility of this situation repeating, given that physicians typically view drugs of a similar class on a risk/benefit scale. This, compounded with the fact that both Ironwood's Linzess and Synergy's plecanatide operate by agonizing the same GC-C receptors, creates a competitive edge for Synergy Pharmaceuticals, as the identical mechanism of action could easily justify patients switching to SGYP's compound following its debut.
Moreover, Synergy has begun a second-generation GC-C agonist compound currently named SP-333. Its increasing portfolio of GC-C agonist drugs is reminiscent of Alexion (NASDAQ:ALXN). Alexion, another pharmaceutical company, grew its market cap from $500 million to $22 billion in 5 years with its sole drug, Soliris. Soliris is a drug designed for the treatment of paroxysmal nocturnal hemoglobinuria (PNH), an extremely rare and possibly life threatening disease of the blood with approximately 5,000 and 1,000 diagnosed in the US and UK, respectively. However, the similarity lies in that Alexion received approval for Soliris to be additionally marketed for atypical hemolytic-uremic syndrome (aHUS) on September 23, 2011 with the potential for further marketability for other rare disorders, increasing Alexion's potential revenue stream. As a result, the share price of Alexion appreciated from $30 to currently $101, adjusted for the two-for-one stock split on May 23, 2011.
The ability to reach new markets is a crucial factor that is often overlooked in the valuation of companies, notably in the biotech sector. SGYP's SP-333 is a spin-off drug that operates almost identically to plecanatide, and is designed to treat polyps that can lead to colon cancer, as well as GI-Inflammatory disorders such as ulcerative colitis (UC) and Crohn's disease (CD). The mortality of both disorders is significantly higher than IBS-C and CIC, with a prevalence of 619 thousand and 359 thousand people, respectively, in the US. Empirical data states that 16% of those with UC and 18% with those with CD develop polyps or colon cancer after 30 years, leading to the possibility of SP-333 being adopted as a prophylactic measure against colon cancer following a diagnosis of either GI-Inflammatory disorder. If Synergy's plecanatide is approved, the similar mechanism of action shared by SP-333 potentially indicates an accelerated FDA approval; this could add another significant revenue stream for Synergy Pharmaceuticals.
In addition, in terms of the return on investment both Ironwood and Synergy will generate, it is important to note that Ironwood, with a market cap of roughly $1.4 billion, is partnered with Forest Laboratories (NYSE:FRX) for its drug Linzess (per the company's prospectus). The terms of the Forest Labs partnership call for a cost/profit sharing on sales of the drug in the U.S., while Synergy currently maintains complete ownership over plecanatide. The Ironwood implication is that, coupled with the equity investment by Forest and ex-U.S. partner Almirall, shareholders of the company really only retain about 47% of the future value of linaclotide. This means that Ironwood's implied capitalization is actually more than twice the nominal amount, or about $2.8 billion. Since Synergy's plecanatide and Ironwood's linaclotide essentially target the same markets, Synergy is either being grossly undervalued or investors are missing the finer point that Ironwood will carve out a multi-billion dollar opportunity for Synergy, if its drug continues to show superiority to Ironwood's linaclotide. It's also important to remember that 'implied valuation' is the true valuation, while nominal valuation does not account for the fact that Ironwood does not own 100% of its IBS drug. If peak sales in the IBS space are estimated at $1 billion, Ironwood could be seen as 'fully valued' which would imply greater risk or downside than upside reward. The opposite, following this logic, would then be true for Synergy, which continues to be valued at bargain prices.
Synergy's success and price appreciation is contingent on several factors in the interim: Positive top-line results from its phase II/III clinical trials and IRWD's prescription data. Prescription data, which typically surfaces two weeks after the product is launched, will give an indication of how the market is responding to this new class of drugs. Top-line results are expected by YE2012, which if positive, will signal a go-ahead for production and growing market share once it begins being prescribed. As Synergy reveals data from its ongoing Phase IIb/III study, shares should see a bump from any positive developments on Ironwood's end, particularly if plecanatide continues to show a superior safety profile.
Disclosure: I have no positions in any stocks mentioned, and no plans to initiate any positions within the next 72 hours. I wrote this article myself, and it expresses my own opinions. I am not receiving compensation for it (other than from Seeking Alpha). I have no business relationship with any company whose stock is mentioned in this article.