Best Buy (NYSE:BBY) issued a press release yesterday afternoon containing management changes and a third quarter earnings warning.
This comes on the heels of weeks of volatility in Best Buy shares. For instance, founder Richard Schulze was kicked off of the board of directors because he did not report inappropriate conduct of the CEO, only to subsequently launch an iterated, and ongoing, attempt to take the company private. Let us take a look at this latest piece of information out of Best Buy.
Management Rearrangement
CEO Hubert Joly has removed the most senior layer of management over the U.S. retail segment. Joly commented in the press release:
"One thing I have learned in helping turn companies around is that a business needs to have a nimble organization," said Best Buy President and CEO Hubert Joly. "Our new organization will help build a closer connection to our customers and front line employees, as well as accelerate our transformation."
A change in leadership of this sort is expected -- after all, he is billed by the media as a 'turnaround' specialist. What caught market participants by surprise, I suppose, is the third quarter warning.
The Earnings Warning
The shares declined about 6.2% in after-hours trading subsequent to the release:

(Source: WSJ BBY Stock Price, 10/24/2012)
And due to the explicit guidance from the press release, let us try and project what the next quarterly report might look like - taking both a optimistic and pessimistic interpretation at each step.
I should say that the optimistic figures themselves are taking the press release literally at its most negative, which I've done for conservatism. The pessimistic figures, then, take that negative reading of the press release and simply make it more negative. For instance, in the optimistic numbers you will see that I assume comparable same store sales will decline at the higher rate noted in the press release, rather than the lower one.
The press release gives us this guidance:
Comparable store sales are expected to decline at a rate consistent with the range of results for the first two quarters of fiscal 2013 (-5.3% in the first quarter and -3.2% in the second quarter).(Emphasis added)
Therefore, let us optimistically assume that comparable store sales decline at about 5.3% which we will simplify to mean revenue ought to be down at least 5.3% also. In this case, given that there are a few other reasons for revenue to decline, such as the closure of 50 stores and the poor performance overseas, let us round the decline up to 6%.
Given that revenue last year for the third quarter was about $12.099 billion, revenue could optimistically be somewhere around $11.37 billion. And on the pessimistic end let us assume it can achieve $11 billion in revenue, or about an 8% decline. We have an optimistic decline of 6.0% and a pessimistic 8% decline in revenue:
Revenue (6.0% decline) = $11.37 billion

Revenue (8.0% decline) = $11.13 billion
Best Buy continues:
Gross profit rate is expected to decline at a rate similar to that experienced in the fiscal second quarter of 2013 [or about 7.1%], with a decline of more than 100 basis points compared to the prior-year period, due to the impact of product mix and product transitions in advance of several key new product launches. (Emphasis added)
Our optimistic figure would be about 7.1% [1]. Under the more pessimistic scenario, let us say that it declines 9.5%. Therefore:
Gross Profit (7.2% decline) = $2.719 billion

Gross Profit (9.5% decline) = $2.652 billion
The release continues:
The company expects SG&A expense percentage growth to be in the low single digits over the prior-year period, due to investments related to the company's strategic focus on improved customer service (including increased training and higher compensation costs for sales associates). (Emphasis added)
If we call 2% (optimistic) and 4% (pessimistic) 'low-single digit growth' then we can estimate the SG&A expense. Since the SG&A expense this time last year was $2,616 million, we can say:
SG&A Expense (2% growth) = $2.668 billion

SG&A Expense (4% growth) = $2.720 billion
With an additional $30 million in interest expense -- and assuming no restructuring or impairment charges -- We can hypothesize an optimistic and pessimistic income statement for next quarter which looks like this:
(in millions)

Pessimistic

Optimistic

Sales

$11,130

$11,370

Gross Profit

$2,652

$2,719

Less: SG&A

$2,720

$2,668

Less: Interest

$30

$30

Pre-Tax Income Est.

($98)

$21

EPS Est.

($0.28)

$0.06

Historic EPS for the 3 month period ending November 26, 2011

$0.42

Analyst Estimate for the 3 month period ending November 3, 2012

Low: $0.17

Average: $0.36

High: $0.50
Even the optimistic outlook results in a figure which is 86% below last year's income for the same period. Now since (1) Best Buy has historically made the majority of its money in the holiday quarter (ending in March 2013), and (2) any bump in revenue driven by Windows 8 will start to be captured in the 4th quarter, we still don't have a large enough sample size to properly judge how Best Buy will weather the present storm. Since all the little peaks below occur in the 4th quarter, that quarter will be a far more important test: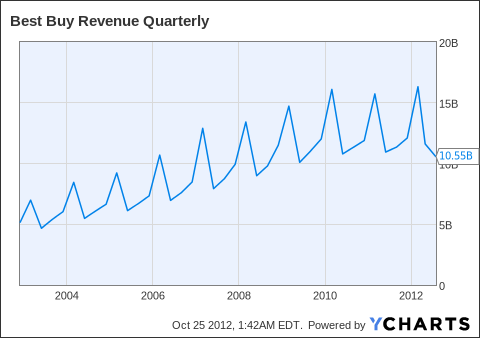 BBY Revenue Quarterly data by YCharts
Now, my estimate could easily look, in retrospect, quite different from the results it posts on November 20th. This is simply a rough sketch based on the press release and historic earnings.
Conclusion
The press release concludes its guidance:
As a result, the company expects fiscal third quarter adjusted (non-GAAP) earnings per diluted share will be significantly below the prior-year period.
The next earnings release -- according to this guidance -- will simply be a continuation of the negative trend we have seen thus far. Negative press could increasingly push the share price downward, possibly to a more attractive price.
Disclosure: I have no positions in any stocks mentioned, but may initiate a long position in BBY over the next 72 hours. I wrote this article myself, and it expresses my own opinions. I am not receiving compensation for it (other than from Seeking Alpha). I have no business relationship with any company whose stock is mentioned in this article.