Yesterday, Citigroup downgraded Norfolk Southern (NYSE:NSC) from buy to neutral, citing weak coal exports in the future as the main reason for the move. Also, the analyst expects that the company will be unable to manage short-term costs in a weak volume market.
NSC topped earnings estimate, but missed the revenue expectations. EPS of $1.24 was a cent more than what was being expected. Revenues of $2.6 billion have been short of the street's estimates by $40 million. Missing revenue estimates and topping earnings estimates has been a trend this season. This has not been a mystery; many industrials have been making an effort to trim their cost structures, as the economic situation is predicted to be challenging in the near future, despite the stimulus package announced by the Fed a couple of weeks ago.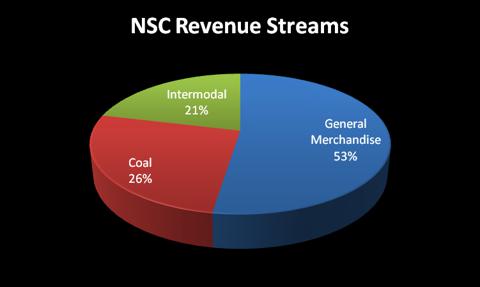 Click to enlarge
(Click to enlarge)
Revenues and earnings were both down YoY by 7% and 27%, respectively. The revenues from coal, from where the company gets 25% of its revenues, declined by 22 percent. Revenues from general merchandise also declined by one percent. Only the intermodal division's sales were on a rise, with a 3% gain YoY. This substantiates our earlier thesis on how successful the intermodal business has been in recent times for not only railroads like CSX (NYSE:CSX) and United Pacific Corp (NYSE:UNP), but also truckers like JB Hunt (NASDAQ:JBHT) and Conway (NYSE:CNW).
Even though the overall coal business has been going through a severe decline since natural gas prices dipped dramatically, export coal sales or domestic met coal sales had offset some of these losses. However, in the recent earnings conference call, the company's management was extremely bearish on future coal exports. The management disclosed that coal exports for July and August were up 5% each, whereas September coal exports plummeted by 28% YoY. When asked about the future, the company expects the decline to happen at the same pace.
The coal exports market has been a confusing one in this quarter. On one hand, as our article on coal exports mentioned, coal exports to Europe are on a rise. This seems plausible given that Europe has decided to cut most of nuclear power outside France. However, on the other hand, NSC's management said in the conference call that weak demand for coal is expected from Europe and Asia. Also, CSX, just a week ago, claimed that coal exports were on a rise.
Low volumes in future will mean that pricing will also be unfavorable in future. The prices for met coal and steam coal have fallen drastically. The price per metric ton of met coal has fallen from last year's high of $330 to the current range of $160-$170. The thermal market has also fallen in Western Europe. The API 2 Index, which is the benchmark price reference for coal imported into Northwest Europe, is hovering around low levels of $90, which means that coal from Central or North Appalachian will be low in demand in Europe. Margins from export coals transportation are more than local coal transportation, according to Citigroup. Therefore, a decline in exports volume is more detrimental to NSC's profits than a similar magnitude decline of local utility volumes.
NSC has been unable to respond to sudden and sharp declines in coal exports in September. According to the management, it is very difficult to offset when it comes to declines in the export volumes. It is a business that does not have a very high percentage of variable cost attached to it. Therefore, a decline in the exports business will not lead to a significant reduction in costs. Vice President Mark Manion has talked about furloughs in the coals fields. This will be a tough task given that most of NSC's employees are represented by labor unions, and are covered by collective bargaining agreements.
Conclusion
Citigroup has revised the multiple for 2013 from 13x to 12x, given that the predicted decline in margins is expected to depress EPS for the next year. The target price has been reduced from $78 to $68, with an EPS estimate of $5.6 for the next year. The stock has been down 7% since the downgrade, and is currently 16% down YTD. No doubt the decline in coal exports is a significant issue, however, given the sharp decline, it seems as if the negative news has been priced in the stock. Also, the current price of $61 is still below the $68 target price. Therefore, with most of the bad news already telegraphed in the stock, the stock is recommended as a buy.
Disclosure: I have no positions in any stocks mentioned, and no plans to initiate any positions within the next 72 hours.
Business relationship disclosure: The article has been written by Qineqt's Transportation Analyst. Qineqt is not receiving compensation for it (other than from Seeking Alpha). Qineqt has no business relationship with any company whose stock is mentioned in this article.