Nokia (NYSE: NOK) is no longer in planning, but has completed its offering to issue $980 million USD convertible bonds with trading set to begin around October 26, 2012. Beyond trailing laggard news, Nokia's Board of Directors granted this position back on May 6, 2010. The divergence of timing and opportunity has led to this development--that is, securing long term financing to "strengthen [Nokia's] financial position," according to Nokia's Executive Vice President/CFO, Timo Ihamuotila. With the backing of BofA Merrill Lynch, Barclays, Citi, and Deutsche Bank, Nokia's claim is more than compelling.
While Nokia has struggled to meet current market demand, it may be bygone thinking as the world's largest carrier, China Mobile (NYSE:CHL), officially confirmed it would carry the Nokia Lumia 920. Nokia has also ventured into emerging markets around the world with the launch of the attractively priced Nokia Lumia 510. While reasonably priced, this move can be seen as more than bringing cheers of positive sentiment throughout Asia and South America. This global reach will secure untapped markets and acquire customer loyalty towards price-point sensitivity. What makes the Nokia Lumia so attractive for the majority of customers is its cross-platform compatibility with Microsoft's (NASDAQ:MSFT) new Windows 8 that is set to release Thursday, October 25, 2012 in New York. While Apple (NASDAQ:AAPL) continues to make broad market share gains, we are still living in a PC dominated world.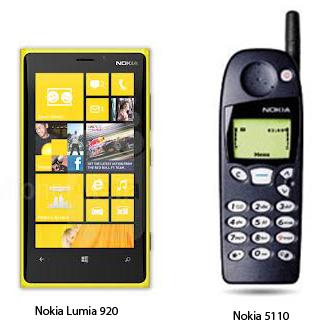 What about the Android and iPhone? Well, Google's (NASDAQ:GOOG) Android mobile platform seems to be experiencing issues of its own with malware threats including Loozfon and FinFisher gaining the attention of the Federal Bureau of Investigation [FBI]. Yikes! Apple's iPhone 5 sold a record 5 million iPhones in the first week. However, all this volume left a bad taste in the mouth of proponents and turned critics alike. Problems ranging from its weight (believe it or not), to odd noises and WiFi connectivity issues left people wondering how the iPhone 5 ever made it out of beta testing. Apple trying to detach from Google Maps left a mess for users trying to get somewhere and ending up nowhere. Recommendations were soon posted on the Apple website suggesting the use of either Google or Nokia Maps.
While Nokia has struggled in the smartphone market, they have recently shown strategic moves that appear to be based on logic rather than emotion to boast old time sentiments (remembering the Nokia 5110 & 1101). Timing and compatibility with the release
of Microsoft Windows 8 and the endeavor to build new market share in Asia and South America, as well as acquiring long-term financing and its new move to create jobs in North America, makes Nokia's short-term prospects of growth and competition in the smartphone market optimistic.
Disclosure: I have no positions in any stocks mentioned, and no plans to initiate any positions within the next 72 hours. I wrote this article myself, and it expresses my own opinions. I am not receiving compensation for it. I have no business relationship with any company whose stock is mentioned in this article.