ConocoPhillips (NYSE:COP) announced Q3 earnings this morning. Adjusted earnings came in at $1.44/share, beating Street estimates of $1.17 by $0.27.
COP has been a difficult company to analyze over the past few years. Its refining and chemicals arm, Phillips 66 (NYSE:PSX), was spun off earlier this year. Unforeseen production interruptions in Libya and China hurt results. Plans for asset sales were a moving target for analysts trying to predict future earnings and stock price movement.
Meanwhile, all eyes seemed to shift to PSX as refining margins widened as a result of the beneficial spread in midcontinent oil prices vs. brent. PSX's chemical joint venture with Chevron (NYSE:CVX) has been profiting from lower domestic natural gas prices. Natural gas is used as both a feedstock and energy source for the chemicals sector. As PSX's stock rose significantly after the spin-off, COP seemed to be the forgotten company.
Click to enlarge image.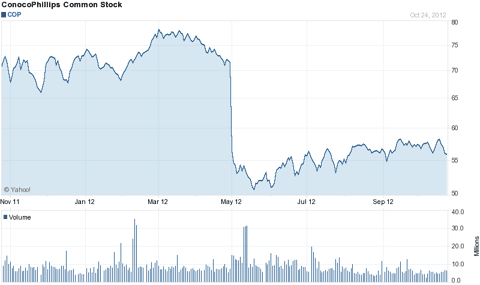 COP = $55.95
Market Cap = $67.95 billion
Dividend Yield = 4.72%
However, the old warhorse COP should not be overlooked. The company is very profitable. It has a sector leading dividend at 4.72%, and has a fundamentally strong asset base. Q3 results show that COP is beginning to turn the corner. Production began coming back online in Libya and China. Unconventional production in the Eagle Ford and Bakken is up 100% year over year, 102,000 BOE/day vs. 51,000 BOE/day. In Canada, Christina Lake Phase D achieved first production, pushing overall bitumen production to 92,000 BOE/day -- up 28,000 BOE/day over Q3 2011.
Overall production for the first nine months of 2012 was 1.569 million BOE/day, compared with 1.626 BOE/day for the same period in 2011. On the surface, this production decline does not look favorable. However, when asset dispositions, normal field decline, and production interruptions are taken into account, it is clear that new production from major products and drilling programs are beginning to take hold and will drive the production increases of 3%-5%/year that the company has been targeting.
At the end of the day, the earnings speak for themselves. Nine-month earnings were $7 billion, or $5.55/share. Adjusted earnings were $5.1 billion, or $4.09/share. With COP's asset base, its North American production growth, a dividend yield of 4.72%, and a P/E of 10, the company looks quite undervalued. As the title of my earlier article noted, COP is an unconventional value play with a fat dividend.
COP was up $1.05 in premarket trading after the earnings were announced.
Disclosure: I am long COP, PSX. I wrote this article myself, and it expresses my own opinions. I am not receiving compensation for it (other than from Seeking Alpha). I have no business relationship with any company whose stock is mentioned in this article.