I have been following developments in currency exchange traded products for a few years. It is a new field,  (Rydex introduced the first currency ETF in December, 2005), so it lacks a long history of action/reaction that helps analysts put it all together. And I confess that I haven't put it all together yet. One of the things that puzzles me is the role Barclays Capital is playing and will play as the market matures. They dominate the equities and bond ETF business,  yet they are in fourth place in the currency world, behind Rydex , PowerShares, and Wisdom Tree—all relative newcomers to the exchange traded market.
It's understandable that no firm can be dominant in all fields. Specialists are going to win some of the niche battles, and make no mistake,  currency investing, with just over $5 billion in assets, is a niche. But I am still puzzled by their performance against the relative lightweights that now dominate currency products. 
It's not that Barclays lacks a presence in the market. Their three single- country funds cover major trading pairs, and their expense ratios are competitive. Their four currency bundles [carry trade (NYSEARCA:ICI), Global EM (NYSEARCA:JEM), Gulf (NYSEARCA:PGD), and Asian EM (NYSEARCA:AYT)] are, in my view, quite innovative, but their expense ratios are high. But, these bundles account for well over half Barclays' currency assets under management. See the table below for their current lineup.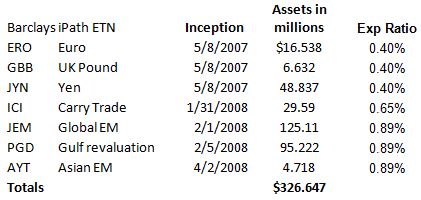 But look at the next table for the picture in terms of market acceptance. In an industry where they dominate, Barclays is lagging badly in this segment, with just 6% market share. All those above them are small when compared with the banking giant. None were even in the exchange traded industry before 2005. 
For now at least, the market appears to have spoken against the ETN format for currency investing.  From my perspective, it is unfortunate that Barclays has chosen this form for their currency products. The table below shows that the ETF providers account for 91% of all currency assets, and the ETNs account for 9%. Of course, the bottom three sponsors are young  to currency investing,  so the final score is yet to be tallied. 
Below is a table showing 9/5/08 data on currency assets under management by sponsor.

Last week, after Barclays introduced a new currency bundle that covers the Asian region (AYT), I called and asked for an interview with someone who had been involved in its creation. This ETN was introduced on September 4th, as the GEMS ASIA 8 ETN.   Here is a link to their SEC filing.
The press relations person at the office in New York arranged a phone conversation for me with Greg King and Nick Cherney, part of the Solution Sales Americas team.  I had spoken with Mr. Cherney last month about the then new ETNs, JEM and PGD. This was my first time to speak with Mr. King, the head of the group focused on ETNs for advisors.
Technically, I wanted to  talk about the AYT product, seeking specific details about its structure. More fundamentally, I was seeking a better insight about the workings of their group (Solution Sales, Americas) which is responsible for every one of the currency ETNs that Barclays offers to the public. This group had originated the iPath Optimized Currency Carry ETN (ICI), which has now been assigned to the iPath group. A few months ago they introduced the Asian and Gulf Currency Revaluation ETN (PGD), and Global Emerging Markets Strategy ETN (JEM).    Both these products were covered in my June 26th article Currency Bundles Pegged to the Dollar.  AYT is their fourth product. I was curious as to: 
why this group in New York had been so active in this area of investing,

and how they go about creating new currency products.
We spoke early Friday morning, and by the time we said our good-byes, I had a much better understanding of how this group works and what to expect from them down the road. There is more to come, and probably soon!
Details of AYT
Mr. King led off with a brief summary of the goals they have in mind for AYT. He sees it as a regional approach to currency investing,  which narrows the focus from the global focus of JEM to the East Asian region. 
Mr. King went on to say that to create AYT,  they simply broke out the five Asian currencies from the fifteen that make up JEM and added China, India, and Malaysia. This created  a regional bundle of currencies that covers Eastern Asia from South Korea in the north to Indonesia and India in the south.
Here is the lineup of currencies in the new fund:
Indonesian rupiah

Indian rupee

Philippine peso

S. Korean won

Thai baht

Malaysian ringgit

Taiwan dollar

Chinese Yuan
Question: "Did AYT have a previous life as a customized product for your institutional clients?"

Mr. King: "Yes, it was launched a while back. We work with advisors, and there are various scales of advisors. Some with as little as $500 million and some up to several billion. They are institutional in scale but a lot of them are retail in scope."
I was glad to be corrected on my terminology. From my last conversation I had assumed this group worked with large institutions, such as banks, pension funds, etc. But, Mr. King's preciseness made it clear that it was the advisors who had helped them identify the need for interest earnings currency products. Yields in American money market and CD accounts are badly lagging inflation, and investors need relief. This, more than anything else,  was the impetus of creating all their currency ETNs. The structure of the funds was guided by the goal of generating higher income.
The mechanics, though, of dealing with emerging markets requires some special handling. While they want higher interest rates,  emerging markets generally lack a strong secondary market in high grade, short-term paper. This forces the providers to use forward contracts to capture local interest earnings. I asked Mr. Cherney about this problem:
Question: "I take it that you use forward contracts in all eight of the currencies in the index?"

Mr. Cherney: "What the index is investing in are one month instruments that are available to foreign investors. These are all emerging markets currencies; they all have various restrictions and things that make it undesirable or impossible to invest directly, locally in one month deposits. So the forward market is the most liquid way for international investors or currency investors to access the market."
Mr. Cherney went on to emphasize that forward currency contracts have about a fifteen day duration average, so they do not decline in value like bonds or other debt instruments when interest rates go up. With forward contracts, this potential disadvantage is turned into an advantage.  
My next question was  about the timing of the introduction of AYT. As a matter of luck, it couldn't have been worse. Emerging markets on all continents are just now beginning to feel the effects of the American and European economic slowdown and the spike in global inflation. EM currencies, except for China, are taking it on the chin.  
To make things even worse,  as they approached launch date, Malaysia fell into a political tizzy. And in Thailand the government came under attack by a former leader who supports military dictatorship, discourages foreign investment and wants to curtail popular voting. 
Question :"I'm not being ugly here, guys, but I want to congratulate you on your timing. Here we have almost a revolution in Thailand and I think Malaysia is having some political problems, too." [laughter all around] 
They took the ribbing good naturedly, but they did respond that there were possible upsides to launching at this time. Mr. Cherney compared the current situations with that of Argentina, where
. . .after severe devaluations,  investors actually had positive total returns. And so, it is kind of a countervailing effect that at the time of inflation that the currency might be declining, at least historically it leads to very high interest rates that compensates the investors, and in some cases over-compensates them.
Mr. Cherney then added:
If you look at the history of timing on Exchange Traded Product launches, statistical analysis of the average return in the one month before launch and the one month after launch, or six months before or six months after, or whatever period you choose, you would likely see a lot of products launching right after run-up and launching right into a decline, so I'd rather launch after a decline and into a run-up.
He did disclaim any notion of predicting what would happen in the future, and noted that JEM had taken a total return loss recently as its currencies were battered by all the bad news.
Fortunately,  Malaysia and Thailand are only two of the eight currencies in the portfolio, so the diversity of AYT is helpful. The additions of China and India are good news. These two countries have the  largest populations in the world, and they have fast growing economies. Both are politically stable.  Their explosion onto the world's market economies is well grounded, and as a value play, both of these currencies are promising. India also has high interest rates that make it attractive as a carry trade option.
The four currencies left, Indonesia's rupiah, South Korea's won, Taiwan's dollar, and the Philippine peso are all battling world inflation and slowing demand from America and Europe. Their securities markets have fallen recently, as have their currencies. South Korea and Taiwan, though, have strong manufacturing economies, and they will recover from this cyclical interruption in their growth when things settle out. Indonesia has the advantage of having huge petroleum reserves and a large natural resource base. They could be the Brazil of South East Asia.
Getting back to the interview, I had asked in my conversation last month if they were coming out with a web site for their currency products. At that time, they gave no indication of interest. But, this time, when asked,  Mr. King responded:  
We're shooting for bringing it out this month. We're working on it as we speak.
This is good news. It has been difficult to find information on their ETNs, and a web site, to my mind, indicates a more serious purpose. They may or may not make the September deadline, but it's good to know it's coming. I secured a promise from press relations that they would notify me as soon as the their new web site is launched.
Then the time came for the inevitable:
Question: "Are there any other products similar to AYT that might be brought to market?"

Mr. King:  "I think that the thing is that we try and be responsive to clients' needs. We are going to stay on top of their requests." 
Trying a different tack on the same question:               
Question: "Is there a possibility there will be any new ETNs or ETFs before the end of the year?"

Mr. King: "Yes!"
He didn't elaborate, of course, and I knew I would be defeated before I started if I tried to pin him down. But, this short, unambiguous answer spoke volumes.  
Summary
First, I was impressed that a bottom up process has driven this group's approach to creating new currency ETNs. Their clientele help them identify the need, and they create a trial product to fill that need. It is available to their clients first, and if successful, they move it to the formal ETN category, without the iPath name.   Later, if it meets with retail success, they move it over to the iPath brand.
The path that Barclays is following for new currency ETNs is now clear. If I interpret it correctly, they will chip off the separate regions from JEM, add, or not, a couple of new currencies and bring new regional ETNs to market. There are two regions left in JEM: Eastern Europe (which includes Turkey and South Africa), and Latin America. It's anybody's guess as to which will come first, but I think both will be out soon enough, probably before the end of the year for at least one,  if not both.
It also appears that Barclays will keep to the ETN format for their currency products. It would be a radical move to change formats now, but I won't discount the possibility they will reconsider. I'm sure they have good reasons to do what they do. But, it looks to me as they move into the currency market,  they need to do something different than they are doing now,  if they want to duplicate the success they have had in equity ETFs.
In the past, when Barclays decided to get into the ETF market, they carpet bombed the opposition by bringing out every conceivable category of ETF with every nuance imaginable.  They haven't brought this attitude to currency investing, at least not yet.  At present the exchange traded currency market is small, so it is understandable that they have not put it on the top of anyone's desk.  It will probably never rival either the equities or fixed income markets, but, currency trading (as opposed to investing)  is the largest financial market in the world.  Over $3 trillion is traded every day.  ETFs and ETNs  will probably never rival Forex accounts in size, but currencies are a growing presence in the retail exchange traded market, and first movers have the advantage. 
While Barclays is building an interesting stable of bundled products, it's not a blitzkrieg. If they don't make such a move, I am certain someone else will.  Then all the laggards will be playing catch-up.
I will be observing these developments with great interest.