Finavera (FNVRF.PK) is a wind energy development company based in Vancouver, Canada. The company owns four wind energy projects in British Colombia, for which each has an Electricity Purchase Agreement with BC Hydro for 25 years.
| | | |
| --- | --- | --- |
| Project | MW | Completion |
| Tumbler | 47 | 2014 |
| Wildmare | 77 | 2014 |
| Meikle | 117 | 2015 |
| Bullmore | 60 | 2016 |
| Cloosh Valley (at 10%) | 10.5* | N/A |
*Representative of Finavera's interest
On July 26, the company announced the proposed sale of its 77 Megawatt (MW) Wildmare project to Innergex Renewable Energy (OTC:INGXF) for $22M, which values the project at roughly $285,714 per MW. Wildmare is the company's second most advanced project after the 47 MW Tumpler project, which received its construction permit on July 5, of this year.
In addition to its BC projects, the company has a 10 percent interest in the Cloosh Valley wind project in Ireland. In 2010, the company sold 90 percent of the project to SSE plc for €8.4M, of which €7.14M ($9.21M) is expected to be paid by the end of 2013.
Valuation
The proposed Innergex transaction, which was recently called off for vague reasons, can be used to place a fair value of about $46.18M for the entire company's portfolio of projects.
Since Tumbler is more advanced and is permitted to commence construction, its value is priced at a 25 percent premium to Wildmare. Also, since Meikle, Bullmore and Cloosh Valley are less advanced than Wildmare, they are priced at a discount of 80 percent in order to be conservative.
Project

MW

Completion

Per MW

(Millions)

Value

(Millions)

Tumbler

47

2014

0.357

16.79

Wildmare

77

2014

0.286

22.00

Meikle

117

2015

0.057

6.69

Bullmore

60

2016

0.011

0.69

Cloosh Valley (at 10%)

10.5

N/A

0.002

0.02

Total

311.5

46.18
After applying the conservative valuation placed on Finavera's portfolio of assets, one can continue the valuation and net out its assets and liabilities, which result in a net asset value of roughly $40M, or $1.10 per share; materially above its current share price.
| | |
| --- | --- |
| | In $Millions |
| Value of Project Portfolio | 46.18 |
| Expected Payment from SSE** | 9.21 |
| Cash & Receivables* | 0.35 |
| Deposits related to letter of credit* | 1.97 |
| Payables* | -4.76 |
| Loans* | -11.90 |
| Net Value | 41.04 |
| Shares outstanding*** | 37.41 |
| Target Share Price | 1.10 |
| | |
| * Based on Q2-2012 financials | |
| **If project financing completed | |
| ***Not accounting for options/warrants | |
| | |
Connecting the Dots
On October 1, Innergex Renewable Energy and Finavera announced that they will not proceed with the Wildamare project transaction because "several conditions of closing were not met by the prescribed closing date of September 30, 2012" and that when considering to extend the closing date, Innergex decided not to "because it strongly believes that doing so would not change the outcome within an acceptable period of time."
The reasons for terminating the transaction seem vague and suspicious, especially after reading the July 26 announcement to acquire Wildamere. In it, Innergex expresses its great interest in the project as it is the company's first wind project in British Colombia and an opportunity to further expand outside the province of Quebec.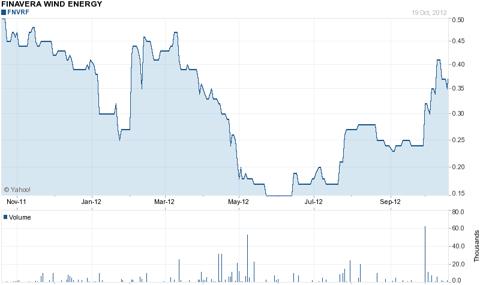 On the same date Finavera announced that it appointed financial advisors to review offers for the company and that it is in discussions with three potential bidders. This would explain the lack of substance in the reasoning for the cancellation of the transaction. In addition, it is reasonable to assume that Innergex is one of those potential parties bidding for the company, given its obvious interest in Finavera's portfolio.
On October 5, Finavera announced that Ian Harvey, a director of the company, has resigned "due to potential conflict with a bidder for the company" and that it now expanded its discussions to four potential bidders for the company.
Ian Harvey is the founding shareholder and director of B2 Energy Group, a UK based renewable energy company. It is therefore, reasonable to conclude that B2 energy is the fourth potential bidder joining the discussions.
Finavera also announced that there are "a number of new entrants who have signed Non-Disclosure Agreements and are currently reviewing data in the Company's data room and conducting initial due diligence."
After analyzing the information presented in the press releases mentioned, an investor can reasonably conclude that there is a great amount of interest in the company and its projects.
Investors know that Innergex showed its interest through the now cancelled transaction to acquire Wildamere. Similarly, investors know that B2 Energy Group is interested by the resignation of one of its founders from the Finavera board of directors.
Therefore, it seems to this investor that the chances that Finavera will be a takeover candidate in the coming months are very high and that the growing number of interested parties would ensure investors will receive a fair offer and a healthy premium.
Disclosure: I am long FNVRF.PK. I wrote this article myself, and it expresses my own opinions. I am not receiving compensation for it (other than from Seeking Alpha). I have no business relationship with any company whose stock is mentioned in this article.