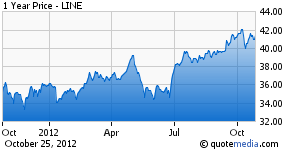 Linn Energy (LINE) is one of the core holdings in the income generating portion of my portfolio and has been so since it sold in the low 30's. The company continues to churn out impressive earnings and dividend growth. It also continues to report solid results quarter after quarter. The just released quarterly report was no exception. Investors looking for a long-term income holding certainly could do worse than picking up a position in Linn Energy.
Key earnings reports highlights for LINE:
Q3 earnings came in at 45 cents a share, beating estimates by 16 cents a share.
Average natural gas daily production increased 106 percent Y/Y to 782 MMcfe/d.
The company successfully drilled 12 Hogshooter wells year-to-date in the Granite Wash. These wells have produced a cumulative total of approximately 700,000 Bbls of oil YTD. Linn plans to complete another 11 wells in this play by end of year.
Linn Energy LLC is an independent oil and natural gas company with properties that are primarily located in the Mid-Continent, the Permian Basin, Michigan, California, and the Williston Basin in the United States.
4 additional reasons for income investors to pick up LINE at $41 a share:
The stock yields 7.1% and the company has grown dividend payouts at an approximate 4% annual rate over the past five years.
More importantly, the company has grown sales and earnings near 25% a year over the past half-decade. Given the company's recent acquisitions, I would expect this growth to continue. The company is tracking to 50% sales growth this fiscal year and analysts are projecting near 30% revenue growth in FY2013.
LINE is selling near the bottom of its five-year valuation range based on P/S and P/CF.
Stifel Nicolaus just resumed coverage on the stock with a buy rating. In addition, it is increasing the ratio of oil production, it is well hedged and natural gas prices are 60% above their lows in the second quarter.
Disclosure: I am long LINE. I wrote this article myself, and it expresses my own opinions. I am not receiving compensation for it (other than from Seeking Alpha). I have no business relationship with any company whose stock is mentioned in this article.