Nearly four years have passed since Citigroup Inc. (NYSE:C) had to be rescued by a tax-payer funded government package that backed hundreds of billions of dollars in risky assets. The largest bank and company in the world prior to the financial crisis has since reduced its workforce by 97,000 employees and now has 260,000 employees across 140 countries. Before this downfall, Citi's stock provided strong returns to investors, with prices steadily above $500 a share on a split adjusted basis. The financial struggles of late have kept the price of Citigroup's shares at less than one-tenth its pre-crisis highs over the last two years. At a current price around $38 a share, Citigroup provides an undervalued investment, as it appears close to recovery. The surprising resignation of Vikram Pandit as chief executive of the bank will allow for further restructuring of operations to meet post-crisis regulations on financial institutions.
Citigroup shares have gained 39% return year-to-date, but still trade at a 40% discount to book value. The bank recorded book value per share of $63.59 compared with a stock price below $40 a share. This is much higher than other banks such as JPMorgan Chase & Co. (NYSE:JPM) trading at 9% discount and Wells Fargo & Co. (NYSE:WFC) which trades at a premium. Third quarter earnings plummeted because of a $4.7 billion loss due to one-time accounting charges from Citigroup's announced sale in the Morgan Stanley Smith Barney (MSSB) brokerage join venture. This came as a result of MSSB being valued at $13.5 billion, far below what Citigroup had assigned it on its balance sheet. Though this was a substantial loss, majority owner Morgan Stanley (NYSE:MS) was always expected to buy out Citigroup's stake in MSSB.
If not for the losses from MSSB, the bank would have reported profit of $3.2 billion or $1.06 a share, up from $2.57 billion and $.87 a quarter ago. JPM and Wells Fargo, two of the most stable banks right now, reported earnings of $1.40 and $.88 per share. The reported loss on discontinued operations of Morgan Stanley is believed to be a final wave of troubled assets creating losses at Citi. With revenues up from increased demand in capital markets, the bank will have much higher profits in future periods and regain its dominance over competitors in the banking industry.
Click to enlarge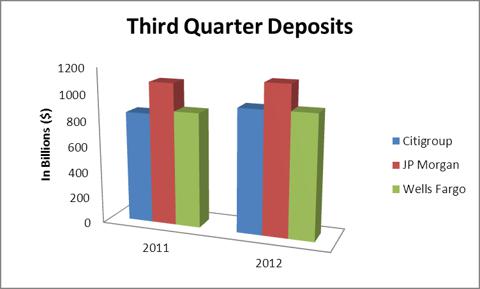 Source: Bloomberg LPClick to enlarge
Citigroup shares have declined by a greater percent than its competitors over the last five years. The potential returns from this large discount may be on the horizon, as the capital markets slowly recover. Increased lending at the bank resulted from increased confidence in housing, and a swarm of refinances caused by low interest rates.
Citi experienced 26% revenue growth in their investment banking functions during the third quarter compared to the prior-year period. Equity trading from investment banking increased 76% during the same period, showing signs of increased investor confidence following the crisis. Debt and equity underwriting experienced 30% year-over-year growth. Deposits grew by 11% to $945 billion, expanding the bank's capital supply, which will increase future revenue. Competitors JP Morgan and Wells Fargo experienced growth of 4.3% and 6.3% each.
Consumers are increasing their levels of savings, and bank revenues will benefit directly. Citi is receiving higher volume increases than other industry leaders, which will provide it with additional capital in the future, which it will be able to turn into interest income. Additional capital levels are allowing Citi to meet new capital and liquidity requirements post financial crisis. A Tier-1 capital ratio of 12% during the quarter displays increased stability out of its periods of uncertainty and desperation. Heightening demand for its services during a time of loss reductions creates a valuable investment opportunity in Citigroup.
Newly appointed CEO Michael Corbat will look to keep expenses low and maintain an orderly budget, focusing on high levels of capital to meet upcoming stress tests from the Federal Reserve. He may use his international experience to slowly grow Citi's global operations, while continuously improving domestic performance. The bank's performance around the world and increased domestic operations make it a strong value play at its discount to book value.
Disclosure: I have no positions in any stocks mentioned, and no plans to initiate any positions within the next 72 hours. I wrote this article myself, and it expresses my own opinions. I am not receiving compensation for it (other than from Seeking Alpha). I have no business relationship with any company whose stock is mentioned in this article.
Additional disclosure: This article was written by an analyst at Saibus Research. Saibus Research has not received compensation directly or indirectly for expressing the recommendation in this article. We have no business relationship with any company whose stock is mentioned in this article. Under no circumstances must this report be considered an offer to buy, sell, subscribe for or trade securities or other instruments.