Chevron (NYSE:CVX) has declined 7.5% from its high about two months ago, and therefore I feel that it is timely to write an article illustrating how good a buy is it at the moment. It pays a 3.28% dividend at the moment and trades at a cheap 8.17X earnings, which is below Chevron's 5-year average of around 9.1X earnings. If you have read my previous articles, I like stocks with good value, good growth and fundamentals, desirable chart, and a strong balance sheet. Chevron fulfills all these criteria that I have set for a long-term investment. Read on to find out.
But first, here is a snapshot of the company:
Chevron Corporation engages in petroleum, chemicals, mining, power generation, and energy operations worldwide. It operates in two segments, Upstream and Downstream. The Upstream segment is involved in the exploration, development, and production of crude oil and natural gas, while the Downstream segment engages in refining crude oil into petroleum products and marketing crude oil and refined products primarily under the Chevron, Texaco, and Caltex names.
Other than the above operations, the company is also involved in coal and molybdenum mining operations; cash management and debt financing activities; insurance operations; real estate activities; energy services, and alternative fuels and technology businesses, as well as managing interests in 13 power assets. Chevron Corporation was founded in 1879 and is headquartered in San Ramon, California.
| | |
| --- | --- |
| Price (24.10.2012) | $109.71 |
| Market Cap | 215.27B |
| Income (2011) | 26.63B (P/E: 8.17) |
| Sales (2011) | 247.73B (P/S: 0.87) |
| Book Value Per Share | $66.25 (P/B: 1.66) |
| EPS Growth Past 5 Years | 11.50% |
| ROE | 21.68% |
| Current Ratio | 1.72 |
| Debt/Equity | 0.08 |
| Dividend | $3.60 (3.28%) |
There are many evident merits of Chevron just through this snapshot, from the high dividend to its little debt to its high ROE.
1. Good Value
Chevron obviously fulfills this criteria of mine. Trading at 8.17X earnings, 0.87X sales and 1.66X book value, its valuation is much lower than many other stocks. But one must note that although this is the case, its valuation is just in line with many of its competitors, like BP (NYSE:BP), with a P/E of 7.76 and Exxon Mobil Corp. (NYSE:XOM), with a P/E of 9.44. Royal Dutch Shell (NYSE:RDS.B) also has a similar P/E ratio of 8.34. The industry's average P/E is around 9.3.
The Price/Book (P/B) ratio is a comparison of a stock's market value to its book value. (The formula for book value is tangible assets-intangible assets-liabilities). At 1.66, it is considered to be a very low number. For me, I consider P/B ratios of above 4 to be overvalued, but it varies from one industry to another.
2. Good Growth And Fundamentals
As seen from the above snapshot, the company had grown at a desirable 11.5%, which is actually already good for such a big company, with a market cap of $215B at the moment. Its EPS had also been growing steadily through the past 10 years, and had been growing for every year with the exception of 2009, when there was a recession.
| | |
| --- | --- |
| EPS 2002 | $0.52 |
| EPS 2003 | $3.55 |
| EPS 2004 | $6.14 |
| EPS 2005 | $6.55 |
| EPS 2006 | $7.80 |
| EPS 2007 | $8.77 |
| EPS 2008 | $11.67 |
| EPS 2009 | $5.24 |
| EPS 2010 | $9.48 |
| EPS 2011 | $13.44 |
Its growth is not the only one that has impressed, many other indicators have also indicated that the company is in a very good financial condition.
Firstly, it has maintained its debt around the $10B mark, which is very little for a big company like Chevron, over the last 10 years, which means that Chevron is earnings enough to not consistently need the support of debt to expand itself.
Secondly, Chevron's ROE is at a high 21.68%. The ROE (Return On Equity) is a measure of a company's profitability by revealing how much profit a company generates with the money shareholders have invested. A high ROE can ensure that a company's management is making good use of shareholders' investments and not wasting it away.
Thirdly, Chevron has been increasing dividends yearly since 1988. This is a good sign that the company has a steadily growing business which has the ability to generate more income than what the company needs for internal operations. Below is a chart showing Chevron's dividend payments since 1970 February, which is quite an impressive one, with rarely decreased dividends and a strong uptrend.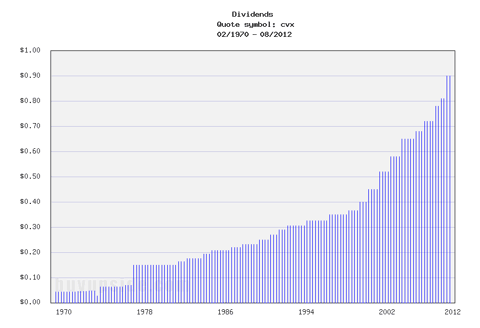 Fourthly, Chevron has been buying back shares. Five years ago, it had 2.09B shares outstanding, and now that number has been cut by 5.3% to 1.98B. Share buybacks mean that investors can own a larger part of a company with holding the same amount of shares.
3. Desirable Chart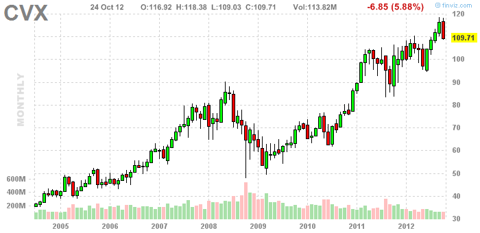 Above shows Chevron's weekly chart, which really illustrates clearly the uptrend Chevron has been in for the past 7 years, and if you look at a chart with a even longer time span, it would be in a much more impressive uptrend, with shares rapidly appreciating in price over the past few decades with a team of efficient management.
From the above chart, it can also be seen that Chevron only declines during large recessions, and even then, it is evident that it still declines relatively less than other stocks. During the 2008 recession when many stocks lost more than half of the market caps, Chevron only lost around one-thirds of its market value. But even if it drops in future, I will only be viewing the drop as a good opportunity to buy a fabulous dividend and growth stock at an even cheaper price.
4. Strong Balance Sheet
Before I start on anything, here is the link to Chevron's balance sheet on Yahoo Finance.
If you take a look at the above balance sheet, it can be seen that Chevron's cash had been increasing steadily, from $8.72B in the year ended Dec. 30, 2009 to $15.87B in the year ended Dec. 30, 2011. This number had increased 82% in 3 years, which is very impressive
Additionally, although the amount of both its assets and its liabilities had grown over the past 3 years, its assets had grown faster. Total assets had grown from $164.62B to $209.48B now, a 27.2% growth, and in the same period of time, its liabilities had only grown at 21.2%, from $72.7B in 2009 to $88.1B today.
Chevron also does not have any preferred stock , which is very good for the company- it does need to pay extra special dividends which would only drain its cash hoard faster. A company which has preferred stock also shows how cash-strapped it is to have to borrow money from its shareholders, technically, at higher interests than normal (special dividends, etc.).
These are all key points I like to look for in a company's balance sheet.
The Bad Points
Every company, regardless of how perfect it seems, is bound to have some flaws. Here are some of Chevron's flaws.
Firstly, only 0.01% of Chevron's stock outstanding is owned by insiders of the company. A stock with a lot of its float owned by insiders of the company usually performs better, as insiders, who own shares, would strive to govern the company as well as they can to prevent the stock from depreciating in value. A company whose stock is not widely owned by insiders may perform worse as insiders do not give their best, as their money is not involved in the company.
But, even though I say this, I want to clarify that I do not mean that a company will definitely perform badly as long as insiders do not own much of the shares outstanding. This is only a possibility.
Secondly, Chevron's days inventory number is currently at 16.40, which is higher than the company's 10-year average of 13.95 (info taken from here, with 10-yr average computed on my own). An increasing days inventory number may signify a slowing in sales.
The Takeaway
Overall, Chevron's many merits make up for its flaws, and the company, as seen earlier, has overall a good balance sheet, good value, good growth and fundamentals and a good chart. I believe that all these merits, with its steady dividend growth and strong fundamentals, make Chevron a favorable investment and a great source of income, now and in the years to come.
Disclosure: I am long CVX, XOM. I wrote this article myself, and it expresses my own opinions. I am not receiving compensation for it (other than from Seeking Alpha). I have no business relationship with any company whose stock is mentioned in this article.