We have been following Xerox Corporation (NYSE:XRX) since the middle of January largely because David Einhorn (Greenlight Capital) had purchased 17M shares of the company in Q4 2011. We were attracted to the company because it had purchased Affiliated Computer Services in 2010 and we liked how Xerox was transitioning its revenue exposure from hardware towards IT and Business Process Operations Services.
We were especially pleased with ourselves in that we decided to watch for a perfect pitch with this company because if we had purchased shares on January 18 (when Greenlight revealed its Xerox purchase), we would be down 22% in the nine months that we heard about Greenlight green-lighting its re-entry into Xerox. Then again, Xerox is down 13% based on Einhorn's initial cost of $7.61/share.
We agree with Einhorn that there is value in Xerox because we have decided to begin formally covering and publishing our analysis and evaluations of the company and Einhorn has reinforced his conviction in the company through the additional purchase of 9M shares during 2012. Although it has seen soft performance this year, we like that it is at a 30% discount to book value.
Click to enlarge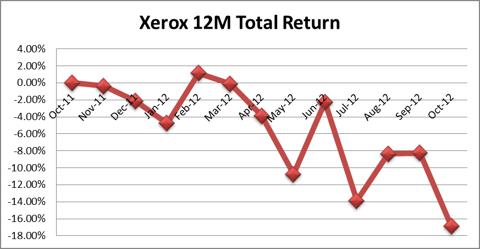 Source: Morningstar Direct
Xerox's Guidance
Due to the weak economic environment of the eurozone, Xerox continues to report sour results. We think it is becoming a trend on Xerox's part to meet consensus adjusted estimates and to reduce forward guidance and also to announce "non-recurring restructuring charges" that are "excluded from adjusted EPS guidance".
Following Xerox has been like water torture not because the stock has gone down by 22% since we began increasing our research on it, but because the company has been steadily reporting guidance that has been soft and sour. The good news for us is that we did not force ourselves to "buy in a panicky mood" and suffer through the slings and arrows of a 22% decline in the face of a 16% increase in the S&P 500.
At the beginning of 2012, Xerox issued adjusted EPS guidance of $1.12-$1.18. As of its most recent quarter, the company has once again revised its guidance down to a range of $1.07-$1.09, down from $1.07-$1.12 in Q2 2012.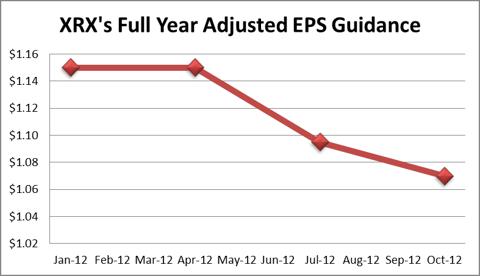 Source: Xerox's 2012 Earnings Reports
Xerox's Recent Results
Xerox recently announced soft financial results. As expected, strength in its Business Process Outsourcing and its Information Technology Outsourcing businesses was offset by soft performance in its Document Outsourcing business and its Technology equipment, services and peripherals division.
BPO revenue increased by 7% year-over-year, this included a 2% headwind from the strong US Dollar and this represented 57% of the Services Division's revenue. BPO growth was driven by the government healthcare, customer care and retail, travel and insurance businesses, as well as the benefits of recent acquisitions.
IT Outsourcing revenue increased by 6% and this represented 12% of the Services Division's revenue. ITO growth was driven by strong signings growth in recent quarters.
Document Outsourcing revenue increased by 1% and this included a 3% headwind from the strong US Dollar. This represented 31% and was driven primarily by its new partner print services offerings.
Technology Division revenue declined by 10% year-over-year due to customers delaying purchases of new equipment combined with a mix of lower priced product sales as a percentage of sales and price cuts of 5-10%, as well as the migration of customers to XRX's Document Outsourcing partner print services offering.
XRX's operating income declined by 14% due to negative currency effective, weaker sales of Technology Division hardware and services and a 2.5% decline in the gross margin at XRX's Services Division. This gross margin decline was driven by the ramping of new services contracts, pressure on government contracts and lower volumes in some areas of the business.
Concerns We Have About Xerox and its Management
We can understand why investors have concerns about Xerox. Ursula Burns has been President/CEO since April 2007 and the company's stock has declined by 60% in that time frame. Xerox earned $1.22 in reported EPS in 2006, the year before Burns became President. Despite spending over $4.1B in acquisitions and $2.6B on share repurchases, Xerox's Adjusted EPS is expected to be $1.08 and its reported EPS is expected to be $.85 after accounting for acquisition-related intangible amortization and restructuring charges.
Part of our apprehensiveness with regards to jumping into Xerox alongside Greenlight Capital is because we were concerned that the weak macroeconomic environment was an excuse for poor management and execution issues. Considering the poor results we have seen under Ursula Burns, we think investors should do the same.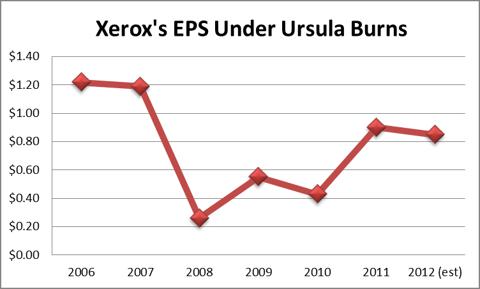 Source: Morningstar Direct and Xerox's Most Recent Guidance
Financial Position
While the company is lugging around $9.3B in short- and long-term debt, it is largely offset by $6.2B in finance receivables and equipment leases, as well as $1.44B in investments in equity affiliates. The company has a common shareholders' equity base of $12.2B, however $11.9B is due to goodwill and intangible assets from acquisitions.
The company's cash flow patterns are seasonal in which it generates the lion's share of its cash collections in the fourth quarter of a fiscal year. The company generated $1.344B in free cash flows on its $12.2B equity base over the trailing twelve months, which was sharply lower than the $1.865B achieved in 2009 before the ACS acquisition. We don't consider ACS to be a deal from hell though because we can see that the ACS IT Services operation strength is offsetting weakness in the legacy Xerox operations.
For the purpose of our free cash flow calculation, we included acquisition spending as a free cash flow outflow against operating cash flows because the company has been making acquisitions on a recurring basis and its operating cash flows benefit from the increased depreciation and amortization adjustments to net income, which also reduce taxable income and cash-based tax payments.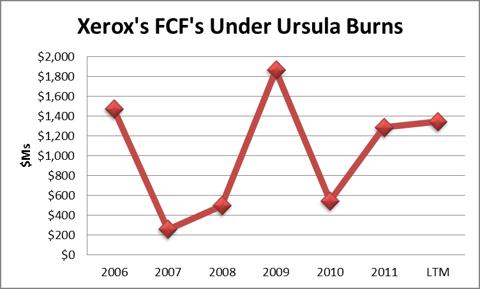 Source: Morningstar Direct
Comparison
Comparison While Xerox has seen soft results and issued a sour outlook, we believe that it compares well against its IT outsourcing competition (or at least if we were not to count its underperformance against Accenture (NYSE:ACN). Besides Accenture, we would compare Xerox against Hewlett-Packard's (NYSE:HPQ) HP Services division and Dell Inc.'s (NASDAQ:DELL) Dell Services segment.
Xerox gets 52% of its MRQ revenue from its services and solutions versus 100% for Accenture, 32% for HPQ and 21% for Dell. Xerox's Services Division generated 4.8% revenue growth year-over-year in 2012 YTD versus -1% for HP Services and 1% for Dell Services. The one area that Xerox Services has shown some material weakness relative to its IT Services peers is its operating margin because it operates exclusively in outsourcing services, while its peers are also involved in IT consulting and other higher-value-added services.
We have seen Xerox's outsourcing services operating margins pressured recently due to the ramp-up of new service contracts, as well as concessions extended to certain customers in order to retain business. Our thesis going into this conclusion was that although Xerox may not be Accenture, at least it isn't HP Services or Dell Services and we can conclude that our thesis here holds.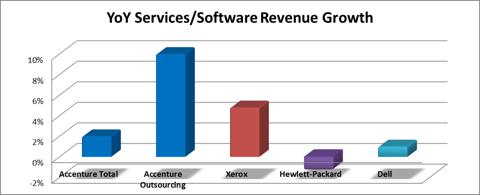 Source: MRQ Reports for Accenture, Xerox, H-P and Dell
Conclusion
In conclusion, we believe that Einhorn was premature in green-lighting a re-entry into Xerox. We can understand why he wanted to get back into it though. We were attracted to the company and we were surprised at its soft performance and sour guidance. The reason why we are continuing to follow the company is because of its 30% discount to book value as well as David Einhorn's 2% stake in Xerox.
We also like that Franklin Mutual Advisers (Michael Price's old shop) owns 6.75% of Xerox for four of its mutual funds (Franklin Mutual Shares Securities, Mutual Global Discovery, Mutual Shares, Mutual Quest and Mutual Beacon) and that although it isn't as strong as IT Solutions leader Accenture, at least it is in better shape than Dell and Hewlett-Packard.
We believe that investors should carefully analyze and evaluate Xerox to determine when it stops muddling through the muck and morass of mediocrity caused by the eurozone debt crisis before buying into it. At the same time, we believe that the company offers investors a solid level of cash flow generation and margin of safety.
We believe investors interested in Xerox should approach it with the care and due diligence reserved for special situation and turnaround plays in order to minimize potential losses and getting in too early.
Disclosure: I am long ACN. I wrote this article myself, and it expresses my own opinions. I am not receiving compensation for it (other than from Seeking Alpha). I have no business relationship with any company whose stock is mentioned in this article.
Additional disclosure: This article was written by an analyst at Saibus Research. Saibus Research has not received compensation directly or indirectly for expressing the recommendation in this article. We have no business relationship with any company whose stock is mentioned in this article. Under no circumstances must this report be considered an offer to buy, sell, subscribe for or trade securities or other instruments.