On Thursday, September 4, pre-market, Movado Group Inc. (NYSE:MOV) announced Q2 earnings of $0.32 per share or $8.1 million on $129.7 million in revenue vs. $0.45 per share or $12.3 million on $139.5 million in revenue, a drop of 34% in income and a drop of 7% in revenue compared to a year ago (see conference call transcript). Excluding the expense reduction plan charge of $2.2 million, MOV would have earned $0.39 per share or $9.8 million. Analysts were expecting $0.41 per share on $133.5 million in revenue, missing both earnings estimates and revenue targets. Shares were down 5% after gapping down and opening at $22.61, reaching a low of $21.03, but closing at $22.41. Shares are currently up over 1% YTD.
The reduction plan is designed to save $25 million, annualized, which amounts to 8% of operating expenses with about 25% of the savings expected to be realized for this fiscal 2009 year. Cost of sales dropped 18% to $45.8 million from $56.1 million. However, SG&A expenses were up 9% to $72.8 million for the quarter vs. $67 million a year ago. Inventories increased 16% to $238.7 million from $205.1 million a year ago. 
The luxury units, mainly the Concord brand, have been hit the hardest with sales falling 18% due to continued weakening demand for higher-end watches. Strong international sales (40% of total sales are from international markets) and MOV's plan to discontinue operations with 1,400 wholesale distributors (a 35% reduction from 4,000 to 2,600, representing less than 5% of revenue) should be able to offset the lack of growth in the U.S.
Management reiterated their fiscal 2009 forecast of $1.65 - $1.72 per share, in-line with analysts' expectations of $1.69 per share. So far, MOV repurchased 1.9 million shares for $38.9 million. Expect additional buybacks. 
Currently, 3 firms publish recommendations on MOV with 1 "Buy" rating and 2 "Hold" ratings. On September 5, Morgan Joseph reiterated their "Buy" rating and increased their target price to $28 from $23.
Technically, MOV found support at $23 and bounced back with a lot of doji activity, but managed to break free from the area gap down on earnings day. The most recent correction is an irregular, erratic one where the stock pullback on higher volume leading up to earnings day. The successful tests of the 200-day MA as well as the 50-day MA crossover are bullish signs. $26 remains as a short-term resistance level. On an intermediate level, MOV is successfully making higher lows and new short-term highs after forming a reverse head-and-shoulders pattern. The uptrend remains strong and intact and should continue.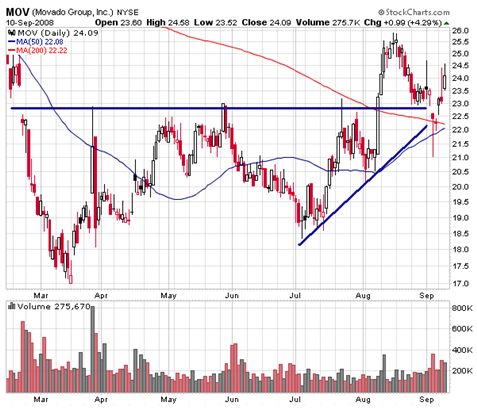 Disclosure: none