Since BioScrip Inc. ("(NASDAQ:BIOS)" or the "Company") released Q2 08 results, I've had the chance to communicate with other investors and it has become apparent that many share my displeasure with management and the Company's current direction. What's been particularly frustrating is that management and the Board have yet to devise any real benchmarks or even long-term guidance on what investors can expect in terms of operating results. Since BIOS has a fixed cost structure, minor changes in business results can have substantial impacts on EPS, making the final result very volatile and thus difficult for the market to get comfortable in approximating a fair value for the Company. 
In addition, given the Company's CEO - Rich Friedman - and his horrific track record in terms of performance and compensation, investors have every right to hold off from making meaningful investments in the Company until Friedman can prove he can consistently generate profits. Given my conversations with other investors, it is becoming increasingly apparent that leaving Friedman in charge is a recipe for disaster and that BIOS could generate far more value if a strategic buyer purchased it. I believe investors are willing to vote their shares if a strategic buyer approaches BIOS with a fair offer. The following is a brief review of where BIOS investors currently are and more importantly, what BIOS could be worth if a strategic buyer purchased the Company.

Charts I and II clearly illustrate that BIOS has been run into the ground. Through YTD 2008, BIOS is the worst performing stock in its peer group and since public inception in 1996, BIOS has been the worst performing stock of its peer group. In fact, as of Wednesday's market close, BIOS has hardly outperformed companies like Wachovia Corporation (NASDAQ:WB) through 2008, further indicating how pathetically managed BIOS is given the financial tsunami impacting the financial sector. 
CHART I: BIOS VS. PEERS 1996-2008 YTD [click to enlarge]

CHART II: BIOS VS. PEERS 2008 YTD [click to enlarge]

Note: Values tied to legend are immaterial and result of pointer over certain values during pasting of charts (i.e. CVS 29.54 value in 1996-08 YTD chart)
The Company's pitiful performance has largely been the result of Friedman's stewardship. Despite the long-term history of value destruction, Friedman has managed to keep his job and prosper in the face of these dreadful returns. Even worse is that Friedman and the Board have established a steady transfer of wealth from investors to themselves. Chart III presents Friedman's compensation relative to BIOS investors in recent years while Table I presents the laughable fees paid to the Company's Board. The Company's Board Members have made just four open market purchases of BIOS stock since 2005, further demonstrating a complete lack of confidence in BIOS and Friedman along with a lack of interest in the Company. Given this lack of interest, it's no surprise that items like audit fees are out of control and comparable to those of much larger peers. After all, BIOS management and its Board have no stake that they have actually purchased in the Company so why should they care?
CHART III: FRIEDMAN'S "RETURNS" VS. BIOS INVESTORS
Note: Total comp for 2008 assumes a 15% increase based on 2008 salary increase over 2007; 2007 total comp increased by 96% so a 15% estimate is not unreasonable
TABLE I: BIOS BOARD FEES [click to enlarge]


Have the BIOS Board Members earned a penny of their fees in looking out for investors? They've let a CEO with a horrible track record continue at the helm while pocketing hefty fees for a few meetings that have done nothing to benefit investors. Given the gross negligence and mismanagement of BIOS, the only viable way to generate value for shareholders is to pursue a sale of the Company.  What's more, it's important for investors to be proactive in voicing that they are open to a sale to a strategic buyer because the Q2 08 conference call clearly indicates that management has no intention of selling BIOS. The following is an exchange at the end of the Q2 Conference Call (from Seeking Alpha):
"Amit Sanghrajka (Chokshi) – KinaRoss (Kinnaras) Capital Management: And just have you guys ever over the past few years, I mean given the growth in that Specialty Services business, as any buyer ever approached you guys. It is something where this looks like it would have value to someone. Has there ever been anyone approaching you guys whether it is a strategic or financial buyer?

Richard Friedman: We are not going to comment on that.

Amit Sanghrajka – KinaRoss Capital Management: No.

Richard Friedman: I am not going to comment on that.

Operator: Thank you. Mr. Friedman, there are no more questions at this time. You may continue with your presentation or closing remarks."

Rather than be upfront about any previous approaches by strategic or financial buyers, Friedman chose to not comment on a question that would at least provide investors insight on how strategic buyers could value BIOS. That makes perfect sense because for years Friedman, his management team, and Board have transferred shareholder wealth to themselves without doing anything to generate returns for investors. There is no incentive for Friedman to let go of this scheme since his cronies reward him no matter what the results of the operations are, and therefore, if any potential acquirer approaches BIOS via management or the Board, it's likely that Friedman would turn the offer down in any capacity and would not disclose this to investors. His curt answer to my question during the conference call clearly illustrates he has little interest in having anyone focus on the possibility of a take out by a third party since it would jeopardize the continuation of his exorbitant and clearly undeserved compensation.

As a result, it's become clear that investors need to work together to make potential buyers realize that the Company can be purchased irrespective of any posturing by Friedman and the Board. I've put together some cursory data on how one could value BIOS and what a potential acquirer could pay for the Company and these M&A comparables should illustrate that BIOS would be worth far more to a strategic buyer than continuing on as an independent company with Friedman running it into the ground.
TABLE II: HEALTHCARE SERVICES AND PBM M&A COMPS [click to enlarge]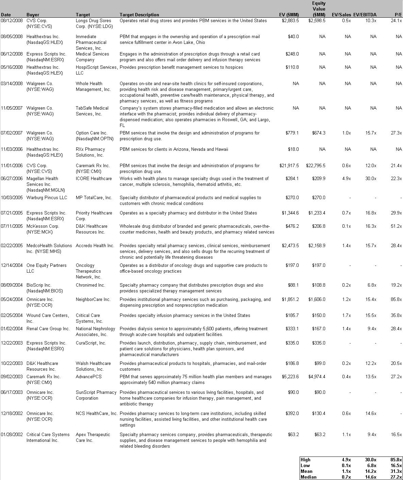 As the M&A comps indicate, BIOS would be worth considerably more than the current share price of roughly $2.77. However, using the various median and mean values really doesn't provide the right type of insight for valuing the Company. Using mean and median figures, EV/Sales metrics would imply BIOS could be purchased for over $20.00, EV/EBITDA figures would imply a valuation of roughly $6.00, and EPS multiples would imply a valuation of $4.00, so on the surface these comparables don't tell us much. The reason for this confusion is due to BIOS's large cost structure and how that ties to the mean and median figures of the M&A comps. The M&A comps basically imply that a business like BIOS, with $1.28B in LTM revenue, should have EBITDA margins of 6-7%, not the 1.3% margins and EBITDAO of just $17MM. That's why BIOS is not going to be selling for $20+ per share anytime soon. However, BIOS would also be worth more than $4-5 to a strategic buyer.
As with many businesses in this industry, M&A is done primarily to strip out overhead. Services and products are distributed with the gross margin captured at whatever level contracts are negotiated at, but the overhead costs can be stripped out in cases when an efficient operator takes over a stumbling bloated operation like BIOS and reaps significant cost synergies. For example, BIOS is on track to generate about $1.37B in revenues for 2008. Its gross profits should be around $139MM. The issue with BIOS is that it has a cost structure that is too large for its revenue base, which is why Friedman has tried to grow revenues as rapidly as possible. Unfortunately, investors in BIOS often find the Company is spinning its wheels as gained business sometimes just offsets lost contracts or management pursues lower margin business, which adds further profitability pressure on the Company. However, a strategic buyer can strip out a considerable amount of the Company's SG&A, as much of that would be redundant to the buyer's own infrastructure. Table III outlines how a potential buyer would evaluate BIOS with the Scenario columns outlining potential cost savings to a strategic buyer.
TABLE III: BIOS ACQUIRER SG&A SENSITIVITY [click to enlarge]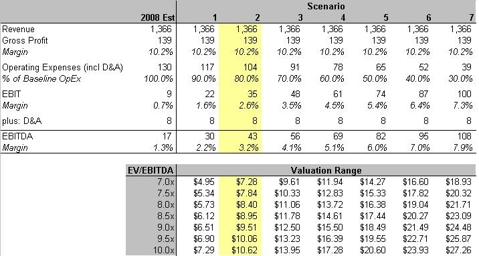 On a standalone basis, BIOS will have about $130MM in operating expenses for 2008 but a strategic buyer could rationalize a lot of these costs. Each Scenario column presents a sliding scale in terms of operating expense savings for a potential buyer and the pro forma operating earnings for BIOS post-acquisition.  For example, the Baseline OpEx is $130MM and Column 3 assumes a buyer only carries over 70% of those operating expenses, basically eliminating $39MM in costs, resulting in the acquirer realizing higher operating earnings than BIOS could on a standalone basis.
Column 2 is highlighted because it provides a good baseline for what a strategic buyer could comfortably pay, whereby it achieves excellent returns on its acquisition while investors receive a very fair value for their shares. To achieve satisfactory returns, all an acquirer would have to do is locate roughly $26MM in savings from BIOS which should not be a tall order. Obviously, this needs to be taken into context with an acquirer's capital structure, financing, and accretion/dilution with acquiring BIOS, but the cost savings in terms of stripping out SG&A will be the main driver. This is because while an acquirer can pay a certain price that may look expensive on the surface, the cost synergies should allow a seemingly fair to expensive deal to be very cheap.
It's important for potential buyers and investors to note that there are a number of low hanging fruit in terms of cost rationalization. The Company currently has facilities in Eden Prairie, MN; Ohio, and Elmsford, NY that could be rationalized by an acquirer. Some of these facilities are legacy locations from the Company's predecessor companies. Another benefit would be the elimination of BIOS management and its Board which would save well over $1MM. The Company's audit fees were $1.6MM in 2007 and could be eliminated as the excess audit fees are already too high for the Company's size and likely a reflection of poor internal accounting and record keeping which necessitates additional work by BIOS auditors. While the Company has reduced its bad debt expense, that improvement is relative to its historically abysmal figures and given the variety of IT and A/R challenges BIOS has experienced, it's hard to believe an acquirer would not have better A/R controls in place such that the $3.2MM or so in projected (Kinnaras estimate) 2008 bad debt expense would not be significantly reduced.  These few items already result in roughly $5-$7MM in cost savings making it difficult to believe, especially in this industry where M&A is driven by cost synergies, that a buyer could not achieve an additional $20MM in cost savings, particularly when the Company's likely acquirers all have significant scale and experience in M&A.
Friedman and his cronies have had over a decade to prove that they can generate positive returns for BIOS shareholders. While shareholders since 1996 have lost over 75%, Friedman has kept his job and prospered with generous compensation increases and bonuses, financed by shareholders. Friedman engineered the botched MIM/Chronimed merger and can hardly explain any coherent plan on how margins can improve except to say that revenues will outpace SG&A with a lower projected gross profit margin, while providing no long-term goal for any of those line items. Management and the Board have demonstrated no interest in generating shareholder value and Friedman has had more than ample time and produced nothing but inconsistency and losses for investors. Based on the Q2 conference call, it also appears that he and the Board have no interest in allowing investors to be privy to any overtures made my potential acquirers as this would mean that insiders lose the free ride they've experienced at the expense of shareholders. Given my discussion with other shareholders, it appears that the best move is to publicly reach out to potential buyers and M&A advisors and let them know investors are more than willing to deliver BIOS to potential buyers for a fair price.

Disclosure: Author manages a hedge fund that is long BIOS.