I'm an investor, not a gambler. I only buy stocks that are undervalued or that are poised for a solid run-up. Now, the first dilemma I face is how to price a stock properly. I won't buy a stock until I can price it. As you read on, you will understand how important this ignored but important fundamental is to your investment in any stock you purchase. I ignore analyst estimates and go straight to a company's annual and quarterly financials. Why do I ignore analyst estimates? No one can predict with 100% accuracy the future price of a stock or its earnings. As an investor, I want 100% accuracy and I can only get that from a company's current annual and quarterly financials. If you want to gamble with your money, buy and sell based on analysts' future estimates for stock price and earnings forecasts.
I only focus on two areas within the financials: total assets and total liabilities. Why? I'm looking for a quick overview to see if there is hidden value not reflected in the stock price. I buy undervalued stocks cheaply and sell high. And that brought Apple (NASDAQ:AAPL) to my attention. Is a $600 stock cheap? It is if it moves to $700 in a short period of time. Last earnings season, Apple missed its estimates and the stock went down to $574 on July 26, 2012. I then watched over the next three months as Apple had a $100-plus run-up in price.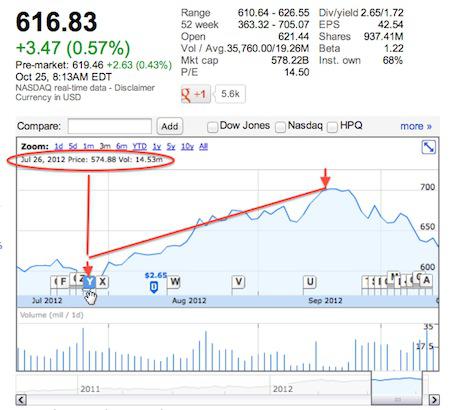 Source: Google Finance.
I thought to myself, "If it drops $100 or more, I'll start following Apple for a low entry point." On Oct. 24 it hit $610 again, as it did on Oct. 19 from a recent high of $705. Analysts have been lowering their previous estimates almost weekly, and this is reflected in Apple's current price.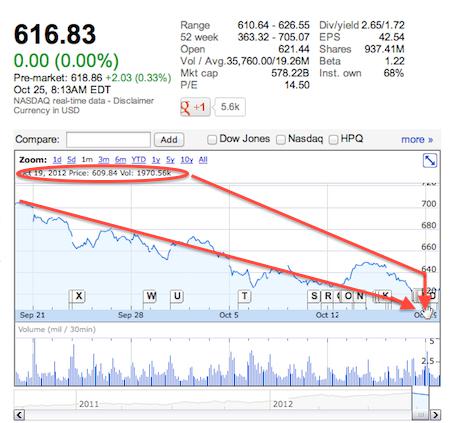 Source: Google Finance.
What do the charts above mean? If Apple beats analyst estimates, it will quickly run back up into the $700s. If it doesn't meet analyst lowered estimates, Apple will tank quickly like last quarter and head into the low $500s or possibly mid-$400s, which would then really represent an incredible investment opportunity. Why? Can you say "holiday season"? Apple has so many updated toys to choose from this holiday season. Since the start of the financial crises in 2008, consumers have been saving their pennies and spending it during holiday seasons at their local Apple retail and online stores globally. Apple became the largest company in the world during the greatest modern financial crisis the world has ever seen. While entire companies and industries fell into ruin, Apple grew fivefold. This coming year-end spending frenzy on Apple products translates into another monster first quarter like last year's.
Also as an investor and not a gambler, there are several other reasons Apple is attractive at these prices. Its rabid and loyal consumer base, $10 dividend, $100 billion or so in cash to weather any new global crises or global patent infringement disputes, no long-term debt, great products, innovative design, and large patent portfolio are just a few gems in this crown. One thing that has me concerned is the loss of Steven Jobs. Jobs created massive wealth and spawned entirely new industries and reshaped the music, computer, and cell phone industries and product design -- among many other accomplishments in his life. The new senior management has had a few misses. There can be a lot of little misses with $100 billion in the bank and no long-term debt, as well as massive consumer loyalty and buying power.
Let's look under the hood and break those numbers down. Apple has $116 billion in assets (most of it in cash), no long-term debt, and about $39 billion in total liabilities. I have devised a financial formula I call "The Pawn Price." If you care to learn more about my Pawn Price formula, I detailed it in a Seeking Alpha article I wrote on Clearwire (CLWR). No analyst would ever use my Pawn Price, but I do because it gives me a stock's true rock-bottom price. The Pawn Price for Apple is $8.25/share. I know that's low compared to its current price of $610/share, but that is Apple's real stock price minus all the bloat, emotions, and drama that inflates a stock price. Now why on earth would I buy a stock so expensive compared to its Pawn Price? Easy -- I invest and if Apple is about to embark now on a $100 upswing or if it drops and goes up $200 in the next three months, I'm a very happy investor. The problem I, like everyone on Wall Street, face is that I'm space and time bound and can't see the future. Or can I? I use three rules to invest in the future. These investment rules help me to see future opportunities devoid of Wall Street's endless manipulative hype. My investment rules are as follows: 1) I buy undervalued stocks, 2) I buy stocks with world-class management and boards, and 3) you will have to learn on your own the third rule just like I did.
Apple is of interest to me as an investor based on its healthy financials, which reveal it is undervalued. Apple has an experienced global management team put together by former CEO Jobs. The third rule of my investment formula has to be monitored on this stock, because it is way above its Pawn Price. The Pawn Price keeps me grounded and limits my exposure to Wall Street hype. I then start reading articles and news stories about Apple to get a better understanding of the company and anything that helps me gain an entry point. Google search is very time saving. I start with Google Finance and then I go to Yahoo Finance for articles and news on Apple. I then head over to Seeking Alpha to get in-depth analysis and critique on the buy and sell sides of a particular stock I'm interested in investing at the moment. For the uninitiated, Seeking Alpha gives an investor like me the good, the bad, and the ugly about a company. Take this Seeking Alpha article, which broke down Apple's sales numbers in a way I could understand without spending countless hours pouring over Apple SEC filings. Do read the comments below the articles. The writers of the articles are tested and sometimes torn apart by both amateurs and professional alike. No one is spared. Sometimes, anonymous commentators give firsthand accounts of private meetings they were witness to about the company you are following.
After all that reading, I sit back and, in Apple's case, wait for its quarterly numbers to be announced on Oct. 25, 2012. I might buy a few shares if it dips into $500 territory before quarterlies are announced. I won't do any serious buying until after its quarterlies. Remember, I invest -- not gamble. This point cannot be overstated. I have a hunch Apple will take off after its quarterlies are announced. Why? Barring any significant or adverse change in its financials, Apple's current lowered price is in anticipation of lowered financials. Apple is so closely followed that its hard for Apple to hide anything. We are all aware of its back orders on its iPhone, manufacturing problems at Foxconn, patent litigation, map inadequacies, etc. All of these negative variables have been reflected in its current lowered price. Or are they? Last quarter brought a dose of reality to Apple's future financials in this chilly financial climate. Will Apple reach $1,000/share or go down to its Pawn Price? I have no idea what the future holds, but I can eliminate my exposure to Wall Street's casino mentality by using my three investment rules.
If you currently own Apple stock and want to protect and add additional profits to your Apple holdings, I would add an equal amount of buy puts if Apple starts dropping further or buy calls if it starts climbing. Apple is not cheap as a stock or an option. You get what you pay for. If you just recently bought at a higher price, please put a stop-loss, buy some puts, or -- if you can stomach another drop -- hold on. Either way, with $100 billion in cash and new and updated products for the holiday season, Apple should provide another holiday in January for its investors.
Disclosure: I have no positions in any stocks mentioned, but may initiate a long position in AAPL over the next 72 hours. I wrote this article myself, and it expresses my own opinions. I am not receiving compensation for it (other than from Seeking Alpha). I have no business relationship with any company whose stock is mentioned in this article.