August ETF Numbers
The National Stock Exchange [NSX] has released the August numbers for ETFs and ETNs.
Together, assets reached $596.5 billion, a 15% increase over $518.9 billion ayear ago.
Net cash inflows for the month of August totaled $11.4 billion, with notional trading volume at $1.7 trillion, a representation of 31% of all U.S. equity trading volume.
The top three ETFs by net cash inflow were
1) SPDR Index 500 (NYSEARCA:SPY): $3,586 million; the fund was up 1.5% for the month
2) iShares MSCI EAFE (NYSEARCA:EFA): $432 million; the fund was up 2.1% for the month
3) iShares MSCI Emerging Markets (NYSEARCA:EEM): $562 million; the fund was down 5.7% for the month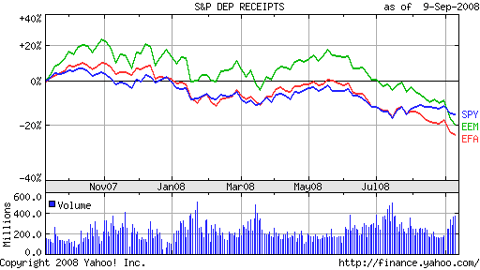 Click to enlarge
Russian Free-Fall
Since this spring, Russia's ETF has been in a free-fall, dropping off 46.6% following its May 19 high. Market Vectors Russia (NYSEARCA:RSX) is also down 38.6% year-to-date.
The fund's weighting in certain sectors that have fallen on hard times hasn't helped, either: it has 39% in oil and gas companies, 22.3% in metals and 13% in telecom. Russia's well-being hinges on energy, says Trang Ho for Investor's Business Daily.
The sector accounts for one-fifth of GDP, which rose 8.1% last year. Oil and gas generated 65% of export revenues and made up 30% of all foreign direct investment in the country, according to the World Bank and IMF. This year's GDP is forecast to grow by 7%.
It's a reversal of fortune for the country and the fund, as it was the darling of investors earlier this year. It rose 15.1% from the start of the year through May, when it began its descent. Equity funds have been losing assets, and as of Sept. 5, outflow totaled $859 million.
Considering that investors are still pulling money out in light of the political situation right now, a rebound for the fund is unlikely anytime soon, according to a Merrill Lynch research report.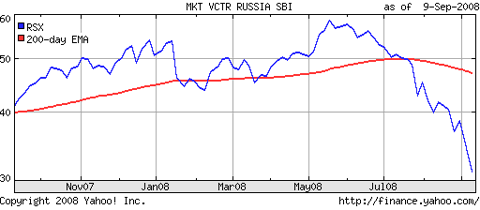 Click to enlarge
Disconnected Telecoms
It seems that telecom ETFs have become disconnected for the year, with every company or holding in the negative zone. The last month hasn't been as brutal for the bulk of this year has been for these funds, though.
Robert Holmes for The Street reports that each ETF holds so few companies that it could make the time frame for a turnaround longer within these sector-targeted funds. The fewer the holdings, the more exaggerated the moves become for the ETF. Telecom has a tendency to do well when the market is healthy and do really poorly when things are going down.
Two stocks that are dominating this industry are Verizon (VZ) and AT&T (T). A large chunk of every telecom ETF is given to these companies. AT&T is down 19.1% year-to-date, while Verizon is off by 16.2%.
iShares Dow Jones U.S. Telecom (NYSEARCA:IYZ): AT&T is 21.4%; Verizon is 15.5%; down 20.4% year-to-date; down 0.1% for the last month
Vanguard Telecom Service (NYSEARCA:VOX): AT&T 20.8%; Verizon 19.9%; down 19.1% year-to-date; down 0.6% for the last month
Telecom HOLDRs (NYSEARCA:TTH): AT&T is 58.5%; Verizon is 24.3%; down 22% year-to-date; up 2.5% for the last month
A little more diversified is the PowerShares Dynamic Telecom & Wireless (PTE). Its top holding, American Tower Corp. (NYSE:AMT), is 5.1% of the Fund. Verizon is 5.1%, and AT&T is 4.7%. Year-to-date, it's down 17.9%, and in the last month it's down 3.7%.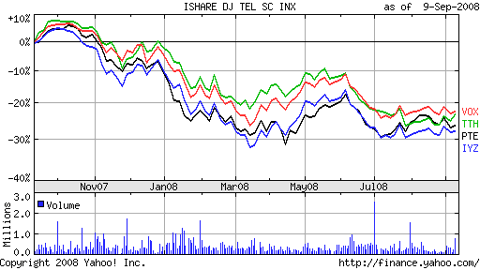 Click to enlarge