Below is a graph of the Put-Call Ratio (10 Day Moving Average of the CBOE Put-Call Ratio). When the line is at the top of the page there is heavy put buying, which indicates fear and is usually seen at market bottoms. I marked the peaks in the ratio with a red X, which roughly coincided with this years major market lows. As you can see we are nowhere near prior peaks of put buying and have probably not put in a good bottom.
click to enlarge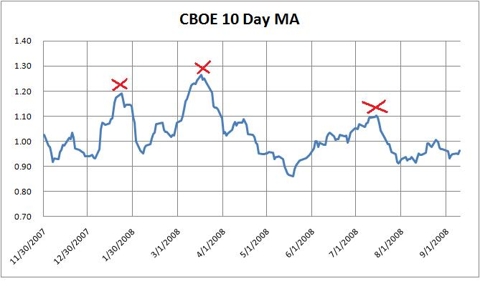 Click to enlarge
The highest peak coincided with the March low, which produced the largest rally this year. The lowest peak coincided with the July 15 low, which produced the weakest major rally this year. In order to get the type of low we had in March there is a long way to go.
Some people are arguing that the option ratios are no longer useful because people now use inverse ETFs to hedge. However, this methodology seems to be working this year. This does not mean the market can't rally. It only means that any rally from these levels is likely to be weak.
On the bright side hedge fund positions saw some relief yesterday. Major hedge fund holdings like MasterCard (NYSE:MA), Visa (NYSE:V) and ConocoPhillips (NYSE:COP) were up after going down mercilessly for weeks. It is possible that funds are done liquidating.
Disclosure: None