Summary: PepsiCo (NYSE:PEP) is an excellent company trading at a fair price. It has a superlative record of dividend growth. It is currently a buy for long-term growth and dividend investors.
Type of Company and Stock: In Morningstar's Style Box, PepsiCo is a Large Growth company. It is in the Consumer segment, and its business is built around beverages, snacks, and cereals.
Company Story and Strategy: Incorporated in 1919, PepsiCo is one of the world's largest beverage and snack companies. It produces, markets, and distributes myriad salty, sweet, and grain-based snacks, carbonated and non-carbonated beverages, and other foods. Among the company's many top brands are Pepsi, Pepsi-Cola, Aquafina, Aunt Jemima, Cap'n Crunch, Cheetos, Cracker Jack, Doritos, Frito-Lay, Fritos, Gatorade, Golden Grain, Lay's, Life, Mountain Dew, Quaker, Rice-A-Roni, Ruffles, 7UP, Sierra Mist, Slice, SoBe, and Tostitos. Its Tropicana brand is itself the world's largest branded juice producer. The company just announced an intent to purchase a majority stake in Russia's biggest juice company.
PepsiCo is more than a beverage company, and so it is not directly comparable to Coca-Cola (NYSE:KO), despite their long standing "cola wars." In fact, snack products bring in about 58% of PepsiCo's total revenue; beverages about 37%; and Quaker Foods about 5%. PepsiCo is riding the globalization megatrend: International operations are growing robustly, and they account for nearly 50% of revenue. Organizationally, the company has a separate PepsiCo International division to drive growth and expand its presence in Europe, the Middle East, Africa, and Asia. It is strong in Brazil, Russia, India, and China, where growing middle classes are generating strong growth in per capita consumption of PepsiCo products.
PepsiCo's customers include franchise bottlers, independent distributors, and retailers. (The soft drink beverage business is somewhat unique in that the brand-owning companies do not perform the majority of manufacturing and distribution, due historically to a belief that their greatest growth would come from fountain drinks. Thus, they sold off the bottling rights, which has turned out to be a good move in keeping the companies asset-light and less capital-intensive—they just produce the concentrates and syrups. Bottlers are granted exclusive rights within a defined geographic region.)
PepsiCo is innovative with new products, and it is gradually moving toward more healthy offerings, such as Baked Lay's potato chips. PepsiCo's dominance in many of its lines give it pricing power. In the second quarter, the company pushed through price increases at Frito-Lay North America that did little to detract from volume growth.
PepsiCo often executes price increases by reducing the weight of individual packages rather than by actually increasing the price per package. The company is adept at pricing strategically, selecting where to increase so as to limit the impact on volume and share of individual product lines. It has made few price increases in its highly competitive North American beverage lines, where growth has been weak.
Management and execution are superb. PepsiCo has a strong track record of product innovation, and its direct store-delivery network is second to none. Risks and concerns include commodity price volatility (the company forecasts 9-10% input cost inflation for 2008), transportation cost escalation, foreign currency risk, and the risks associated with expansion into emerging and developing markets.
Financials: PepsiCo is very strong financially and has been for years. Operating margins in its food businesses are actually greater than in beverages. Possibly the most impressive financial statistic is that ROE has exceeded 30% since 1997, and that has been achieved without excessive debt. Currently ROE is 36% with negligible debt (all figures are per Morningstar). PepsiCo's 3-year EPS and revenue growth rates, respectively, are 12% and 11%. In the second quarter, sales growth was strong in PepsiCo Americas Foods (+16%) and PepsiCo International (+25%). There was weak growth in PepsiCo Americas Beverages (+1%).
Dividends: PepsiCo has paid dividends since 1952 and raised them for more than 25 years. It usually raises its payout in the second quarter, and it did so again this year, to the tune of a 13% increase. Its three-year dividend growth rate has averaged 19%, which exceeds its EPS growth rate by a wide margin.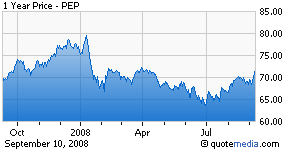 Its current yield is 2.3%, slightly below the market's yield.
Stock Performance and Valuation: PepsiCo's stock had positive total returns for several years coming into 2008. In the current bear market, it has done better than most, with a YTD total return of about negative 5% (compared to the market's double-digit losses).
The stock's valuation ratios all clock in at about average: P/E of 20, Forward P/E of 17, P/CF of 16, and so on. I rate the stock as about fairly valued at a recent price of $71.00.
Investment Thesis and Conclusion: On the company scoring system that I use for dividend-paying stocks, Easy-Rate™, PepsiCo garners 42 (of a possible 61) points, which grades out as Excellent. This, combined with its fair valuation, excellent financials, and strong record of dividend growth, rate it a Buy in my book for dividend investors.
Some may consider the initial yield too low at 2.3%, but I think that is overcome by the strong record of dividend growth. (At an annual dividend increase of 18%, the yield on initial investment would double in four years.) Investors more interested in price growth may wish to wait for a price pullback, although I note that most of PepsiCo's valuation ratios are currently a little under their five-year averages.
Disclosure: Long PEP