Cliffs Natural Resources (NYSE:CLF) missed quarterly earnings estimates by a significant margin, and if it was not for the tax benefit it received in the third quarter, the results would have been even worse. Estimates were missed across all segments, and most of the miss relates to operations. 2013 sales guidance of 19-20 million tons for the U.S.' iron ore segment comes as a surprise. The company also lowered its forecast for 2012 Chinese crude steel production to approximately 715 million tons, from earlier estimates of 730 million tons. In addition, CLF decreased its 2012 price expectations for 62% Fe seaborne iron ore to $128 per ton (C.F.R. China) from its previous expectations of $145 per ton. Also, CLF announced at the end of July that it would reduce cash costs at Bloom Lake to $63 per ton, however, the reported costs of $88 per ton were much higher than that. The costs at Bloom Lake are also up 18 percent YoY. However, there has been no change in Bloom Lake's production guidance and QoQ costs have also shown an improvement. The company also has confidence in its near term cash flow, as is evident from CAPEX commitments. The stock is down approximately 9 percent since the earnings release. Although 3Q earnings surprised many, we still have a neutral rating on CLF, as we believe that most of the concerns are already priced in the stock.
The company also maintained its cash dividend policy, and with a 6.4 percent dividend yield, it is still a very good investment for dividend-seeking investors. However, investors should not expect near term capital appreciation.
Company Overview
Cliffs Natural Resources is an international mining and natural resources company. The company provides iron ore and metallurgical coal to the steel industry. With seven mines in the Great Lakes region and Canada, CLF is North America's largest iron ore producer. The company also has operations in Australia. CLF's Eastern Canada and Australian operations mainly serve the seaborne market for Asian steelmakers. CLF also has its footholds in Latin America, with a 45 percent stake in Amapa, an iron ore project in Brazil.
The company has four main reporting segments (classified according to product category and geographic location): U.S. Iron Ore, Eastern Canadian Iron Ore, Asia Pacific Iron Ore, and North American Coal. Iron ore accounts for almost 90 percent of CLF's revenues (FY2011). U.S. Iron Ore alone accounts for 52 percent of the company's revenues (FY2011).
Company Documents and Qineqt's Calculations
Q3 Earnings Review
CLF reported second quarter adjusted EPS of $0.57, missing consensus EPS estimates of $1.07 by a significant margin. The results also include a $64 million tax benefit in the third quarter; positively impacting EPS by $0.5. Higher iron ore costs and lower than expected realized prices largely drove the miss.
U.S. Iron Ore
Total sales volume for the U.S. Iron segment was up 22 percent sequentially, but down 16.5 percent YoY to 6.6 million tons. The YoY decline was driven by lower pellet demand in the quarter. Revenue per ton was down 20 percent YoY and 7.5 percent sequentially. Cost per ton increased 8.4 percent sequentially and declined 8.4 percent YoY. Sales margin declined 10.5 percent sequentially and 47 percent YoY to $256 million.
Eastern Canadian Iron Ore
Total sales volume of 2.4 million tons was down 24 percent from the same quarter a year ago, and was flat sequentially. Revenue per ton was down 26 percent YoY to $107. The YoY decline in seaborne iron ore pricing led to lower revenues per ton. Cost per ton on the other hand increased 21 percent YoY. The 25 percent increase in cash costs at the Wabush Mine largely contributed to higher costs. Higher costs led to a negative sales margin of $17, down from $61.4 from Q3'11.
Asia Pacific Iron Ore
Sales volume was up for the Asia Pacific segment by 28 percent YoY to 3 million tons from 2.4 million tons in Q3'11. However, revenue per ton was down by a whopping 50 percent. The Asia Pacific iron ore segment reported revenue per ton of $84.79, down from $170.26 in Q3'11. Just as in the case of Eastern Canadian Iron Ore, lower Iron ore prices for the seaborne market drove revenue per ton lower. Costs per ton also increased by 12.5 percent, which drove sales margin to negative $5.27
North American Coal
North American Coal sales volume rose by 157 percent from a year ago to 1.7 million tons. Revenue per ton was also up by 30 percent YoY. Cash costs per ton declined by 15 percent YoY, increasing sales margin from negative $66.1 a year ago to negative $0.78 in Q3'12.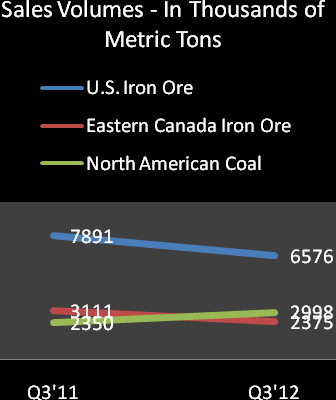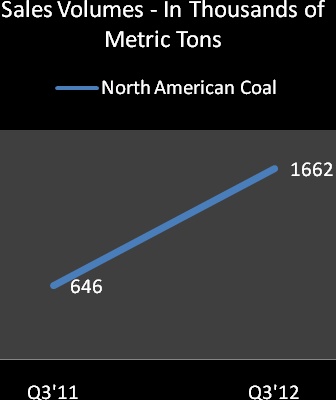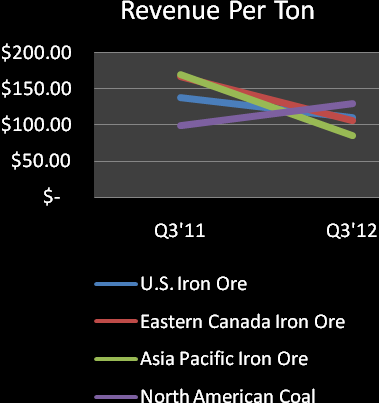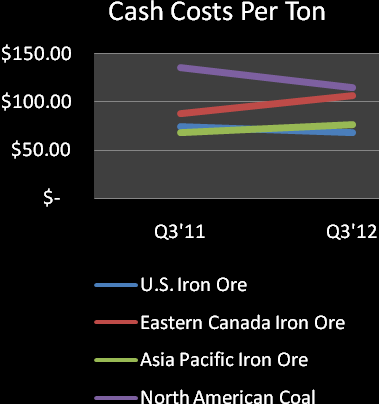 Company Documents and Qineqt's Calculations
Company Documents and Qineqt's Calculations
4Q Guidance
CLF expects revenue per ton to fall further in the fourth quarter, and has reduced its sales margin guidance for Asia Pacific and Eastern Canadian iron ore segments. The company has also reduced the sales margin guidance for the North American coal segment.
Iron Ore Outlook and Recent Developments
Iron ore swaps for November rose to their highest since July to $117.75. Prices are rising on speculation that China may cut reserve requirement for banks. Moreover, Chinese traders are hedging against a price hike in a key raw material in steel production. Restocking at Chinese mills and shortage of immediate cargoes also added to recent gains in prices. However, the outlook for Chinese demand is still uncertain. We believe the current depressed iron ore prices will rebound, as Chinese steel mills' destocking ends and steel demand rises.
Financials
CLF is trading at a forward P/E of 6.9x and has a 7 percent long term growth rate. It also has decent profit margins of 21 percent (profit) and 27 percent (operating). It has a very handsome dividend yield of 6.4 percent, which makes it a very attractive investment for dividend-seeking investors.
| | | |
| --- | --- | --- |
| Comp Sheet | CLF | (NYSE:VALE) |
| Forward P/E (1 year) | 6.9 | 6.87 |
| EV/EBITDA (NYSE:TTM) | 4.42 | 4.51 |
| Profit Margin : | 21.21% | 28.21% |
| Operating Margin : | 27.20% | 43.17% |
| Dividend yield | 6.40% | 3.70% |
| Long-term earnings growth rate | 7.00% | -7.65% |
| Share price Performance (YTD) | -35.00% | -25.00% |
Disclosure: I have no positions in any stocks mentioned, and no plans to initiate any positions within the next 72 hours.
Business relationship disclosure: The article has been written by Qineqt's Basic Materials Analyst. Qineqt is not receiving compensation for it (other than from Seeking Alpha). Qineqt has no business relationship with any company whose stock is mentioned in this article.