Buoyed by some consolidation and seen as a safe haven in an uncertain market, healthcare stocks rallied hard in July and held their momentum into August.
The sector cooled some during the last few weeks, but the S&P 500's healthcare companies were still up more than 1% for three months (through Sept. 5), while the index as a whole fell nearly 13%.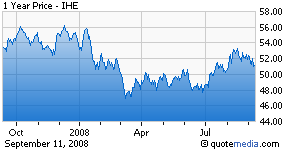 Last week, iShares Dow Jones US Pharmaceuticals (IHE), with a three-month return of 1.6% that ranks among the top one-third of healthcare ETFs, climbed to the fourth spot on our ETF Momentum Tracker Sector Momentum Table, with the result that five of the top eight spots are held by healthcare funds. iShares' biotechnology and medical devices funds, No. 1 and No. 2 in our rankings, are currently included in the ETF Momentum Tracker portfolio, so it's unlikely that we'll add IHE anytime soon, to avoid overexposure.
There are numerous reasons to be pessimistic about the pharmaceutical industry: pharma firms facing the ongoing challenge of patent expirations and competition from generic drugmakers; an increasingly stringent regulatory process; and the potential of a post-election healthcare overhaul that could reduce the industry's profits.
There's also single-stock risk, important in a fund where the top 10 holdings account for more than half of assets. For example, shares of No. 8 holding Schering-Plough (SGP)—which had rallied 35% in the prior three months—plunged 12% on July 21, after its cholesterol drug Vytorin performed poorly in a clinical trial. No. 4 Merck (MRK), which co-markets the drug, also swooned.
Still, there is good news here, even aside from the safe-haven argument—which, as Schering-Plough and Merck's recent histories show, may no longer hold water. Demographic trends, the product pipelines of some major drug companies, and expanding international markets could hold promise for IHE and could make it a good niche play for risk-tolerant growth investors.
As the baby boomer population ages, the customer base for pharmaceutical firms will expand. The U.S., which spent $2.3 trillion on healthcare in 2007, is expected to spend $4.3 trillion in 2017, according to the Centers for Medicare and Medicaid Services. That's an increase of about 3.5% of GDP devoted to healthcare spending.
Product pipelines at pharmaceutical firms have been somewhat barren in recent years, but efforts to bolster R&D capabilities seem to be paying off. No. 2 holding Pfizer (PFE), for instance, has more than 100 drugs in its pipeline and more than 300 drug "discovery projects." Many are in the early phases of the regulatory process, years from reaching consumers, and they may not make up for the blockbuster patents that Pfizer will lose over the next few years. Still, Pfizer's focus on developing new drugs gives it significant growth potential. Several other top IHE holdings also boast product pipelines ripe with potentially profitable drugs.
Perhaps just as important, though, is the success that many firms have had in international markets. No. 3 holding Abbott Laboratories' (ABT) international sales were up 14% in the second quarter from a year earlier, mostly in Asian and Latin American emerging markets. Abbott also saw sales of its blockbuster drug Humira increase 50% year over year, even before the recent launch of the drug in Japan. Shares in Abbott gained more than 3% in three months (through Sept. 5).
Not all of IHE's holdings have done as well at capitalizing on international markets as Abbott has—or as well as Pfizer at innovating new products—but many are making progress, analysts say.
While iShares lists all of the fund's holdings as pharma stocks, some—such as Abbott or No. 1 holding Johnson & Johnson (JNJ)—are actually more diversified than that. JNJ shares are up 9.8% in the last three months, thanks to strong quarterly earnings in July.
Likewise, IHE isn't entirely a mega-cap fund, despite a recent average market capitalization of $13.3 billion. Smaller names have helped drive the fund's returns recently. For example, the $300 million firm Medicines gained FDA approval for its blood pressure drug Cleviprex this summer, which doubled the size of its product portfolio, prompting a three-month share price gain of more than 25% (through Sept. 5).
Further, the fund offers some of the potential growth of biotech firms, possibly with less risk. Indeed, iShares NASDAQ Biotechnology (IBB) carries an average market capitalization of just $5.9 billion. But in recent years, the line between pharma and biotech has blurred. Many biotech firms have experienced explosive growth, leaving them larger than major pharmaceutical companies. Others were bought out by pharmaceutical firms.
Both sectors have held up well in recent months, which may relate to the ills of the rest of the market as much as the vitality of the healthcare sector. That could change, should the broader economy improve. Still, IHE offers stocks with some defensive traits and a large dose of the pharma stocks that analysts like going forward—those with healthy product pipelines or broad international exposure.