Yesterday's release of the bi-monthly short interest figures showed that short sellers trimmed their bets for the third period in a row.  As of August 29th, the average short interest as a percentage of float for stocks in the S&P 1500 declined to 10.7% from a peak of 11.9% on July 15th. 
While the initial declines were attributed to the SEC's temporary short-term ban on naked short selling, the recent declines have come after the temporary order expired in August while the SEC was on summer vacation.
click to enlarge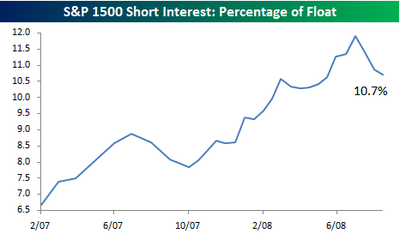 Looking at individual stocks, there are currently 13 in the S&P 1500 which have over half of their float sold short, and one stock (NASDAQ:JOSB) has more than 100% of its float sold short.  Interestingly, even with such a high level of short interest, JOSB has managed to show a YTD gain! 
As one might expect, with the exception of Arthrocare (NASDAQ:ARTC), which is in the Health Care sector, every other stock on the list comes from either the Consumer Discretionary or Financial sector.