Shares of Chipotle Mexican Grill (NYSE:CMG) are down 50% from its May 2012 high, due to earnings disappointments and bearish comments from a respected hedge fund manager. Momentum investors seemed to have rotated out of the stock, as the earnings' misses signaled Chipotle's maturation from a super-growth to a good-growth company. We are constructive on the stock, as the earnings misses have also triggered a more rational valuation of Chipotle's shares.
Lowered Same-Store Sales Guidance
Shares have declined 15% since the Q3 2012 earnings report last week. On the earnings call, management guided to a mid-single digit same-store sales (SSS) growth for Q4 2012 (versus 12% SSS growth in Q4 2011), citing the tough comps from last year's warm winter season.
While same-store sales is important, we think the market is focused more on Chipotle's quarterly growth rather than on its addressable market. No surprise there. Long-term investors should take a step back, as Chipotle's secular growth story remains. Why? First, Chipotle is still relatively early in its penetration cycle, with just 1200 stores and $2 Billion in annual sales. Given its relatively low geographic footprint, Chipotle can double sales through new store openings without cannibalizing existing store sales. Second, in terms of same-store sales growth, Chipotle has not fully tapped into its sales potential. For example, rolling out a breakfast burrito option would add incremental sales to existing stores. We believe many years remain before Chipotle hits peak sales.
Bearish Einhorn Comments
At this month's Value Investing Congress, David Einhorn laid out his short thesis for Chipotle. In a nutshell, he highlighted concerns about sales growth and margins:
1) Taste-test: in a proprietary survey, Einhorn found that a sample of Chipotle customers felt that Taco Bell's lower-priced premium burrito tasted as good as Chipotle's burrito.
2) Margin pressure: Einhorn cited rising health care and food inflation as emerging cost pressures that will weigh on future earnings.
Given Taco Bell's lower-priced entry, Einhorn argued that Chipotle would have difficulty passing on the higher costs to consumers. Customers would switch rather than pay the higher price.
Einhorn is a very smart investor who is known for his thorough forensic analysis of company balance sheets. His most famous short investment theses include timely calls on Lehman Brothers and Green Mountain (NASDAQ:GMCR). But, as Einhorn himself admitted, his Chipotle call is not predicated on a balance sheet issue. Rather, his Chipotle call is predicated on a consumer survey. On matters of forensic accounting, we listen to Einhorn carefully. On matters of consumer marketing, we still listen, but less so.
Einhorn's thesis seemed to suggest "hey, our survey participants taste-tested Taco Bell and Chipotle's menu items and found both were comparable. Since Taco Bell's premium burritos are cheaper than Chipotle's burritos, consumers will clearly switch to Taco Bell." But will consumers switch to Taco Bell? That is the key open question.
Focus on the Customer Experience, not the Product
Will Chipotle customers flee to Taco Bell? We think that is unlikely. To understand a consumer's purchase decision, it is important to put one's marketing cap on. Think about the customer's overall dining experience, not just the product. To a Wall Street hedge fund guy that usually has a chef prepare his food, Taco Bell and Chipotle are comparable. But many customers and the companies themselves may not perceive it that way.
Chipotle and Taco-Bell provide different dining experiences and subsequently target a different market segment. Taco-Bell is a fast-food restaurant, where employees prepare food quickly without customization. Often the quality control is lacking. Chipotle provides fresh, made-to-order food in a clean, hip environment…with Wi-Fi. The point is it is important to view the augmented product when assessing the effectiveness of a new competitor entry. We are skeptical that Chipotle's customers see Taco-Bell's offering as equivalent, simply because the store fronts -the packaging-- are different.
Quiet fact: Chipotle has grown into its valuation multiple
Chipotle has been a high-flying stock, with the stock rising from $50 in 2007 to a high of $400 in May 2012. Chipotle's earnings growth has been equally impressive-- with eps increasing from $1.28 to $8.76 over that time period-- fueled by increased sales at existing stores and aggressively opened new stores.
A picture is worth a thousand words. Here are charts of price, rolling eps, and P/E ratio over the last five years: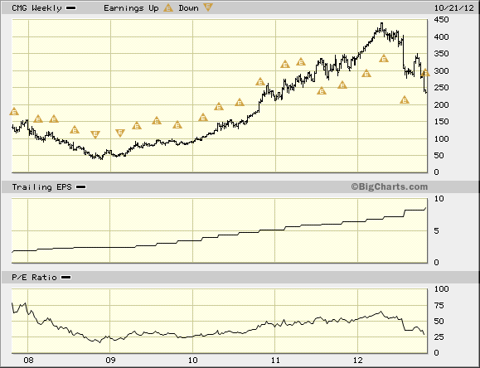 Unlike many high-flying stocks, Chipotle's growth in earnings power has done a reasonable job keeping pace with the stock's rise in price: as Chipotle opened new stores, earnings and price rose sharply.
We think investors are still viewing Chipotle through the prism of its prior lofty valuation. Its P/E multiple is down, as are its implied growth expectations as a result. Stipulated, at a P/E of 50, Chipotle was overpriced. But at its current P/E of 27, we think shares are a fair price given its risks and growth potential. This is a very well- run company that generates a 69% ROI at a unit level. A P/E of 27 is reasonable for a company expected to grow earnings north of 20% over several years.
Conclusion
We think Chipotle's shares offer a good risk-reward at this price. Given likely near-term price pressure, we would patiently build a position in this stock. Chipotle's near-term headwinds are not operational in nature. Rather, the challenges Chipotle faces are common to restaurant stocks as a whole: rising commodity prices and anemic growth in consumer spending.
Chipotle has migrated to next phase of its lifecycle, and we feel its current P/E multiple adequately reflects this transition. Those investors that require a more substantial margin of safety may want to wait and see whether the P/E gets to 22 (possible but unlikely). Over the near-term momentum investors may rotate out of the stock, providing an opportunity for valuation investors to take a new look at a well-run fast-casual diner.
Disclosure: I have no positions in any stocks mentioned, but may initiate a long position in CMG over the next 72 hours. I wrote this article myself, and it expresses my own opinions. I am not receiving compensation for it (other than from Seeking Alpha). I have no business relationship with any company whose stock is mentioned in this article.