General Mills (NYSE:GIS) has been delivering strong financial results. The company was able to expand its sales volume despite sluggish economic conditions, and it has been improving on its margins. Moreover, it has been expanding its international footprint, and its growth rate has been impressive. The company is expected to enjoy a growth rate of 7% per annum for the next five years. The stock offers a decent dividend yield of 3.3%. We have a buy rating on the stock.
General Mills is a global consumer foods company. It is one of the largest processed and packaged food companies in the world, with annual revenue of $16.6 billion. General Mills has a diverse brand portfolio, which includes Cheerios, Betty Crocker, and Haagen-Dazs. The company leads, or is a close second, in different growing food categories worldwide. It has three reporting segments: U.S. Retail, International, and Bakeries and Foodservices. The U.S. Retail segment includes businesses with a wide variety of mass merchandisers, natural food chains, grocery stores, and dollar and discount chains operating in the U.S. The International segment of the company includes retail and foodservice businesses outside the U.S. The Bakeries and Foodservices segment includes product categories like cereals, snacks, and dough products, among others.
General Mills reported strong financial results for Q1 2013. The company reported net sales of $4.04 billion, up 5% for the quarter, missing the Street's estimate of $4.08 billion. Increase in net sales was mainly driven by a volume increase of 9%. Foreign currency exposure took away 2% of net sales. U.S. Retail, which is the largest segment of the company, experienced a decline of 1%. The company's International segment experienced strong growth of 27%. Based on constant currency, Europe's net sales grew by 51%, Canada's net sales grew by 28%, and Asia-Pacific and Latin America's net sales grew by 20% each.
Growing emerging markets offer great potential for the company. In the recent first quarter of 2013, sales growth in China, India, and Brazil was in double digits. To tap the opportunities available in these markets, GIS remains committed to expanding its product portfolio and geographical reach.
U.S. Retail segment has the highest share in total revenue of the company. However, the trend has been changing in recent years as the International segment increases its contribution in revenue. The table below shows the segment-wise revenue contribution trends over the last few years.
| | | | | |
| --- | --- | --- | --- | --- |
| | 2010 | 2011 | 2012 | Q1 2013 |
| US Retail | 70% | 69% | 63% | 61.5% |
| International | 18% | 19% | 25% | 27% |
| Bakeries and Food services | 12% | 12% | 12% | 11.5% |
Source: GeneralMills.com and Qineqt estimates.
General Mills has experienced a high growth rate of 8.2% per annum in the last five years, and analysts are expecting a strong growth rate of 7.1% per annum for the next five years. In fiscal year 2012, net sales for the company grew by 12%, volume growth contributed 9%, and price contributed 3%. In 2011, net sales were up by 2%, with volume and price contributing 1% each.
Adjusted earnings per share for the quarter were up 3% to $0.66 cents, as compared to the first quarter of last year. Operating profit for the quarter was up 6% to $769 million. As the industry in which the company operates suffers from rising commodity prices, companies have been forced to build consumer loyalty and increase market power so that commodity price increases could be passed on to the final consumers. To achieve that, companies are diverting more resources to advertisement and promotions. General Mills has also increased its advertisement expenditure in order to compete in the intensely competitive environment. Despite volatile and increasing commodity prices, the company was able to increase its gross margins in recent years. The charts below show the advertising expenditure trend and gross profit margin in recent years.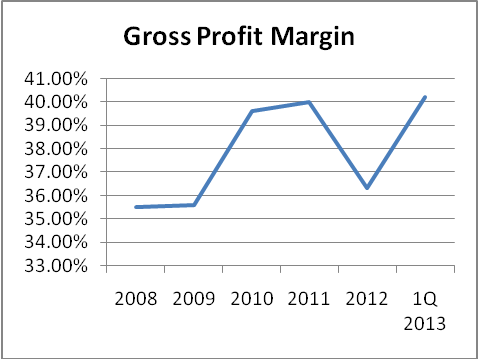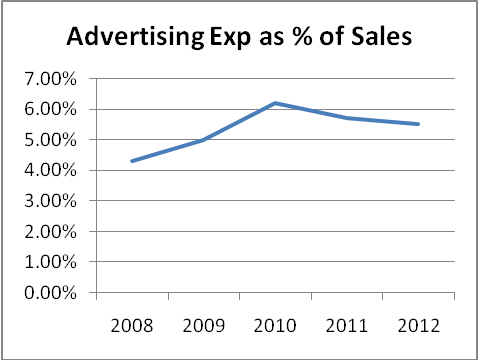 Source: Annual report and Qineqt calculations.
Quarterly results for the company were in line with company plans, as it was able to increase gross margin and sales volume. The company launched more than 100 products in the first quarter of 2013. The company is aggressive in terms of introducing new products and targeting new markets in order to grow, and to increase its market share. It is also improving its channels of distribution.
GIS has been aggressive in carrying out acquisitions in order to grow and to expand its geographical reach. These acquisitions will help the company dominate the market and increase its market share. In 2012, GIS acquired Food Should Taste Good. GIS is also benefiting from its acquisition of Yoplait International and Yoki Alimentos SA.
GIS has a long-term growth model, which includes net sales growth in the low single digits, operating profit growth in mid-single digits, and diluted EPS growth in high single digits. In order to achieve growth in the long term, the company will be focusing on five areas: innovation, brand building, leading customer growth, margin expansion, and international expansion.
The company is expecting diluted EPS of $2.65 for the fiscal year 2013. Moreover, the company is expected to improve upon its margins -- sales volumes are expected to increase, and cost input inflation is expected to decrease to 2%- 3% in the fiscal year 2013, as compared to 10% in fiscal year 2012. The 2012 cost input inflation drove down the company's gross margin to 36.5%.
General Mills has been sharing its success with its shareholders and offers a decent dividend yield of 3.3%. It has an annualized dividend rate of $1.32 per share. Dividends have been increasing over the years, as shown in the graph below. Moreover, the company is targeting dividend growth in the range of 2%-3% in the longer term. Dividends by the company are backed by an operating cash flow yield of 9.6% and free cash flow yield of 6.8%. The 22% return on equity offered by the company is higher than that of ConAgra Foods (NYSE:CAG). Also, GIS offers an attractive gross profit margin of 40%.
Click to enlarge image.


Source: Ycharts.com.
| | | | |
| --- | --- | --- | --- |
| | GIS | Kellogg (NYSE:K) | ConAgra Foods, Inc. |
| Dividend Yield | 3.3% | 3.4% | 3.5% |
| ROE | 22% | 51% | 14% |
| Gross Margin | 40% | 41% | 23% |
Source: Yahoo Finance and Qineqt estimates.
Valuation
GIS's forward P/E of 13.5 times is lower than that of Kellogg's 14.4 times. GIS's PEG of 2.15 reflects that it offers cheap growth as compared to Kellogg. Its debt to equity of 108% is on the higher side; however, it is less than the 384% debt to equity of Kellogg.
| | | | |
| --- | --- | --- | --- |
| | GIS | Kellogg | ConAgra Foods |
| Forward P/E | 13.5x | 14.4x | 12.8x |
| PEG | 2.15 | 2.4 | 1.9 |
| Growth - next 5 years | 7% | 6.6% | 7.4% |
| D/E | 108% | 384% | 70% |
Source: Yahoo Finance and Qineqt estimates.
Disclosure: I have no positions in any stocks mentioned, and no plans to initiate any positions within the next 72 hours.
Business relationship disclosure: The article has been written by Qineqt's Staples Analyst. Qineqt is not receiving compensation for it (other than from Seeking Alpha). Qineqt has no business relationship with any company whose stock is mentioned in this article.