Genuine Parts Company (NYSE:GPC) is the Atlanta-based distributor of automotive replacement parts, electronic components, industrial replacement parts and office products for much of North America. The company's biggest business component is its auto parts subsidiary and its most recognizable brand is NAPA.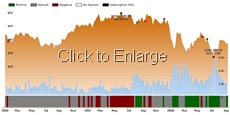 GPC shares have pulled back with the broader market over the past few months and now represent a compelling value using Ockham's research methodology. Fundamentally, we would expect auto replacement parts manufacturers to benefit from the carnage plaguing auto makers at present. With the credit crunch drying up funding for affordable leases, high gasoline prices cratering the resale value of large SUVs, trucks and cars, and the moribund economy causing consumers to tighten their belts, it is safe to assume that the average American is going to be driving his or her current vehicle a bit longer than might have been the case three years ago. As such, we would expect to see auto replacement parts manufacturers benefit from this trend as more and more people drive their automobiles for longer periods and thus spend more money on replacement parts.
From a valuation standpoint, GPC peaked out at just over $50 a share in June of 2007 but has now worked its way back down to the low forties. At this level, the stock pays a nice dividend (3.7% yield) which it has a strong track record of increasing on a consistent basis. GPC's Price-to-Sales multiple has traded in a range of between .63x - .79x over the past ten years. The current Price-to-Sales multiple is .62x.
Looking at Price-to-Cash Flow, the ten year range is 11.47x to 14.37x. The stock currently has a Price-to-Cash Flow multiple of 11.12x. As such, at current valuation levels, GPC is trading at a fair discount to the stock's average historic multiples for both Price-to-Sales and Price-to-Cash Flow—normally an attractive entry point for new investment.
Genuine Parts is a well managed company. It is doing well in an otherwise difficult economy, showing solid, if less than spectacular earnings growth. Management recently raised the stock dividend and has been selectively buying back shares. The company has also made a few minor strategic acquisitions of late, so management is keeping its eye on the ball while many other companies fight for survival.
GPC is a high-quality company with strong management, a nice dividend yield and a sustained record of annual dividend increases. The fundamentals of its core business appear to foretell many years of having the wind at its back. While domestic auto makers may face a very dicey future, auto replacement parts makers should benefit from an aging auto fleet. Ockham Research rates GPC a Buy and would recommend that patient, income-oriented investors ponder adding these shares to a diversified portfolio.