Harry Winston Diamond Corporation (HWD) is a stock that has steadily climbed up on our watch list. Much of that ascension is due to the fact that there has been a major sell-off in commodities lately, which has resulted in Basic Materials becoming our top-rated sector based on valuation. Harry Winston Diamond is in the most undervalued segment – nonmetallic mineral mining – in the most undervalued sector – Basic Materials – in our coverage universe and is off more than 35% over the last 13 weeks. We are always looking for stocks that have been oversold by the market, because the market often over-reacts in the short term and this can present considerable investment opportunities. Thus, after HWD's 50%+ drop in market value in under a year, we view the valuation of HWD to be appealing enough to warrant a Strong Buy rating.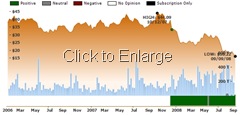 Harry Winston Diamond Corp, based in Toronto, is a specialty diamond company which operates both mines and retail stores with locations in New York, Paris, London, Beijing, Tokyo and Beverly Hills. The company has expanded its retail presence from 13 to 18 stores. So, clearly this company is not a pure mining play but also has a growing retail division. Some analysts have expressed fear that the company seems to be focusing on high end retail instead of mining, but as Tiffany's (NYSE:TIF) demonstrated in its last quarterly report, it is not impossible for a high-end jewelry retailer to be successful in this economy. But, it is obvious that Harry Winston's mining operations have been a disappointment and the company needs to get its core business back on track.
As Ockham's razor devotees, we are fond of the saying, "Management will manage." Management, also typically shareholders, is inherently incentivised to create shareholder value and will follow the strategy it believes will best create value. So, we believe instead of speculating about the consequences of management's decisions, we find it far more useful to study what is observable.
One thing we know is that the market has historically been willing to pay 12.5x to 22.6x Price-to-Cash Flow, but the current multiple is only 5.7 times. Price-to-Sales is a similar story with the historical range between 3.2x to 5.9x and the current price level is 1.5 times revenue. At a price level around $17 both of these valuation metrics are less than half of the low end of their historically normal ranges. For the stock to rise to just the low end of these ranges we can rationally expect a price in the mid thirties. Clearly, the fundamentals of revenue and cash flow are strong enough to support a substantially higher price for Harry Winston Diamond shares.