During the last month, we have seen market price fluctuations as securities meander through positive and disappointing earnings announcements. Not only did investors see Google (NASDAQ:GOOG) miss earnings on October 18, but trading was halted temporarily due to a leak of the earnings numbers. Google is now down about 10%, dropping from about $750.00 per share to around $680.00 per share. This is just one example, and you have probably read more about that event than you care to remember.
Looking forward, what are some of the ways investors can take advantage of a potentially good earnings announcement on a quality stock, while at the same time protecting themselves against an unsettling earnings miss?
Stock Selection:
Each investor will have their own definition of what defines a quality stock. What we typically look for are stocks that have shown continued growth and positive earnings to drive the company's value, which reflects good management. This is usually done by searching for stocks that have a double digit % EPSG (% earnings per share growth) and a reasonable P/E ratio (Price/Earnings). We also want to look for stocks that have a reasonable average stock volume, and have some historical volatility (meaning stocks that show some fluctuation in price).
We start our search by inputting these criteria into the PowerOptions search tool:
Stock Criteria:
Stock price between $5 and $50 per share (has to match our account size)
% EPSG greater than 10
Price/Earnings ratio between 0 and 40
Average stock volume greater than 750,000 shares (average daily volume over the last 90 days)
Historical volatility greater than 0.25 (25%). Beta could be used as well.
Protection:
Before we submit our search, we also want to combine the stock with a put option that will mitigate our risks to single digits without limiting our expectancy of profit, has enough time to expiration to allow us to make adjustments (regardless of which direction the stock moves after the earnings announcement), and has reasonable liquidity. To achieve this, we will use these criteria for the put option:
Put Option Criteria:
Put expiration greater than 140 days out in time
Put option less than 15% in-the-money
Open interest greater than 10
% Maximum risk less than 7.5%
The results were sorted by the highest % EPSG. On Wednesday, October 24, these were the top results of the stock and put criteria using the married put search tool:
(click images to enlarge)

Click to enlarge
We have our search results ordered by the highest % EPSG. Although Marriott Int'l. Inc (NYSE:MAR) has the same % EPSG of 18%, we see that the next potential earnings date is a few months away. This allows us to focus on GNC Holdings, Inc. (NYSE:GNC) as a potential protected earnings play.
Position Specifics:
Before we get into further discussion of GNC, let's look at the specifics of the married put trade:
Action:
Buy shares of GNC Holdings @ $37.98 ($3,798.00 per 100 shares)
Buy 2012 NOV 11 strike put @ $ 4.90 ($490.00 per 1 contract)
Total dollar amount invested = $42.88 ($4,288.00 per 100 shares)
Guaranteed by put option = -$40.00 ($4,000.00 per 100 shares)
Maximum risk on position = $ 2.88, or 6.7% ($288.00 per 100 shares)
Maximum profit on position = Infinite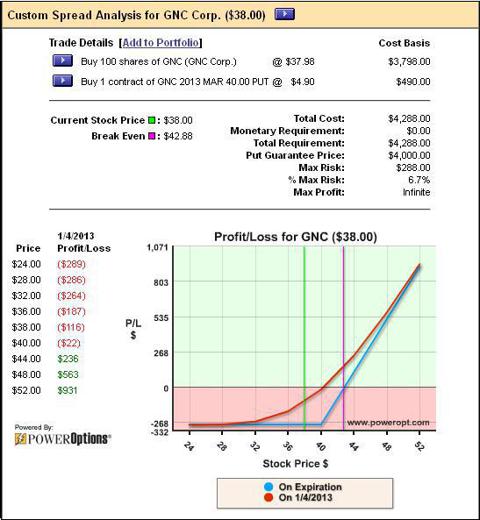 Click to enlarge
Let's consider what this profit and loss chart means:
If GNC misses its earnings estimate, the worst case scenario is a loss of 6.7% of the invested capital

The upside profit potential is unlimited if GNC beats estimates and really takes off

The position is insured to March expiration, or roughly 150 days out in time

Although the total position cost is $42.88, we do not need GNC to be trading at $42.88 per share to realize a profit. The curved red line on the profit and loss chart shows the theoretical gain or loss of the GNC married put on January 4, halfway between now and expiration. The put option will not decline 1:1 with an increase in the stock price, ergo, a profit can be realized prior to expiration before the stock reaches the married put cost basis of $42.88

As the stock moves up, down or stagnates, we will look to apply other options trades to lower the initial at-risk amount and potentially earn extra income
Why pay for the put option? Wouldn't a stop order work just as well without any cost?
The put option guarantees an exit of $40.00 per share on the investment of $42.88. If an investor simply purchased shares of GNC at $37.97 and set a stop order at 6.7%, the stop would be set at $35.43 ($2.54 below the current stock price). If GNC misses the earnings estimates, or if an earnings leak comes out prior to the scheduled release, the stock may gap down 10%, 15%, or maybe even 20% or more. If GNC gaps down over night by 20% (roughly $7.60 down from its current price) and opens at $30.37, the stop order is triggered. However, we do not get to close those shares for only a 6.7% loss. The order is filled at the current price of $30.37 for a realized 20% loss. Stop orders are assumed insurance and many times, result in significant and unwanted losses in a portfolio.
Why pay so much for the far out, in-the-money put option? Why not use an out-of-the-money, near-term put for a lower price?
This married put setup is based on the limited risk, RadioActive Trading techniques. Using put options for insurance is similar to other forms of insurance -- you get what you pay for. By going a few months out in time, we have more time for the stock to move in our direction, even after the upcoming earnings event. Although we appear to be paying a fair premium up front, we are actually paying less per day for the insurance. An option that is six months out in time will not be six times the cost of the near-term option. By purchasing the put in-the-money, we are able to lock in single digit risks. If we purchase an out-of-the-money put option, the stock would need to fall before the insurance policy kicks in, resulting in a higher percentage at risk.
Why buy the stock? Why not use a long call in place of the married put, or substitute a long call for the stock creating a strangle?
In an upcoming series of articles, we will compare the risks and outcomes of the married put vs. strangles on positions with an upcoming earnings event.
Further Research: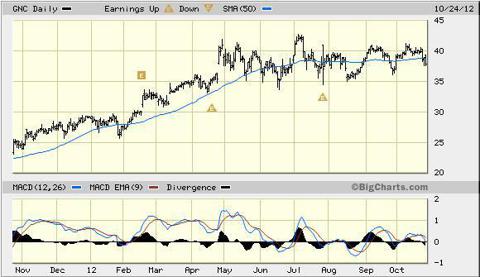 Click to enlarge
GNC is trading below the SMA 50, and has been holding in a trading range over the last six months. However, the last two earnings have been positive, and the stock may have the potential to gain momentum if the next earnings are positive as well.
The stock matched our fundamental criteria mentioned above, and is within our desired price range. With the limited risk put combination in place, this GNC position offers a potential for uncapped upside gains while guaranteeing a single digit risk on our invested capital. We may look to adjust the GNC married put position after the upcoming earnings event.
Disclosure: I am long GNC. I wrote this article myself, and it expresses my own opinions. I am not receiving compensation for it (other than from Seeking Alpha). I have no business relationship with any company whose stock is mentioned in this article.
Additional disclosure: The married put in this article is an actual trade placed on October 24, 2012. Stock was purchased at $37.95, and the March 40 put was filled at $4.80.