Shares of Internet Radio provider Pandora (NYSE:P) dropped substantially and even triggered a circuit breaker halt before returning to normal trading. The equity was trading along with normal behavior at about $9.50 when rumors that Apple (NASDAQ:AAPL) would be introducing a radio service in 2013 sent a shock wave through the street. Pandora immediately gave up $2.00 and tested $7.40 briefly before ending the downward spiral and settling down.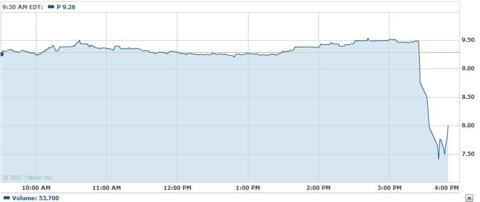 The substantial drop demonstrates how sensitive Pandora is to industry issues. The company pays substantial fees for royalties and has it has been a challenge for the company to generate any profits. Newly proposed legislation and even the forming of a coalition to get royalty rates under control may have eased concerns of the street slightly, but then, with a titan like Apple potentially stepping onto the playing field it seems that all bets were off!
Business models matter, and Pandora's model is not strong enough to fend off a company like Apple. Pandora was not alone in seeing a quick drop. Satellite radio provider Sirius XM (NASDAQ:SIRI) also saw a drop. It was trading at $2.86 when the news hit. The reaction downward was instant, but not massive. Sirus XM's hit was just 7 cents, as it dipped down to $2.79 and then recovered.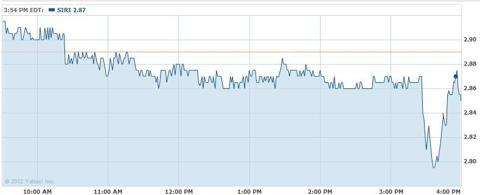 As you can see, and as stated above, BUSINESS MODELS MATTER! Sirius XM took a dip and saw an immediate recovery, whereas Pandora will now have to struggle to gain back ground while also trying to figure out a way to defend itself from pending Apple competition.
Before Sirius XM investors celebrate, having Apple in the mix will impact the sector. Sirius XM will need to plan for that and perhaps the personalized radio feature promised for launch this year will, combined with exclusive premium content and satellite delivery be compelling enough to keep the subscribers tuning in.
This issue is worth watching by anyone invested in the audio entertainment sector!
Disclosure: I am long SIRI. I wrote this article myself, and it expresses my own opinions. I am not receiving compensation for it (other than from Seeking Alpha). I have no business relationship with any company whose stock is mentioned in this article.
Additional disclosure: I have no position in Pandora or Apple