Skullcandy (NASDAQ:SKUL) has become a leader in brand differentiation and target marketing. They're a maker of headphones and earphones and have created a strong business model which revolves around a highly segmented product line, allowing Skullcandy to target multiple markets at multiple price points. I've written a long-winded report about Skullcandy's undervaluation and room for aggressive growth. However, today I want to report a very, very interesting buying opportunity.
By all means, Skullcandy is a great play from a long-term investment perspective, and a technical perspective.
Fundamental highlights:
- Trading at a current P/E of 15.40 and forward P/E of only 8.64
- Highly liquid company with a current ratio of 2.97
- Although Skullcandy's cash basis of $7 million has been a point of criticism, they have $50.5 million in accounts receivable, a majority of which are owed by Skullcandy's 3 largest retailers/distributors, two of which are Best Buy (NYSE:BBY) and Target (NYSE:TGT). Currently, both retailers are not exposed to significant liquidity risk and do not pose a current threat to Skullcandy
- Historical 5 year earnings growth of 87.33% and 5 year projected growth of 20.42%
- For 2012, earnings are projected to grow 214%
- In terms of sales, Skullcandy has been growing at a tremendous rate, experiencing 60.2% compounded annual growth from 2007-2011, with sales projected to increase from 20.4%-29.0% in 2012
- Short float of 64.22%, placing it in a great position for a squeeze
- Abnormal sized block transactions occurred earlier this week, with purchases ranging from 57,000-610,000 shares
Technical highlights:
- Currently hovering around it's 52-week low, which serves as an extremely strong support level
- The stock is experiencing higher lows and higher highs, which is indicative of a market mood swing towards bullishness
- Volume has been increasing, especially in regards to block transaction purchase orders
But wait, here's what I REALLY wanted to show you
I've written a function which takes variables from how a stock behaves, especially after experiencing rapid devaluation. Essentially, my goal was to write a function to help signal "buy" opportunities in a stock. Although, fundamentally, Skullcandy is undervalued by most accounts, it tends to trade on a technical basis. For those who have been considering investing in the stock, I hope this graph helps: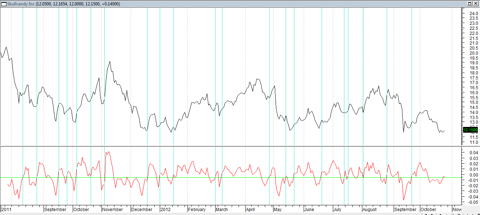 Now let me explain what you're looking at. The black line on the top half is Skullcandy's stock price over the past year. The red line on the bottom is the graphical representation of my function, which takes in variables from the stock and outputs the line you see. The horizontal green line is a threshold which, when the red line crosses, acts like a buy signal. Finally, the vertical blue lines represent the points at which the red line crosses the threshold.
The function I wrote attempts to capture the point at which investor bearishness turns into bullishness. Often times, it gives the buy signal before the stock even starts moving up and can take a few days before showing results. I found that out of the 21 times the red line (my function) gave a buy signal, the stock moved upwards 19 of those times, often with significant gains. A "buy signal" was given yesterday, and enforced by today's stock movement.
Just yesterday, the line crossed its threshold, indicating a potential buying opportunity. Because Skullcandy is near its 52-week bottom, which has been an incredibly strong support line, the downside risk seems far outweighed by the upside gain.
The Bottom Line
Skullcandy is a relatively new (public) company who had its IPO last year and, since then, experienced a 30% devaluation. They provide a highly differentiated product line across all price targets, allowing them to compete and dominate in multiple market segments. They've created a very strong and highly recognizable brand image through aggressive grassroots marketing, strategic celebrity partnerships, and providing high quality products. Their strategic outlook is consistent with market trends and they plan to capitalize on the trend towards the higher end, over-ear headphones market.
Skullcandy still has much room to grow domestically and internationally. Its product lines are highly differentiated and rapidly gaining market acceptance and momentum. They still have tremendous growth potential through expanding current distribution outlets through vendors like Wal-Mart and into current markets in Europe and potential markets in Asia. I believe the stock is undervalued given my analysis of the company, its market, and its relative valuation.
Disclosure
I found this function to be a good indicator of buying opportunities; however, I have although 19/21 times, the stock price moved upwards (often significantly), 4 of those events were short-lived bullishness. All-in-all, 15/21 times, the buy signal prompted significant upward price movements, and 4/21 times prompted short-term price movements. Also, I have yet to conduct significant statistical analysis to prove this system as being an accurate indicator of future trends. Ultimately, it is still an unproven system and comes with inherent risks. In essence, past performance doesn't guarantee future performance, but I thought I would share my findings.
Disclosure: I am long AAPL, AIG, SKUL. I wrote this article myself, and it expresses my own opinions. I am not receiving compensation for it (other than from Seeking Alpha). I have no business relationship with any company whose stock is mentioned in this article.