Sometimes in the stock market we find a company that has been absolutely dismantled just for being in the wrong place at the wrong time. As the housing market has slipped, the "heavy construction" industry has been hammered by false accusations of an involvement with residential building projects. One of the more profitable long-term investing strategies is to buy a best-of-breed stock in a beaten down industry. Foster Wheeler (FWLT) [38.30, (0.00%)] is my ace in the hole.
We all know of the run-up from the commodity / crude oil bubble over the first half of 2008. Now that many investors and traders are giving up hope, the entire energy and commodities sectors have been crushed. So here's where Foster Wheeler fits into the equation. FWLT specializes in the construction and engineering of oil & gas, oil refining and liquid natural gas plants. In addition to this, they have a strong hand in some high-flying industries, building complex plants and specialized buildings for companies in petrochemical, chemical, bio-pharma, pharmaceutical and power generation businesses.
So what's the problem here? FWLT's exposure to oil & gas has led to an unnecessarily high correlation with the price of crude oil, despite constant reassurance from CEO Ray Milchovich that demand is just as strong as it has ever been, that they are receiving more contracts than ever before and that they will see absolutely no effect unless crude were to dip under $80 a barrel. This is not a broken company, but a broken stock. Sheepish investors have made Foster Wheeler a no-brainer.
All About Foster Wheeler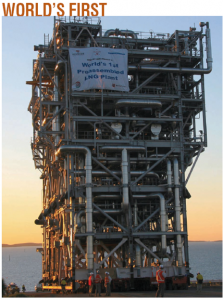 As previously mentioned, Foster Wheeler's main pull is their reputable engineering and construction (E&C) business. They are in the business of making things like large-scale industrial gas plants and even ultra-safe pharmaceutical labs.
With a diverse portfolio that has even begun branching into module-based buildings for maximum efficiency and reduced construction time, E&C comprises around 72% of their business. The other 28% comes from FWLT's "Global Power Group," which offers services in designing and constructing auxiliary power and steam generation equipment. The majority of their business comes from Europe (66.8% in 2007), but their backlogs reveal a focus in North America, Asia and South America with a less-heavy European influence.
Strong Second Quarter Results Overlooked
Where analysts expected EPS of $0.84 for the quarter, Foster Wheeler delivered a 17% upside cushion at $0.98 a share. Investors were scared of a global slowdown that would cut the spending budgets of major companies that Foster Wheeler relies on, but CEO Ray Milchovich practically laughed at the notion of a slowdown after re-affirming 40% annual sales growth (see earnings call transcript). FWLT saw 43% increases in revenue, a 26% increase in E&C backlog year over year and a 10% increase in cash from just one quarter ago. The work in China alone could keep these guys busy for several years… so it's a bit ridiculous to think that the markets have cut them down to a 52-week low on an industry-low P/E of just 10.35x.
Quite frankly this… our clients could not be more bullish. Our issue in Liquid Natural Gas is having enough capacity bandwidth to meet the demand. We're very active in the market and frankly have prospects in our flow that would cause our backlog in LNG liquefaction to be much higher than it is currently. (CEO Ray Milchovich)
There really are just too many market forces bringing this top-tier recession performer down, all of which are completely overblown. After hearing the conference call, it's clear to me that the management is choking back a smile. Insider buying activity has begun to pick up, and the month of July has produced ridiculous increases in everything from a 70% increase in man hours booked from the first quarter to a double in the contract values from the first quarter due to international strength. After EBITDA margins expanded from 23.6% in 2007 to 27.3% in 2008… Foster Wheeler is simply too attractive to pass up.
Bottom Line: FWLT had a great quarter, a fantastic outlook, and nobody seems to care. I suppose nobody noticed that the contract value of bookings is now worth more than the stock's trading price.
Robust Demand Across Service Areas
If Foster Wheeler had a great quarter, than it had to be their projected demand that is sending things down… right? Wrong. These guys have a backlog now over $3.3 billion and by targeting large projects overseas they have been able to completely overshadow any domestic delays. What's even better is that FWLT surprised the analysts by turning out a tax rate in the low 20s. One thing that makes this company a winner in every market scenario is their alt-energy niche exposure:
Clean Coal Technology: Foster Wheeler was recently called upon to construct 21 coal-fired electric plants because of their unique "clean gasification process" and "oxy-combustion technology" that emit no air pollutants, are cost effective and capture a majority of otherwise lost CO2.
Wind Energy: Where other companies might provide for the actual technology to convert wind into a usable power source… guess who gets to make the plants? That's right! And with plenty of downstream wind energy infrastructure services in the game plan, FWLT will be able to cash in.
The demand for heavy construction companies comes from projects that other firms essentially put up for bidding. Foster Wheeler is, in my opinion, the best at securing these bids. I believe that the same bump they received from last years successes will be realized as they win out once again.
Business Moat: Superior Service at a Lower Cost
Once reason that Foster Wheeler's demand is so high is that they are able to outperform competitors in providing speedy, safe and efficient services.

This ability to win dozens of safety awards, while holding the reputation for being the guys that always finish early to collect time-sensitive bonuses, has the company well positioned to grow.
Here are some recent examples:
Aramco Overseas Company (Saudi Arabia)

6-months early, 25% below budget

Oman LMG (Oman)

Lowest cost ($2 billion), Highest Quality and Fastest LNG plant ever built

Shell Nanhai Petrochemicals Complex (S. China)

Largest Sino-foreign investment ever ($4.3 Billion)
The Seven Deadly Sins (and why they are wrong!)
What's wrong with Foster Wheeler if everything is as rosy as I am showing it to be? I argue that there is a WIDE gap between perception and reality on this one that is hurting an otherwise great stock.
1. Oil & Gas Problem
Foster Wheeler deals with sophisticated clients. They truly aren't effected by volatility in commodities like people think they are. I think the CEO said it best when he said: "we've seen absolutely no impact of the fluctuation in oil prices on the demand for our services or the prospects that we are currently tracking."
2. Corporate Financing Issues
People assume that FWLT's clients will have problems with getting business if people aren't spending. Again, let me turn you to the most recent earnings call, where CEO Ray Milchovich said: "We are seeing absolutely no financing constraints for these projects to support the projects moving forward. I can't point to one example and Umberto is sitting here shaking his head, I can't think of one example where financing has been a constraint for any one of these clients in any prospect that we're pursuing."
3. Construction Spending
The most recent construction spending report came in sharply underneath where consumers anticipated. This took a huge toll on construction stocks, but Foster Wheeler has absolutely no hand in residential construction… which is where the problem was identified.
4. Bad European Market
Isn't it amusing how we pass up an international company growing at 40% for domestic stocks like Cisco growing at 5% annually? Trader Mark wrote up an interesting thesis on what he called the "reverse decoupling theory" that supports Foster Wheeler's stock.
5. North American Order Delays
The only real negative on earnings was a delay in orders from North America's Global Power Group operations. People naturally considered these cancellations, which they weren't. The United States has many regulatory issues that took longer than anticipated to work themselves out. A lot of these contracts will go through. In the meantime, Foster Wheeler has successfully supplemented lost contracts domestically with more contracts overseas… and will be able to continue this gap-filling measure if North American orders don't roll through.
6. Management Change
CEO Ray Milchovich is retiring, and I'm sad to see him go. However, this is not going to occur until August 2009, and he is actively looking for a replacement for this planned retirement that was 100% of natural cause. With plenty of time to train a new CEO and a business model with demand that is practically fool-proof, it shouldn't be too bad at all.
7. Competition
Foster Wheeler has been taking their lumps while competitor McDermott (NYSE:MDR) [28.13, (0.00%)] has fallen off a cliff on bad earnings misses and a few negative press releases. But McDermott has some unfavorable nuclear power exposure which has been getting shot at, and doesn't hold the same reputation in safety and efficiency.
Solid Valuation - But Not For The Weak of Heart
One thing's for certain, Foster Wheeler is volatile. However, the upside is about 30% conservatively speaking at a target of $60 a share. Granted, my discounted-cash-flow analysis had this company with sales growing at 10% when projections are in the upper-30s.
A more reasonable valuation would have FWLT valued closer to $75, which is a double in stock price at this point. Anywhere in the $40s is unreasonable… and the $35-level is downright outrageous. Again, a beta of nearly 2.5 is tough to bare in terms of volatility risk… but the value play is alive and well.
ROIC - 48.93%
Annual Sales Growth - 46.13%
P/E Ratio (ttm) - 10.35x
Forward P/E Ratio - 8.44x
Industry P/E Ratio - 14.97x
PEG Ratio - 0.50x
I'm bullish on the heavy construction industry in general. Any while bigger players Fluor Corp. (NYSE:FLR) [62.29, (0.00%)] and Jacobs Engineering Group (NYSE:JEC) [60.78, (0.00%)] have experienced a lot less turmoil while remaining profitable, I'm a sucker for the value found in Foster Wheeler (FWLT) [38.30, (0.00%)], a company that has been rocked by bad associations. Once the housing market and credit markets improve, be prepared for investors to flood these stocks as valuations appreciate toward more historical levels.
The management team at Foster Wheeler is bullish on the future, citing multiple sources of extraordinary demand, a record year, and sales growth through the roof. It's a shame that they are valued at such a discount to their peers, as a lot of this negative price fluctuation has come strictly from false accusations. Use this as an opportunity to pick up a great company on the rebound.
Disclosure: The author does not hold any position in the mentioned companies.