In the summer of 2011, the patent portfolio of Nortel Networks was sold out of bankruptcy court for $4.5 billion to a consortium of technology giants including Apple (NASDAQ:AAPL), Microsoft (NASDAQ:MSFT), Research In Motion (RIMM), EMC (EMC), Ericsson (NASDAQ:ERIC), and Sony (NYSE:SNE). A couple months later, Google (NASDAQ:GOOG) bought Motorola Mobility with its treasure chest of 17,000 patents for $12.5 billion, and in the spring of this year Microsoft bought 925 patents for $1.1 billion from AOL (NYSE:AOL) and later sold a portion of those patents to Facebook (NASDAQ:FB) for $550 million.
This wave of strategic acquisitions, along with a corresponding wave of high-profile court battles surrounding patent infringements, bear witness to the "patent arms race" that is ensuing as technology companies scramble for ways to defend their intellectual property (IP). The increasing complexity of high-tech devices, along with the easy access to patent database information provided by the Internet, has combined to create an environment in which patent infringement is more readily identified and litigated. Steve Jobs went so far as to describe the potential nature of these battles as "thermonuclear war" when reacting to certain IP infringements that he originally called out in the Android operating system released by HTC in 2010. We became fascinated with this burgeoning trend a little over a year ago, and have continually asked ourselves how we might be able to position our clients to profit from it. Enter RPX Corporation (NASDAQ:RPXC).
RPX was founded in 2008 and is financed by an impressive list of top-shelf venture capital firms, including KPCB, which famously purchased a 20% stake in Google for $25 million in 1999. The business model is fairly straight forward. RPX provides a risk solution to IP litigation by acquiring patents in the open market, then turning around and making them available for use to their list of "members." Companies that want to become a member of RPX pay an annual subscription fee that is sized according to that company's revenues and income. Oftentimes the cost of the subscription is significantly less than the cost to litigate just one or two IP cases in court. According to RPX's website, "approximately 90 of our clients have been dismissed from over 250 litigations in the course of their RPX membership." RPX is young and growing rapidly. It currently serves 120 clients, and it is estimated that around 2,500 companies could benefit from a membership.
RPX's defensive patent aggregation service has created an efficient way for companies to fend off frivolous lawsuits from other companies that have become commonly known as patent trolls. These patent trolls have no other business other than finding new ways to file and collect on lawsuits over patent infringements. Again, quoting from the RPX website:
Patent litigation used to be a form of legal redress. Today it is a business model. A multibillion-dollar industry has emerged based on litigating intellectual property rights for financial gain. Patents are the assets in this new business model. And operating companies are the revenue source.
To distance itself from patent trolls, RPX only allows members to use its patents for defensive purposes. It has vowed to "never assert or litigate the patents in our portfolio."
Since going public in the spring of 2011, RPXC stock has marched downward from an IPO price of $25 to the current price of around $10. This stock has been on our watch list the entire time. As we stated earlier, we have been interested in the company's business model and this unique industry trend, but we simply couldn't bite off on the stock's valuation. As the stock has sold off earnings have continued to grow, making the valuation much more compelling.
Click to enlarge images.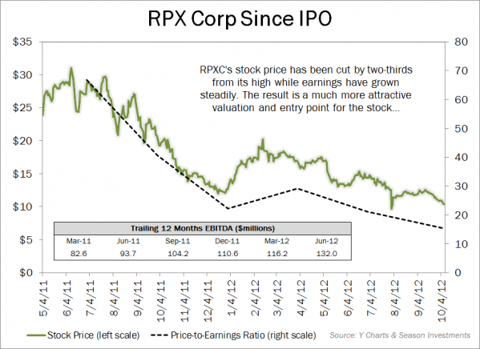 At today's price, we think the stock offers ownership in a best of breed business at a great valuation in a rapidly growing industry. Based on our own analysis and discounted cash flow model, our fair value price on RPXC is around $23 a share.
The stock currently trades at a market cap of $525 million. The company carries no debt and has $220 million in cash. The enterprise value of the firm (market cap + debt - cash) is only $305 million. RPX has invested over $490 million into its portfolio of 2,900-plus patents, so the market is assigning an enterprise value to RPXC that is less than the cost of its patent portfolio (not to mention the current and future earning potential of the firm). RPX is aggressively investing in its future as it continues to build out and replenish its patent portfolio. In 2011, the company spent just over $100 million on patent acquisitions, which is close to seven times the amount spent by its main competitor, Acacia Research (NASDAQ:ACTG).
An investment in RPXC is not without risk. One has to wonder why the stock has sold off so much from its IPO price while the company has continued to execute its business plan so successfully. One plausible explanation might be that the stock is below most major investors' radar, while at the same time is being consistently sold by company insiders. Just under half of the shares are held by insiders, and there has been a consistent stream of sales by these stock holders since the post-IPO 180-day lock-up period expired.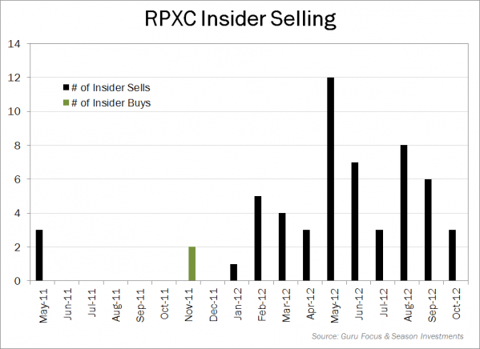 There are numerous rules and regulations regarding insider trading. To mitigate the potential violation of such rules, programs exist that allow insiders to set up automatic purchase or sale arrangements that cause pre-scheduled trades to occur on a set timeline. These programs enable insiders to trade their stock systematically so as to reduce the chances of particular trades being based on insider information. Since the vast majority of the selling has been through automatic sales, we don't see this activity as a vote of no confidence, but rather the execution of a common purpose across many IPOs -- to provide liquidity to highly concentrated insiders.
Other risks include increased competition in the patent aggregation space or a significant tort reform, which drastically reduces the ease with which patent trolls can sue companies and thereby reducing the need for RPX's services. In all, we think the upside outweighs the downside and have decided to make an allocation to RPXC where suitable in client portfolios.
Disclosure: I am long RPXC, AAPL. I wrote this article myself, and it expresses my own opinions. I am not receiving compensation for it. I have no business relationship with any company whose stock is mentioned in this article.
Disclaimer: Transparency is one of the defining characteristics of our firm. This information is not to be construed as an offer to sell or the solicitation of an offer to buy any securities. It represents only the opinions of Season Investments or its principals. Any views expressed are provided for informational purposes only and should not be construed as an offer, an endorsement, or inducement to invest.