Newcastle Investment Corp. (NCT) is a REIT that has put together a mixed bag of real estate assets which are generating some serious cash flow for the company to go along with the 10% plus dividend yield. The company is aggressively making deals and if those deals continue to work out, investors can expect to see that attractive dividend continue to be increased.
Before the financial crisis, Newcastle primarily issued and held the different tranches of commercial CDOs - a market which was decimated by the downturn. Over the last several years the company has bought back some of its own product and at the same time diversified into other types of real estate related assets. When I last wrote about Newcastle Investment, the new ventures had not yet produced enough results for evaluation. As of the 2012 third quarter, the company is making money on all cylinders - old and new.
Reducing CDO Portfolio
One of the big news pieces in the Q3 earnings report was the sell-off on a big portion of the legacy CDO book. On the conference call, management referred to the transaction as "collapsing the CDO." No matter what terminology is used the results were very positive for Newcastle. The value of the portfolio was reduced by $1.1 billion, total debt dropped by $1.2 billion, the corporate debt ratio decreased from 3.8 to 2.2 and the company booked a $224 million gain. Cash proceeds from the deal were $130 million.
Newcastle used $50 million of the cash to purchase eight different debt securities or loans including some non-agency MBS, commercial loans and a NCT CDO security. The assets were all purchased at a discount and the total face value is $101 million. Newcastle expects to double its $50 million investment in about 2.5 years.
Diversified Portfolio Assets
Newcastle has been buying assets of several different varieties. The big push has been to invest in excess mortgage servicing rights - MSR. The company has partnered up with Nationstar Mortgage to purchase five MSR pools so far this year. Newcastle and Nationstar are both affiliated with Fortress Investment Group (NYSE:FIG). To date in 2012, the MSR portfolio is producing a 19% rate of return on invested equity - above the 17% to 18% target the company set for these investments back in the Spring.
Since the first quarter of 2012, Newcastle has purchased about $320 million of non-agency MBS, paying on average 62.7% of par. These MBS holdings are currently producing a 20% leveraged return on the equity invested. These assets continue to increase in market value as more players get interested in the non-agency mortgage market.
In July 2012, Newcastle purchased eight senior living properties for $153 million. The purchase was financed with 40% equity and 60% debt. Currently the properties are producing a 12% return on equity and that is expected to increase to 20% as the facilities are upgraded and occupancy levels increase. Newcastle expects to make more investments in the fragmented senior living market. The company looks for high yield investments which are smaller than the large-cap healthcare REITs like Ventas (NYSE:VTR) and Healthcare REIT (NYSE:HCN) and HCP (NYSE:HCP) would consider.
Conclusions
Newcastle Investment increased the dividend by 10% to 22 cents for the third quarter, putting the current yield close to 11%. During the conference call, management stated that they expect more deals to be completed in the fourth quarter and into 2013, always looking for those high double-digit return potential opportunities. Over the last 6 months, Newcastle has proven it has the chops to find and profit from undervalued assets. I expect both the share price and dividend to continue to rise and will be very surprised if this REIT does not put up a 25 to 30% total return for investors over the next year.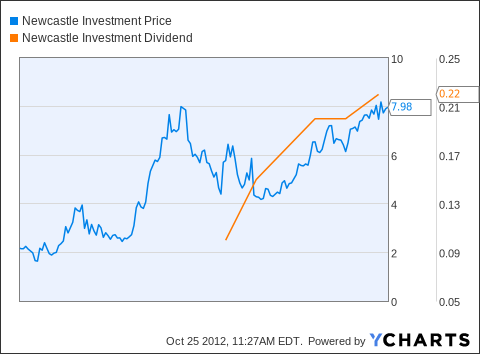 Disclosure: I have no positions in any stocks mentioned, but may initiate a long position in NCT over the next 72 hours. I wrote this article myself, and it expresses my own opinions. I am not receiving compensation for it (other than from Seeking Alpha). I have no business relationship with any company whose stock is mentioned in this article.